By: Jonathan Kwan
July 7, 2023
In my recent Thermaltake Toughpower GF3 850W review, I talked about how I have a friend who likes to give me "the face" half the time I open my mouth. After reading that review introduction, she made a point they are not "variants of what is basically the same thing", but are instead very distinct faces with different meanings. I still stick to my point I could reasonably differentiate them once they are described with an example given, but nonetheless are still variants of the same thing. When it comes to RAM, we have previously reviewed a couple of DDR5-7200 kits here at APH Networks, including the Kingston FURY Renegade DDR5-7200 2x16GB and Patriot Viper Venom DDR5-7200 2x16GB. These kits are made by different manufacturers, look different, and even have different latency specifications, but underneath the heatspreaders, they both feature the exact same SK hynix A-die memory ICs. Today, we have the XPG Lancer RGB DDR5-7200 2x16GB, which, like the other DDR5-7200 kits, also features SK hynix A-die chips despite being from yet another brand with a different heatsink design and timing specifications. Just like "the face", are they distinct products with distinct differences, or are they basically variants of the same thing? Stick with us as we dig into the details.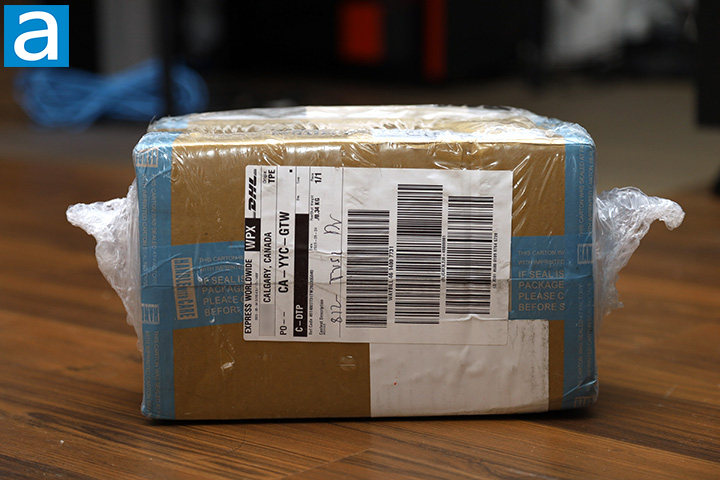 Our XPG Lancer RGB DDR5-7200 2x16GB arrived in a small plastic-sealed brown corrugated cardboard shipping box from the company's global headquarters in Taiwan. Using DHL Express, everything arrived in excellent condition to us here in Calgary, Alberta, Canada for our review today.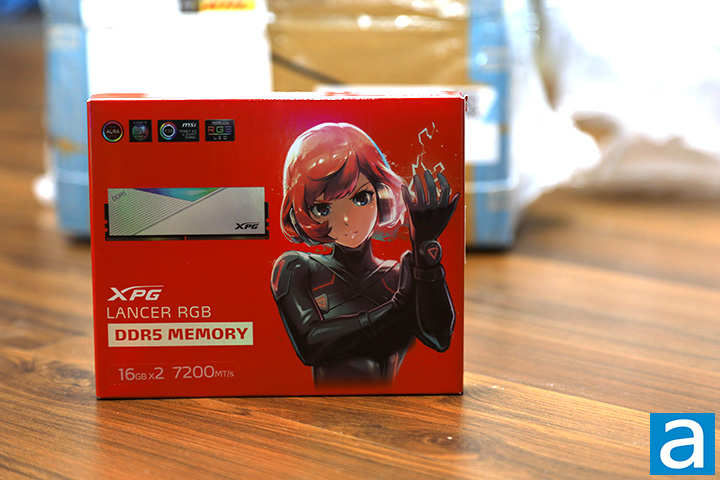 Our review unit of the XPG Lancer RGB DDR5-7200 2x16GB arrived in its retail packaging. If you look at the photo above, they do not advertise the ADATA brand on the XPG Lancer RGB DDR5-7200 2x16GB's retail packaging as with recent products from the company. Their enthusiast sub-brand, XPG, takes center stage. The XPG Lancer RGB's retail box is predominantly glossy red with silver text. XPG's logo along with the model name, product description, memory capacity, and speed is placed at the bottom left corner. An array of icons highlights its ASUS Aura, Gigabyte RGB Fusion, MSI Mystic Light, and ASRock RGB LED compatibility at the upper left corner. Across the middle is a picture of one memory module and a female anime character. More branding and product description in various languages can be found in the remaining sides of the box.
Before we move on, let us take a look at the features and specifications of the XPG Lancer RGB DDR5-7200 2x16GB, as obtained from the manufacturer's website:
Memory Type: DDR5
Form Factor: U-DIMM
Color: White
Capacity: 32GB
Speed: 7200MT/s
CAS Latencies: 34
Operating Voltage: 1.4V
Operating Temperature: 0°C to 85°C
Dimensions (L x W x H): 133.35 x 40 x 8mm
Weight: 72.4g
Warranty: Limited lifetime warranty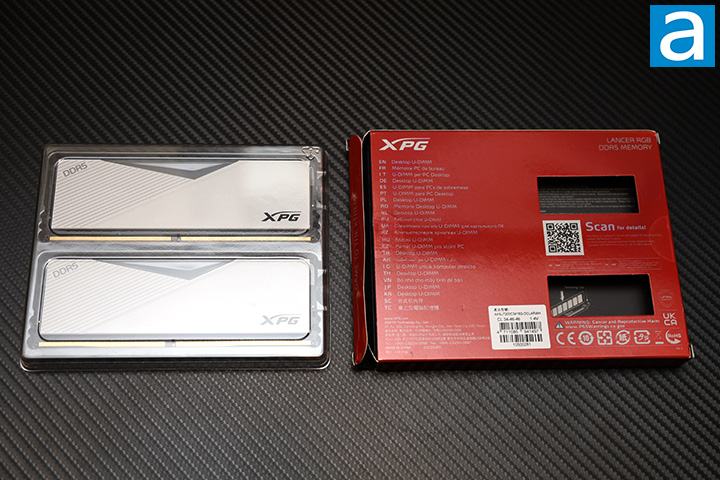 Out of the box, you will receive each memory module in the XPG Lancer RGB kit packaged in its own compartment in the enclosed clear plastic tray. There is nothing else included, but I am not sure what else you can expect from a DDR5 kit either, haha.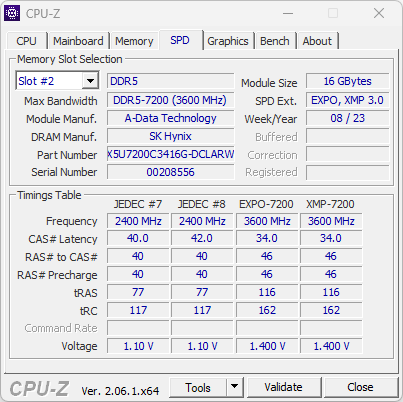 A screenshot of the memory tab in CPU-Z with XPG's Lancer RGB DDR5-7200 2x16GB installed. The SPD timings table in CPU-Z reads standard JEDEC specifications programmed into the memory as well as XMP data for running the memory at various speeds. The XPG Lancer RGB DDR5-7200 2x16GB retails for approximately $200 at press time.
I tested the Lancer RGB DDR5-7200 2x16GB with an Intel Core i7-13700K CPU on an MSI MPG Z690 Force WiFi motherboard. A 13th generation Intel CPU is required to operate RAM at 7200MT/s; it will not boot on any 12th generation Intel CPU at that speed from our experience. Even though it worked on our Z690 motherboard, a Z790 motherboard is highly recommended for better stability. Furthermore, I had trouble with the RAM's stability at 1.4V. Increasing it to 1.45V alleviated the problem.
---
Page Index
1. Introduction, Packaging, Specifications
2.
A Closer Look, Test System
3.
Benchmark: AIDA64 CPU
4.
Benchmark: AIDA64 FPU
5.
Benchmark: AIDA64 Memory
6.
Benchmark: PCMark 10
7.
Benchmark: 3DMark
8.
Benchmark: PassMark PerformanceTest 10
9.
Benchmark: SuperPI 1M, Cinebench R23
10.
Overclocking and Conclusion