By: Ben Joubert
May 1, 2020
As a current student, a lot of my academic year has finished with a quite a few changes due to COVID-19. I was able to still finish my semester normally, although much later than I had planned since many due dates were extended to account for the fact that the library was closed. But since I did not have a job to go to, I decided to take a spring course, which started even before all my assignments were done. So, I do have some more free time, but I have mostly used it to catch up on some reading. However, my wife has been using her free time to become quite active in cooking things we do not normally cook together. One of these meals was sushi. We made sushi for my family last week and it was a grueling, but fun, experience. The first step was mostly cutting the ingredients to the right sizes and then cooking the rice. The rice is rather important in sushi, so we wanted to make sure we got it right. The recipe said to cook the rice and remove it from the heat and add a mixture of rice vinegar with some other ingredients that I could not quite remember. The rice must then be left to absorb the mixture and cool. Only once it is cool then we could start. But since we made such a big pot, it took really long for the rice to cool down completely. We could not pop it into the fridge since it was in such a large container. At that point, I wish we had some sort of portable cooler to cool the rice efficiently. Luckily, in an area better suited to my skills, computers, there are plenty of options to keep your computer chilled. Today, we are looking at one of them, the XPG Levante 240. It promises excellent cooling and great aesthetics with ARGB LEDs. Read on to find out how it is!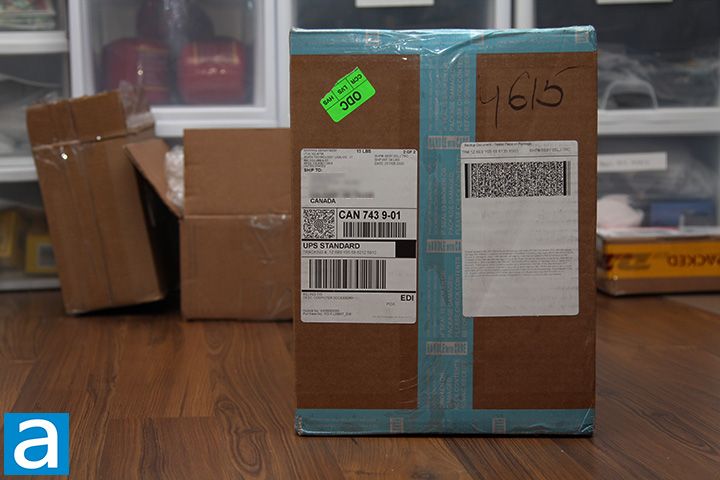 The XPG Levante 240 arrived in Calgary, Alberta, Canada via UPS Standard all the way from Brea, California, USA. It is a long journey from the warmth of the West Coast to the frigid prairies of Canada. Nevertheless, the shipping box was not very damaged upon arrival. As usual, the corners are a little bit beat up, but there is no damage on the box to cause any concern. Overall, the XPG Levante 240 arrived safely and in good condition.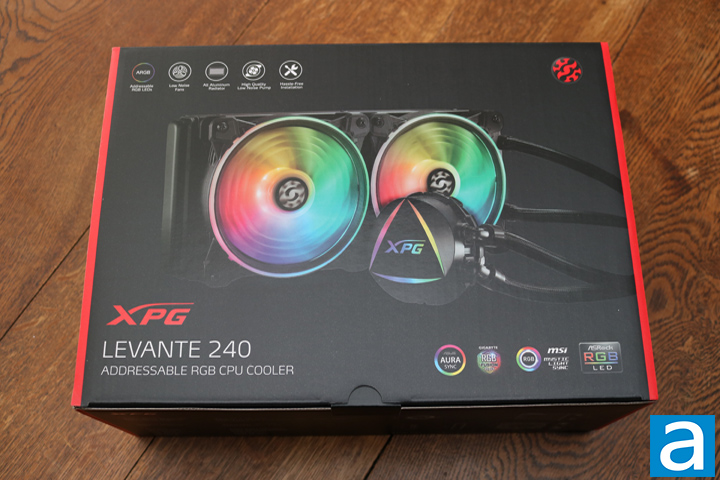 The retail box for the XPG Levante 240 definitely has a great gamer aesthetic. The black background with the red accents leaves no one to guess that this is a gaming product. And if that is not enough, RGB is found front and center in the image of the water cooler. All the compatible motherboard RGB systems are found on the bottom right, while a list of important features is found along the top left. The features highlighted are the addressable RGB LEDs, low fan noise, aluminum radiator, low noise pump, and a hassle-free installation. The sides of the box have either the dimensions of the cooler, a picture, or some more detailed information regarding the features. All in all, the retail box is helpful in highlighting the important points for this cooler.
Before we move on, here are the specifications from the manufacturer's website:
Water Block Dimension (H*W*D): 86 x 72 x 36 mm
Water Block Material: Copper
CPU Socket Support: Intel : LGA 1366,115x,2066,2011;AMD : AM4
Thermal Grease: Pre-applied
Radiator Dimension: 272 x 121 x 27 mm
Radiator Material: Aluminum
Tube: Sleeved Rubber tube
Fan size: 2 Fan Slots (120mm)
Fan Dimension: 120 x 120 x 25 mm
Bearing Type: Fluid Dynamic Bearing
Fan Speed: 600 ~ 2000RPM ± 10%
Fan Static Pressure: 1.42mm-H2O
Fan Air Flow: 61.5 CFM
Fan Noise: 34.0 dB (A)
Control Mode: PWM
Protection: Auto-Restart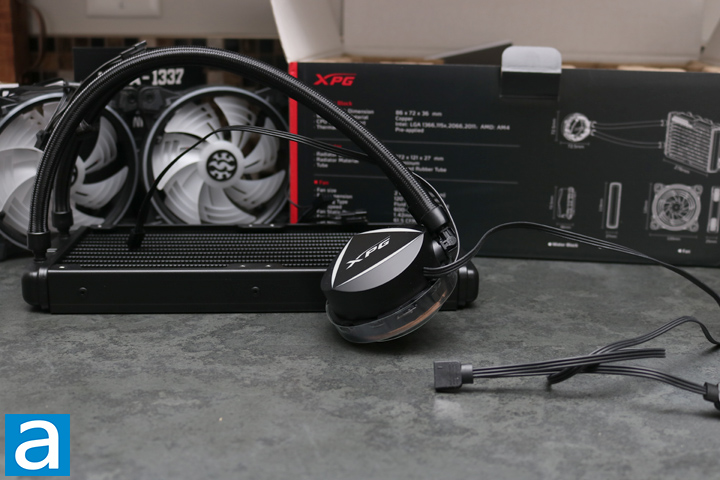 Inside, we find some fairly standard packaging. There is soft cardboard surrounding the entire product. The fans have some extra cardboard to protect it. All of the mounting hardware are in little plastic bags, and there is a fan extension cable included. Not all manufacturers do this anymore, but XPG included quite a few stickers. If you want to show off your XPG pride, these will do the trick.
---
Page Index
1. Introduction, Packaging, Specifications
2.
Physical Look - Hardware; Installation
3.
Test Results
4.
Conclusion