By: Ben Joubert
October 21, 2022
In my bachelor's degree, I had to write a lot of papers. We always had a description to guide our research and ultimately what we would write about. Often, professors would release the grading rubric as well, so you had a better idea of how your content would be evaluated. Now, these assignment descriptions are crucial to follow, since if you hand in something different or not related, your mark will suffer for it. I accidentally made that mistake once. I am still not sure to this day how I missed it, but I worked hard on a research paper, which I thought was satisfying the brief I was given. However, it was not. I submitted the paper with high hopes, but received a less than ideal grade. Much of the feedback I received revolved around the missing pieces of the assignment I had not addressed due to my negligence. I honestly thought I had the brief down when I submitted the assignment, but clearly I did not. Since then, I made sure to read the description of my assignments multiple times as I am going through my research to ensure I am doing the right thing. Keeping in mind the goal of something or the purpose of it is always important. When it comes to reviewing products, it is always important to consider what the manufacturer intends for the product. What are the main features that are driving the marketing? For today's review, the XPG Slingshot is marketed mainly as a lightweight gaming mouse, featuring an exoskeleton shell, which has been growing in popularity. Let us see if it accomplishes what it sets out to do.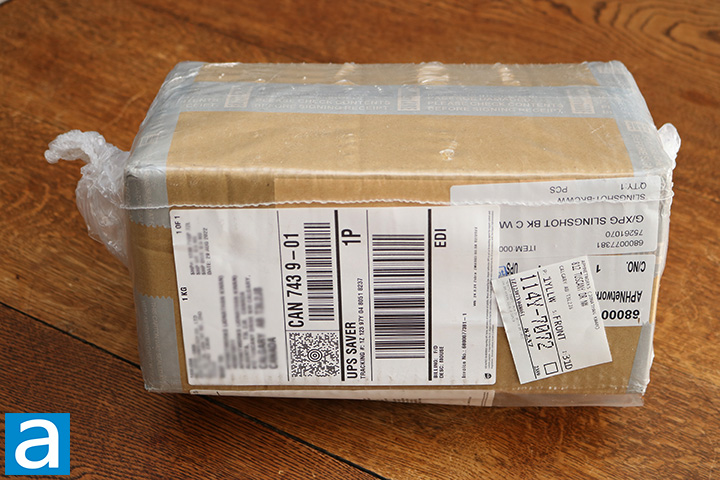 The XPG Slingshot had a long journey to arrive here in Calgary, Alberta. It was shipped all the way from Taipei, Taiwan via UPS Saver. For such a trek, the shipping box arrived in great condition. It is a smaller box, containing just the XPG Slingshot. The exterior had little damage, while also being wrapped in a plastic covering. After opening up the shipping box, we find some cushioning to keep things from moving around inside.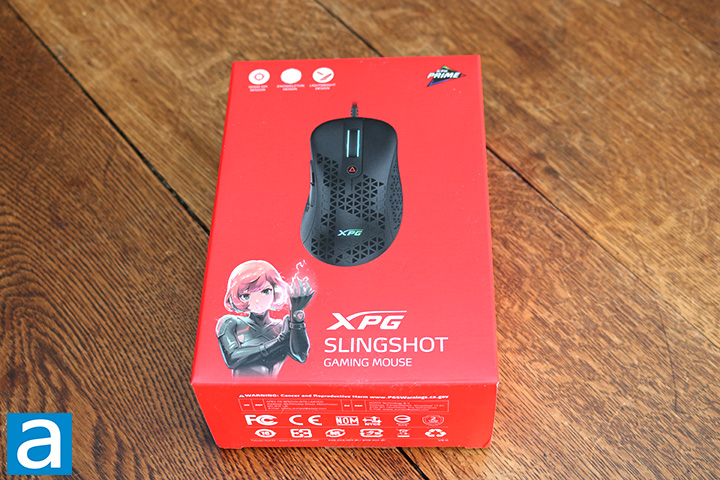 The XPG Slingshot has a striking red retail box. Its entirety is the one solid color with white as the accent color for the lettering. A few main features are highlighted on the front, including the 12,000 DPI sensor, exoskeleton design, and how lightweight it is. The exoskeleton design refers to the triangle pattern found all over the mouse. In the top right, the XPG PRIME software logo is found indicating the mouse's compatibility with XPG's software. The rest of the box has more technical details and what I assume is the mouse's mascot in the bottom left.
Before moving on, here are the specifications from the manufacturer's website:
Interface: USB Type A
Connection: Wired
Sensor: PMW 3360
Resolution: 400-12,000
IPS: > 250
Max. Acceleration: 50 G
Polling Rate: 1000 Hz
Switch: 20-million clicks rating
Lighting Effect: RGB (PRIME Support)
Voltage: 5V
Current: 10mA ~ 110mA
Material: PC + ABS
Buttons: 6
Dimension: 125 x 69 x 43mm 4.92 x 2.72 x 1.69 inch
Weight: 78 ± 5g 2.6 oz
Cable Length: 1.7 m (5.58 ft)
Certification: CE/FCCIC/BSMI/NOM
OS Compatibility: Windows
PRIME Support: yes
Warranty: 2 Years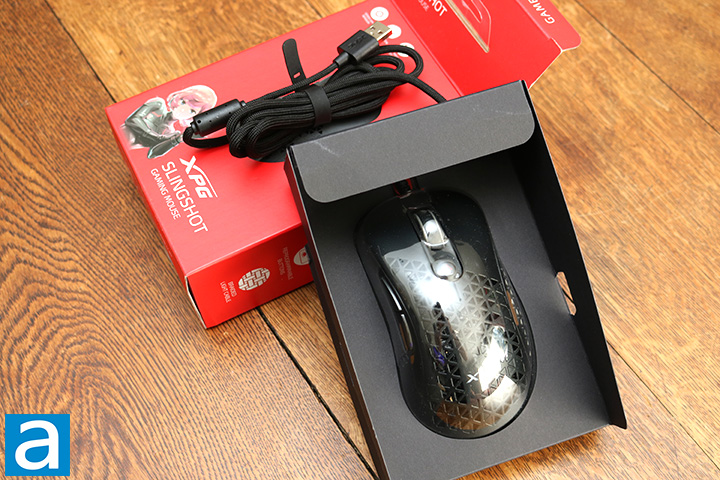 After opening up the retail box, you are met with a fairly standard layout. A cardboard shelf slides out of the box with the XPG Slingshot being found right in the middle on the front. It is held in place with a plastic shell, which can be easily removed. The cable is looped around to the back and tucked away in a small cut out. A few customary manuals and documentation is found in the box as well.
---
Page Index
1. Introduction, Packaging, Specifications
2.
Physical Look - Hardware
3.
Subjective Performance Tests
4.
Conclusion