Page 3 - Subjective Performance Tests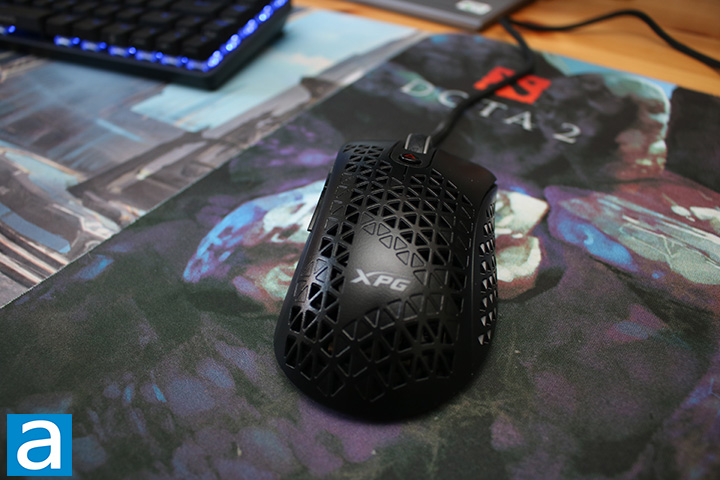 After installing and configuring the XPG Slingshot mouse to my likings, I continued to do some testing with it. Testing a mouse does have some subjective components to it, but through the overall tests, we hope to provide a more objective result. Testing is done in a normal office environment using the mouse for day-to-day tasks. Gaming is, of course, another important aspect of testing to determine its capabilities. Gaming tests were done in VALORANT, Overwatch 2, and DOTA 2. The XPG Slingshot is a gaming mouse, so these games should put the mouse through its paces. Some light graphics work was also done to see how the mouse performs in Adobe Creative Suite applications. All tests were run on the Cooler Master MasterAccessory MP750-L mousepad.
In my own use, I used a palm grip for the XPG Slingshot. A claw grip can be used as well, although the mouse is designed to cater towards a palm grip in my opinion. A claw grip is possible, making it possible to flick the mouse around quickly when needed in FPS games, but a palm grip is definitely more comfortable. Both grips are good, since the weight is well-balanced throughout the mouse. There are plenty of DPI settings to choose from, all the way from 400 to 12,000 in increments of 100. These are extremes, and will probably be largely ignored by most users. I settled the mouse in at 800 DPI, which I find to be comfortable for both FPS and MOBA games. There was some jitter at very high sensitivity settings, but it is not an area most people will venture into. No smoothing was noticed.
The XPG Slingshot is a gaming mouse, however, it should still hold up well for everyday office tasks. These are not stress tests by any means, but they do provide some indication of performance. The XPG Slingshot did well in day-to-day tasks. I did not notice any tracking errors, and the precision of the mouse was good. The PixArt PMW3360 sensor is a good sensor, so its performance in these tasks should reflect this, and it definitely did. Performance was similar in some light Adobe Illustrator and Premiere Pro work. It was easy enough to be precise within Illustrator, and moving through the timeline in Premiere Pro was comfortable.
Gaming performance is where the Slingshot is really trying to make an impact. The XPG Slingshot continued its strong performance in this area. Throughout the FPS game testing, the tracking was consistent and accurate. Similar results came from the testing done in a MOBA. The XPG Slingshot performs its function and does it well. The side buttons are also easy to actuate, and they are easily distinguishable. They were an effective shortcut for MOBA hotkeys throughout use. All the buttons were responsive, and I experienced no issues with tracking or clicking. Changing its DPI on the fly was easy as well, with each DPI setting having a different color associated with it. The color will change briefly and then go back to whatever you programmed it to, or in my case, just off.
Overall, the XPG Slingshot performed well in all of our tests. The tracking was consistent and accurate. Buttons were clicky and responsive, although it does feel a bit cheap as mentioned on the previous page. Throughout it all, the Slingshot was comfortable to use and made a good showing in each game.
---
Page Index
1.
Introduction, Packaging, Specifications
2.
Physical Look - Hardware
3. Subjective Performance Tests
4.
Conclusion