Page 4 - Conclusion
Every product has to be tested within its purpose. You cannot assess something according to a different goal than its intention. Just like writing a paper with a specific goal in mind, products are made to fulfill a certain need or accomplish a specific task. For the XPG Slingshot, the main selling point is the lightweight design. Unfortunately, it has all the compromises of a porous shell without the actual weight reduction at 78g, meaning it is simply not an ultralight mouse. Luckily, the performance for the XPG Slingshot is good. The PixArt PMW3360 sensor provides excellent tracking, which is consistent through different applications. The build quality is also good, providing a solid mouse with a great feel. However, the software is lacking. I ran into a problem where the choices I were making in the software were not being reflected in the mouse except for DPI changes. The user-configurable RGB LEDs turned off and would not turn on again, no matter what settings I applied in the XPG PRIME software. This is a big issue, because I know the LEDs themselves are still functional. I also wish the mouse was more lightweight. The entire design choice of an exoskeleton is to make the mouse as light as possible. XPG could have shaved much more weight off before calling the mouse an ultra-lightweight option, especially considering there are wireless mice around the same weight, and there are other mice that weight significantly less for not much more in price, such as the ASUS TUF Gaming M4 Air at 47g. Lastly, the switches feel a bit cheap, but the XPG Slingshot's price is only $35 USD, making it very affordable. It is not a high end mouse, rather it is aimed at the budget market. It is a good mouse, but the software and "lightweight" are quite a drawback when it forms such an important part of its identity.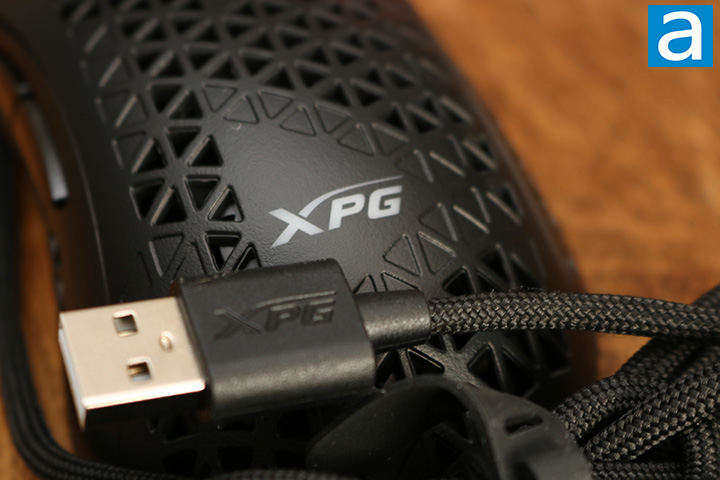 XPG provided this product to APH Networks for the purpose of evaluation.
APH Networks Review Focus Summary:
5/10 means An average product with no real advantages; drawbacks and advantages just seem to cancel each other out.
-- Final APH Networks Numeric Rating is 5.0/10
Please note that the APH Networks Numeric Rating system is based off our proprietary guidelines in the Review Focus, and should not be compared to other publications.
The XPG Slingshot is a good performing mouse at a great price, but it is way too heavy for an ultralight mouse with an exoskeleton shell, and the RGB LEDs fails work properly.
---
Page Index
1.
Introduction, Packaging, Specifications
2.
Physical Look - Hardware
3.
Subjective Performance Tests
4. Conclusion