By: Ben Joubert
January 11, 2019
I still remember years and years ago when I first got glasses. I do not remember if my eyes slowly got worse and worse, but I do remember suddenly not being able to see what was being written on the board at the front of the classroom. In the front row, I could squint and mostly figure out what was going on. I went to an optometrist and got my first prescription and first set of frames. At the beginning, I only wore my glasses in class. Quickly, however, my eyes became quite a bit worse and I had to wear them all the time. Like clockwork every year, my eyes would get slightly worse and I would need a new prescription. It is always a nice experience picking up new lenses and wearing them for the first time. However, I am sure everyone who has glasses experience the few annoyances that come along with it. They get dirty quite easily and cleaning them with a T-shirt is terrible, since sometimes the smudges just get worse. Contacts were never an option, as I thought it would be even more annoying having to take them out and in, while cleaning glasses is actually a small effort. I started to carry those little cloths with me so that I would not have to clean my glasses with my T-shirt. This has worked really well, except that they get quite dirty really fast. A new one needs to be used every few months or so. Whatever is the drawback of cloth, it makes up for it with how convenient it is. Similarly, cloth mousepads are generally excellent. They provide good control and speed, but they can get dirty much faster than a hard mousepad, which can be cleaned with a wet cloth. Mousepads have gotten better at this, by making the surface water resistant and so on. Today, we have the Cooler Master MasterAccesory MP750-L, which has a water resistant cloth, while also promising flashy looks with its RGB functionality.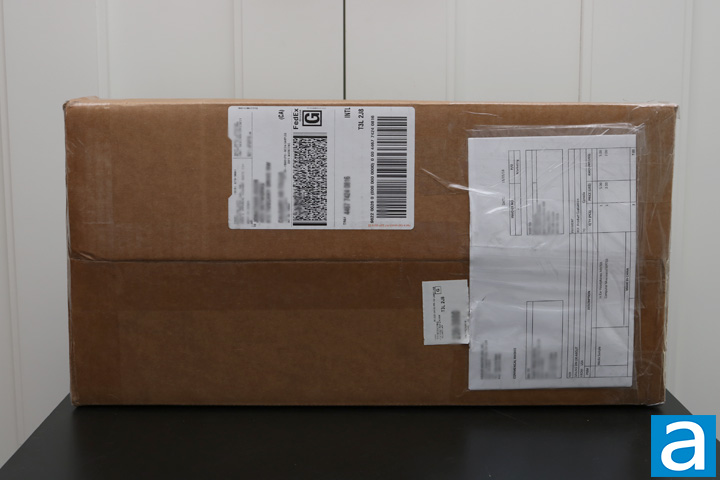 The Cooler Master MasterAccessory MP750-L arrived along with the Cooler Master MH703. As discussed in the other review, the box is medium sized with very little damage found around the exterior. A sufficient amount of tape was used to keep the contents secured inside, while the corners were only slightly beat up. FedEx ensured the safety of the contents, which is always a good sign on such a long journey. Traveling all the way from sunny Brea, California, the package arrived in the surprisingly sunny Calgary, Alberta. Inside of the shipping box, there was sufficient cushioning to keep the products from bouncing around. As well, the cushioning was also placed between the two products, preventing them from causing damage to each other. All in all, I am impressed with the overall good condition the shipping box arrived in.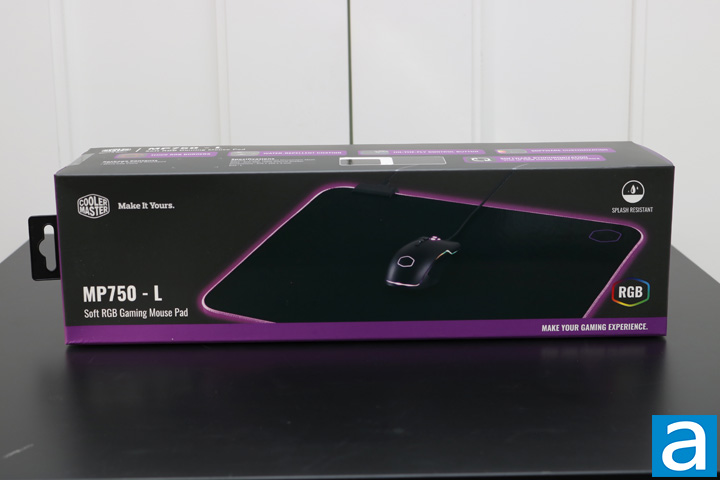 Recently at APH Networks, there has been quite a few Cooler Master products being reviewed. All of them has featured the same style of retail packaging, which is expected. The black and purple colors are excellent together, while the overall look is minimalist. White lettering effectively communicates the essential information, especially because the color contrasts with the black background. In the bottom left corner, the product name is found, while the top right advertises that the mousepad is splash resistant. An obligatory multi-colored RGB stamp is found in the bottom right corner, while a large image of the mouspad with its LED capabilities is found right in the middle. On the rest of the retail box, we find the different features explained in some more detail and explained in many different languages. The contents of the box are also found, which is simply the mousepad as well as a micro USB cable.
Before we move on, here are the specifications from manufacturer's website:
Product Name: Masteraccessory MP750
Model Number: MPA-MP750-L
Material: Plastic, cloth, natural rubber
Color: Black, purple
LED Color: RGB
Number of LEDs: 2
Software customization: Yes
On-the-fly controls: Yes - default effect switch
Surface: Finely textured microscopic mesh, Swift-RX identical surface with water resistant coating
Connectivity: Micro USB
Cable Length: 1.2
Size: 470*350*3mm
Product Weight (Mousepad and cable): 643g
---
Page Index
1. Introduction, Packaging, Specifications
2.
A Closer Look
3.
Subjective Performance Tests
4.
Conclusion