By: Ben Joubert
December 18, 2018
I have had a long and arduous history with headphones and earphones. When I was much younger, any cool looking headset would do the trick, but the allure of gaming headsets meant I always wanted a different one. I jumped around a little bit with headphones from brands such as Razer. At first, I would always just look for the cheapest headset and call it a day. But they broke so easily and so quickly. Finally, someone recommended the Kingston HyperX Cloud to me and I have had it for over three years now. It has been an excellent headset throughout that time. However, earphones has been a different story entirely. I used to use basic Apple earphones that came with an iPod touch. They fit my ear perfectly and they would never fall out. At that point, I knew barely anything about audio and so they did the trick for me. But the cable would break easily and Apple changed their design. I could not find any good earphones that did not have silicone tips. For the longest time, I did not like any earphone with a silicone tip. They would always fall out of my ears and sit uncomfortably. Over the last couple of years I have gotten used to them, but it was a bit of a struggle. Today, we have the Cooler Master MH703 earphones, who do have silicone tips. However, I am actually quite excited about how these will perform. Read on to find out how it did!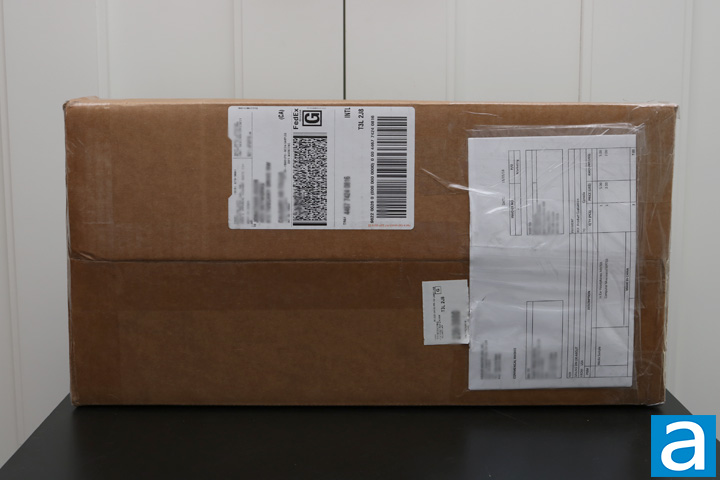 The Cooler Master MH703 arrived along with the MasterAccessory MP750-L in a medium sized brown box. As you can see from the above picture, the outside is in excellent condition all thanks to FedEx. After being shipped all the way from Brea, California to Calgary, Alberta, I am pleasantly surprised that even the corners have barely any damage done to them. The pristine condition continued all around the box and there were no bigger dents found anywhere on the shipping box. All in all, I am very impressed. Inside there was plenty of cushioning to keep the two products safe from any bumps or bruises.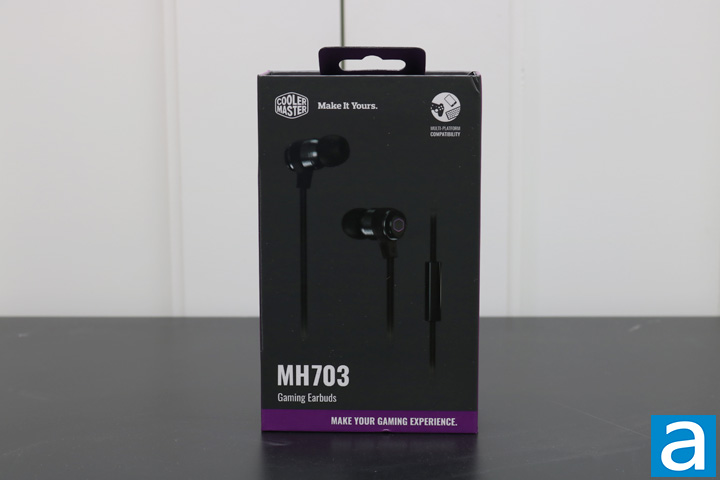 As you can see in the above picture, the care taken in the shipping box kept the retail packaging nice and safe. Recently, all the products we have reviewed from Cooler Master has featured this mostly black background with some purple, and I still really like this choice. Front and center, we have an image of the earphones with its name written in white below it. The Cooler Master logo and motto are found in the top left and the earphones compatibility is listed in the top right. The sides of the box are all in purple and the left side features the contents of the box in many different languages. The back has some more detailed information, again in a few different languages.
Before we move on, here are the specifications, as obtained from the manufacturer's website:
Product Number: MH703
Dimensions:(mm/inch)(L X W X H) 21* 11 * 11 mm 0.87 * 0.43 * 0.43 inches
Weight: 14.5 g, 0.032 lbs
Weight (without Cable)6.65 g, 0.014 lbs
Driver Diameter: 10 mm
Frequency Response: 20 – 20,000 Hz
Impedance: 16 Ω
Sensitivity: (@1kHz)100 dB ± 3 dB
Input: Maximum 5 mW
Cable length: 1.3 m
Materials: Silicone eartips with brushed aluminum chambers
Microphone
Pick-up Pattern: Omni-directional
Frequency Response: 100–10,000 Hz
Sensitivity:(@ 1kHz)-42dB ± 4 dB
Signal to Noise Ratio: 58 dB
Microphone Type: In-line
Warranty: 2 years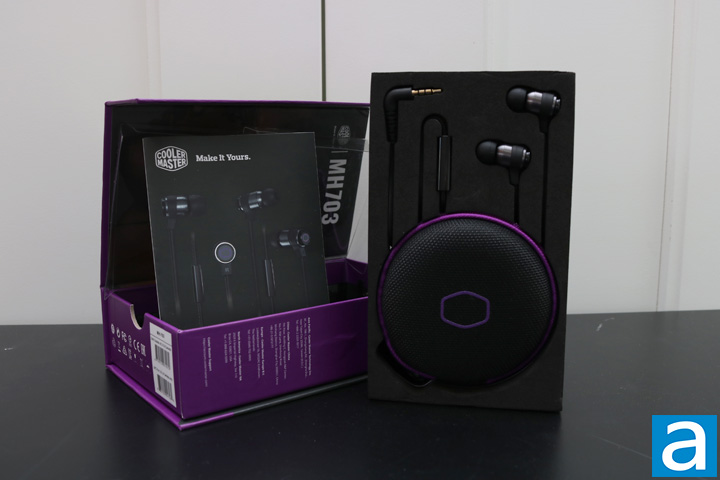 The right side of the Cooler Master MH703 has a magnetic flap, which opens up revealing the contents. The earphones and the carrying case all sit in molded foam, which makes the presentation excellent, but also keeps the product nice and safe during transportation. The whole foam mold can be lifted up and out. Underneath the foam was all the manuals and information booklets. I appreciate the simple yet safe way of presenting the product. As well, the carrying case is definitely a step up from other earphones. It is made from material that is slightly hard, so it keeps it shape and protects the contents well. It is slightly bulky, but can easily hold the earphones, the eartips, and the cable splitter.
---
Page Index
1. Introduction, Packaging, Specifications
2.
Physical Look - Hardware
3.
Subjective Audio Analysis
4.
Conclusion