By: Aaron Lai
December 24, 2015
When it comes to shopping, there is always one thing I do when I walk into clothing stores, and this is to head all the way to the back. This is because all the clearance items are generally in this area of the store. Call me cheap, but these products are really only here because they have gone out of season, and there is no blemish with the build. Unfortunately, there are multiple problems accompanying this choice. For one, a lot of other people do the same thing, so it can get quite crowded. Secondly, the clearance prices are not always great, and generally do not stack with current promotions. Thus, you might be spending more for older products. However, the biggest issue in my opinion is the lack of sizing. While you may find a style and article of clothing you like, it generally is on either ends of the spectrum for sizes, and therefore, it is either too big or too small. With me being quite average in terms of proportions, I cannot usually find a good clearance item, since everything I wear is practically medium. As you know, like many other statistics, people sizes follow the normal curve, with majority of people falling in the middle. When XTracGear called us up and told us they had another Carbonic for review, I was curious as to see what they would do. For one, we already had their original Carbonic, as well as their updated XXL version, so I thought they had covered all their bases. Today, they sent us the extra large version. Despite its name, this Carbonic XL is more like a medium, slotting in between the two aforementioned versions. Did XTracGear pull it off, creating the figurative baby bear solution of not being too big or too small, and fitting for the majority crowd? And furthermore, did they change up the formula of the Carbonic? This review will hopefully reveal more than these questions, so let us continue on and find out!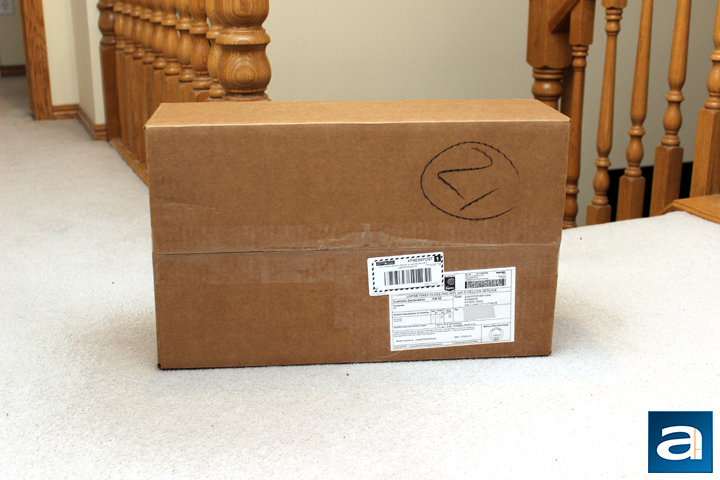 Today's review unit of the XTracGear Carbonic XL arrived via USPS and Canada Post, in excellent condition. This parcel was driven all the way from XTracGear's offices down in Salt Lake City, Utah. Unlike the XTracGear Carbonic XXL they sent us last time, this mousing surface did not arrive in a long rectangular tube-like box, but rather in a larger box. Along with the Carbonic XL we are reviewing today, XTracGear sent us their Drone XL, which I will be looking at in the coming weeks. Otherwise, the corrugated cardboard box has zero dents or scratches to worry about, so I pulled out my scissors, and got to work.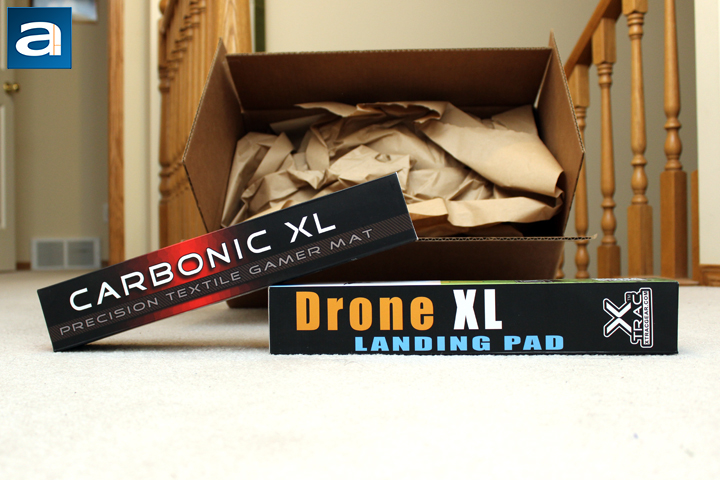 Out of the parcel container, we have both the Carbonic XL and the Drone XL in their respective retail containers. Again, much like the supersized brother of this unit, the Carbonic XL comes rolled up in an elongated tube. The retail container comes in the same red and black visual theme, with the description of "Precision Textile Gamer Mat". Around the boxes there are several panes of information, including key features, specifications, and contact information. The top flap is also labeled with the same "Open Here For Awesome", which is something unique to XTracGear.
Before we do open the box for awesomeness, let us take a look at the specifications and features, as obtained from the manufacturer's website:
Features
- Polished textile surface
- Overlock stitch edges
- Enhanced Sure Grip comfortable open cell rubber backing
- High Definition (HD) carbon fiber repeating pattern on the surface
Advantages
- Whisper quiet mouse surface helps make for an ergonomic desktop
- Our polished textile surface enhances the speed and glide of your computer mouse.
- Overlock edged stitching for iron clad fray resistance.
- Open cell rubber backing helps to cushion your wrist
- Large sized for low sensitivity gaming.
Specifications
- 45.09cm X 35.56cm X .32cm (17.75″ X 14″ X 1/8″)
- Surface: Polished textile for speed with our embedded repeating carbon fiber print designed for superior accuracy
- Edge: Armor plated black overlock stitching for extreme durability and high performance
- Base: Sure Grip open cell rubber backing grips any desktop surface with an iron-like grip
---
Page Index
1. Introduction, Packaging, Specifications
2.
A Closer Look
3.
Subjective Performance Tests
4.
Conclusion