By: Aaron Lai
November 18, 2022
I always find it interesting to see what kids want to be when they grow up, especially as they often only know so many occupations at a young age. I doubt many kids in preschool are looking for careers in accounting, human resources, or even engineering, even if their parents work in those fields. Instead, I think lots of kids would pick occupations that they have observed in around their neighborhood. This could include first responders like firefighters, police officers, paramedics, or doctors. My niece is the same, as she has wanted to be a firefighter. Her fascination with fire engines probably fueled this desire. Whenever she would see a fire engine drive by, she would squeal in delight and point it out excitedly. As she is now into her preschool years, I am sure she will learn more about what it means to be a firefighter, but also will be exposed to more occupations as she gets older. I do not really think I had a go-to answer when I was young, but I did always want to work with computers. Obviously, that has come true, in both my formal career and as a writer for APH Networks, which is something I am quite thankful for. Today, we have a new company to us named Yeyian. As they seem to be a younger company, I was interested in what their aspirations were. According to their vision, they want to be "a worldwide recognized brand for its solutions, quality, and service". With our review of their USB microphone and streaming kit in the form of the Yeyian Agile NL, we can see if this is the case. How will it perform and what precedence will it set for the brand? Let us read on to find out!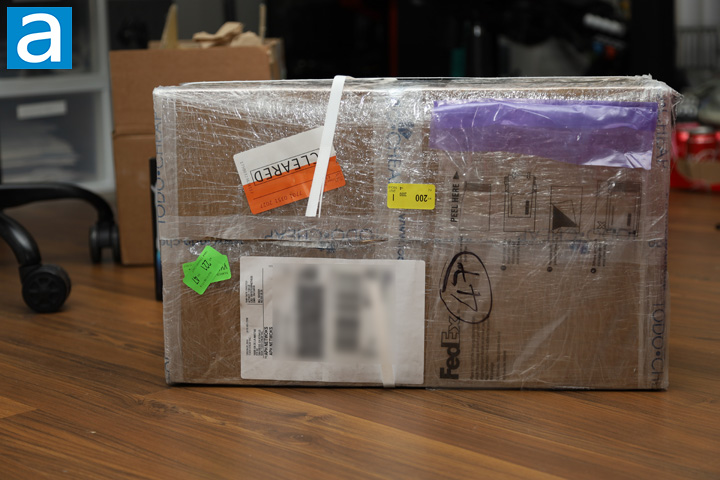 Today's review unit of the Yeyian Agile NL arrived from San Diego, California, USA. Traveling with FedEx and their International 2Day service, this box arrived in relatively good condition. The entire corrugated cardboard box is shrink wrapped with multiple plastic layers to ensure no one else will get into the box. The box was also sealed with packing tape that has Todo Cheap's name on it and straps to further keep the box from being tampered with. Otherwise, along with the Agile NL, Yeyian also sent us their Akil Series 3500 and Links 3000, which will be reviewed by my fellow editor Jadon Lee.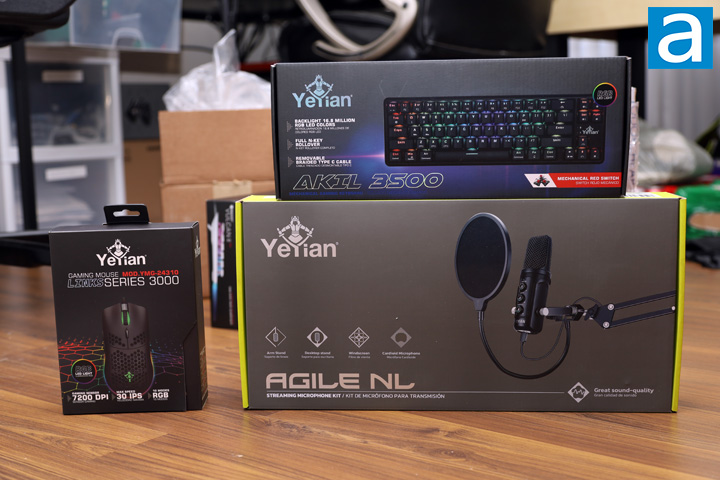 As mentioned already, Yeyian is a new brand to us. Doing some digging, Yeyian was originally based in Mexico, along with a couple of sibling brands that are also linked to Todo Cheap. All of these brands and Todo Cheap share the same primary contact addresses too, making me think they are connected to each other, although the hierarchy is not clear to me. However, since 2017, these brands have established American offices in San Diego. On an aside, when we first saw the brand, I thought the name was pronounced more like "Yay! Ian!" as two separate words, but now we know it is very much pronounced like a single word, like "yay-in".
One thing that is not consistent between the three products above is the retail boxes, as they all seem to have a different color scheme and layout. As for our Agile NL USB microphone today, the front is all gray with a neon green-yellow border framing the box. The Yeyian logo can be found in a metallic finish at the top while the bottom shows the Agile NL product name in the same finish. Underneath, we have a description of "Streaming Microphone Kit" in English and Spanish. To the right side, we have a photo of the Agile NL mounted on the desk arm and with its pop filter installed. Some features are highlighted on the front, but we will explore these in detail later on. Otherwise, around the box we have more photos and features of the Agile NL for consumers to understand the items inside.
Before we continue on, I have grabbed the specifications from the manufacturer's website for your perusal:
Microphone: Cardioid
Response Frequency: 80Hz-20000Hz
Sensitivity (dB) (mic): -33±2dB (1.5V,680KΩ;0dB=1V/Pa,1KHZ)
Signal to Noise Ratio: >68dB
Impedance (ohms): <680Ω
Sampling Rate: 192KHZ/24Bit
Max SPL: 110dB
Warranty: US 12 | MX 12 | ESP 24
Accessories: Windscreen, Microphone support with arm, Mic Filter, Audio Cable, Microphone Clip, Desk U shape stand for Microphone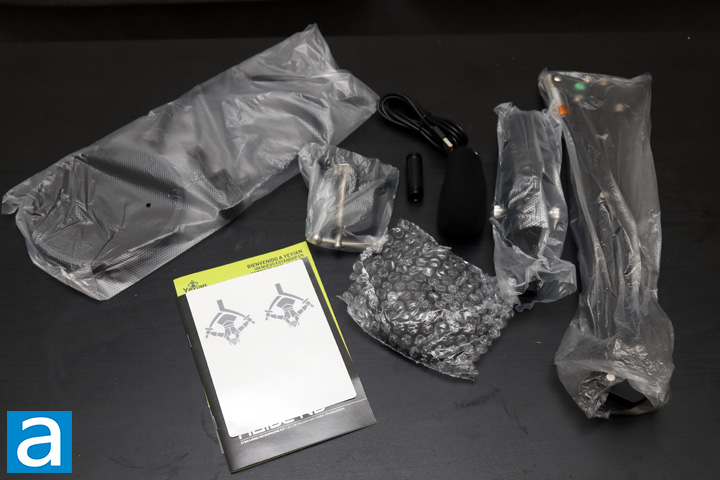 As you may have read in the specifications list, the Yeyian Agile NL comes with a lot of different accessories to help you get set up. This is understandable as Yeyian markets this as a microphone kit. As such, we have all of the different accessories found in different plastic bags. Each of these accessories are packaged in the box with a foam cutout area to ensure the items here are not damaged while in transit. In addition to these accessories, we also have some manuals to cover general usage and warranty coverage. Just so you know, Yeyian covers their Agile NL for a single year warranty in the US and Mexico.
---
Page Index
1. Introduction, Packaging, Specifications
2.
Physical Look - Hardware
3.
Recording Performance Tests
4.
Conclusion