By: Jadon Lee
November 25, 2022
Lately, I have been thinking about going on vacation. With trips being planned, the stress of packing is becoming ever so real. Having a suitcase where you can pack in a dense manner has been something I have been seeking as I do plan on bringing back many gifts with me. Of course, I would also need to pack clothes to last the entire trip, so the difficulty arises in balancing my personal needs and what I want to bring back. When it comes to packing methods, I personally am a fan of rolling my clothes, as I find it to be the most compact way to pack. Tightly wrapping my clothes in what seems to be a nice little tube is not only compact, but organized. I simply do not think there is a better way. A lot of times, I find compact to be better. The reasoning behind this is that things can be cleaner and less crowded. I think of this when I consider my desk setup with how large my case should be, size of my mouse and monitors, and especially the size of my keyboard. I have been favoring TKL keyboards for quite a while now, but I have had a lot of experience in smaller form factors. This week, we have the Yeyian Akil Series 3500, which is a 65% compact keyboard with hot-swap and Bluetooth capabilities. Will this keyboard hold up to my standards or will it fall short? Keep reading to find out!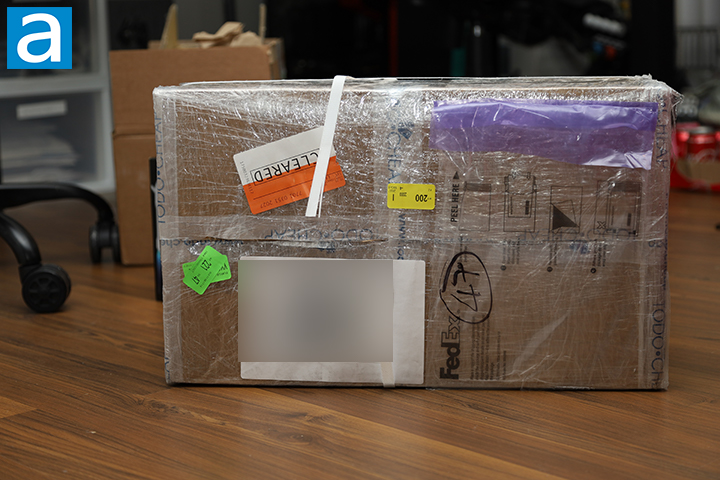 Our review unit of the Yeyian Akil Series 3500 arrived in a brown corrugated box from San Diego, California, USA via FedEx and their International 2Day service. The box arrived in relatively good condition. The entirety of the box is shrink wrapped with multiple plastic layers to ensure no one else will access the box. The box was also sealed with Todo Cheap packing tape to further keep the box from being tampered with. Alongside the Akil Series 3500, Yeyian has also sent us their Links 3000, which I will later review, and the Agile NL, which has been previously reviewed by my colleague Aaron Lai.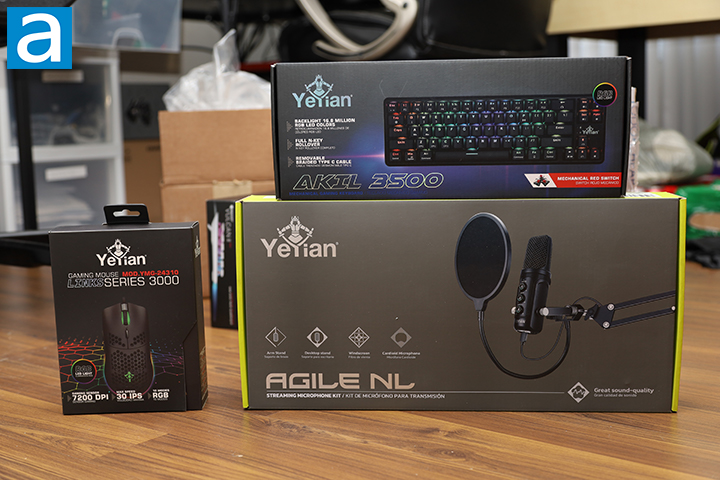 The Yeyian Akil Series 3500 box design is very standard, utilizing a primarily black box accented with white and a bit of silver text for their logo. The background does have a bit of a purple glow, as you can see in the image above. The first word that comes to mind when I look at this box is "stereotypical". This does not necessarily mean it is a bad design, but I will not consider it anything special. As usual, the front of the box displays an image of the Akil Series 3500 alongside its name on the left and a couple of features on top. Yeyian promptly displays its logo on the top left of the box. The back of the box contains some specifications as well of the name of the product again.
There is a noticeable inconsistency in package design regarding the color scheme between the three products, sprouting a unique appearance for each of them. From a marketing perspective, this is not very ideal, as inconsistency reduces brand recognition. In terms of actual design, they are all adequate, but the lack of uniformity will make at least a few people question whether or not they are made by the same company. As someone who has learned something in their marketing class, I highly advise for uniformity between products. A simple base and accent color will serve to be quite beneficial in developing better cohesion.
Before we continue, here are the specifications for the Yeyian Akil Series 3500, as specified by the manufacturer's website:
Number of keys: 68
Cable Sheath: Braided Cable
Polling Rate: 1000 Hz
Type: Windows 7/8/10/Mac Os, Standard keys, QWERTY 65% Design
Key Type: Mechanical Switch Outemu Red
Backlit: Yes, RGB
Compatibility: Windows 7/8/10/Mac OS
Plug and Play: Yes
Warranty: US 12 | MX 12 | ES 24
Power Type: USB
Current Type: DC
Voltage: 5V
Battery Capacity: 2000 mAh
Connector: USB
Standby Mode: 8 days
Use Time: 8 to 12hrs depending on use and illumination
Cable length/reach: 5.9 Feet
Additional Characteristics: Complete N-Key Rollover, ABS Double-Shot Injection Key Caps, Wired or Bluetooth, Detachable USB Cable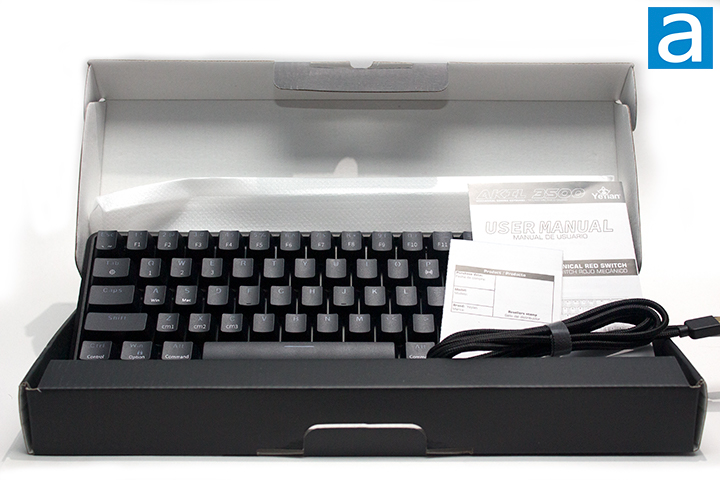 Out of the box, you will receive the Yeyian Akil Series 3500 itself alongside the braided cable, quick start guide, warranty booklet, and a plastic keycap puller. The keyboard was wrapped in some nice PE foam to prevent any surface scratches on the keyboard, while the cable was gently placed underneath a fold of cardboard. The quality of packaging was on par with many other budget keyboards. The packaging was nice and simple, while having an adequate amount of cushioning to ensure the safety of the keyboard.
---
Page Index
1. Introduction, Packaging, Specifications
2.
Physical Look - Hardware
3.
Conclusion