By: Jadon Lee
October 9, 2020
For the past couple of weeks, I have been eating out with my fellow co-workers. Many of them have either already quit or are in the stages of quitting. Personally, I thought I would never form a deeper and real relationship with my co-workers, but there is something about struggling together that really brings people together. With our shared issues we had from work, we were able to just rant and relate to each other, because we all shared the same views. I will not go much deeper into it, but I found it very nice to just rant a bit and I believe my co-workers did too. Even though we feel close, I still question whether these relationships are truly genuine or not. Of course, not all of us work together anymore and still choose to spend time together, but is that what makes a relationship genuine? My main question is, had we not been working together, would we have ever become friends to begin with? In most cases, I feel like I would never have tried to meet them. My only issue with this is how harsh that sounds, but sometimes the truth is blunt like that. On the other hand, if we are able to get along now, maybe we would get along no matter the circumstance. In the end, I still have not decided on whether this relationship is really genuine or not as the concept of genuine relationships is too large to currently comprehend at three in the morning. Despite this, something I can understand is a genuinely good keyboard. Today, we will be looking at a keyboard sent over to us from Durgod. The model we will be examining is the Taurus K320 mechanical keyboard. You might recognize this brand name from a previous review I have done on the Durgod Taurus K310. How will the Taurus K320 compare to the Taurus K310? Keep reading to find out!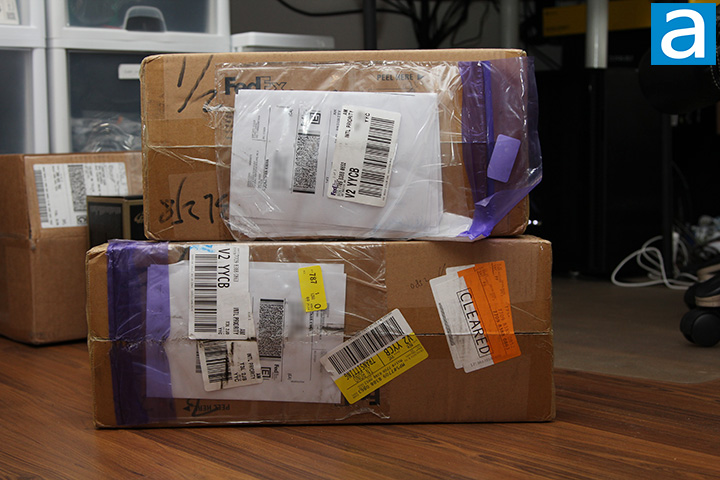 This review sample of the Durgod Taurus K320 came in a rectangular box from Zhuhai, China. This packaged traveled with FedEx International Priority and was packed very well with a thoughtful amount of space necessary. Inside one of the boxes resided the Durgod Taurus K320 we are reviewing today, while the second box contained the Taurus K310. Both arrived in decent condition; having no noticeable marks on the retail box.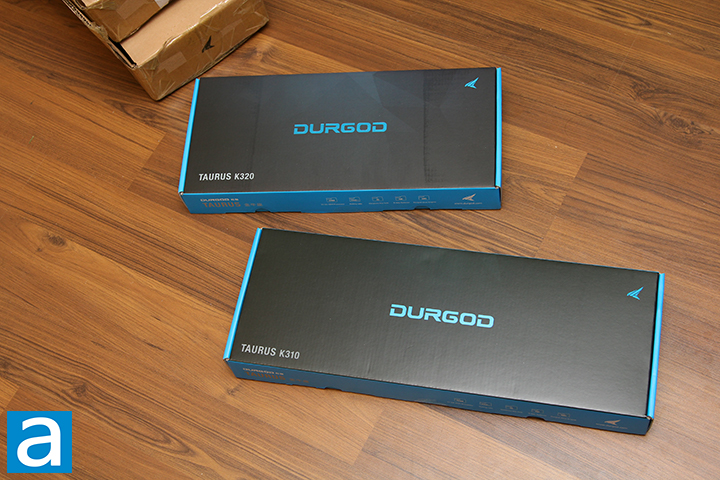 The box design of the Durgod Taurus K320 is quite simple with a black and blue base with white accents, just like the Taurus K310 also shown in the photo above. The Durgod logo is placed on the top right corner of the box while the model is displayed on the bottom left. Durgod is written in blue at the very center of the box. There is nothing much going on here, which is a great thing in my opinion. For a keyboard, a nice and simple box will suffice as placing too much onto the box could be too much. The sides of the box display the model name as well as some additional specifications.
Before we continue, here are the specifications for the Durgod Taurus K320, as posted on Durgod's website:
Model: Taurus K320 Mechanical Keyboard
Keycap Material: PBT double-shot keycaps
Dimensions: 357.5*132.5*24.5 mm (W*L*H)
Weight: 0.9KG
Switch: Cherry MX mechanical switch (Black, Blue, Red, Brown, and Silver)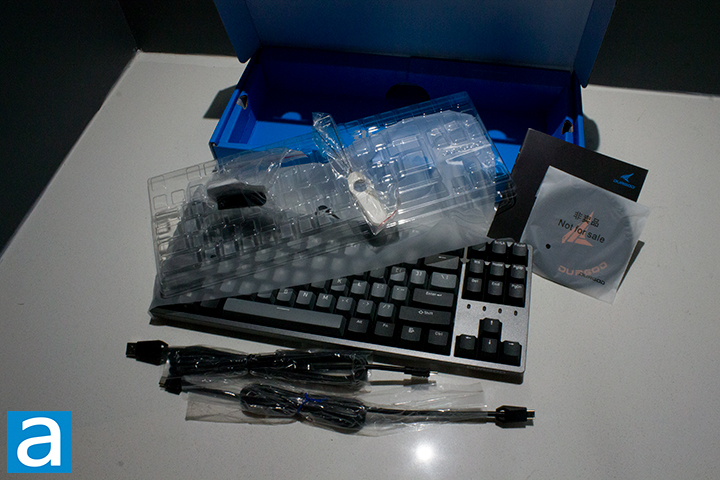 Out of the box, Durgod provides the keyboard itself alongside several additional accessories. This keyboard comes with two different cables. Both cables terminate with a USB Type-C connection on one end, but one ends with another USB Type-C, while the other uses a USB Type-A connection. In addition to this, the Taurus K320 also comes with a cable tie, keycap puller, user manual, and an unexpected coaster. To be a little more clear, I now understand this "coaster" is actually just a demo for their mousepad material, but it works really well for a coaster. The user manual contains standard information about general setup and function key uses. The Taurus K320 comes with a lot more than I could ever expect.
---
Page Index
1. Introduction, Packaging, Specifications
2.
A Closer Look - Hardware and Software
3.
Conclusion