By: Aaron Lai
September 29, 2023
"Do as I say and not as I do" is often a self-admission of hypocrisy, although it is usually said in jest. As I mentioned in my report of the Cooler Master V SFX Platinum 1100W, I was a part of Jonathan's wedding party. Between the ceremony and reception, we headed outside to take photos. There was one photo where the bride and groom would walk first while the rest of the wedding party was supposed to walk behind them and the photographers would take photos. As you know, a wedding dress is a long dress and therefore it is important to not follow too closely or else you may easily step on the train. As we were walking, I announced to the rest to avoid stepping on the dress, unbeknownst to myself I was doing that very thing. At that moment, I looked down and immediately jumped off, but it was too late. The irony did not come from the fact I was walking on it, but rather I was doing so while declaring the opposite in a loud manner. As it says in the Bible, I should have first removed the plank in my own eye before telling others about the speck in theirs. It would have been less embarrassing if I just looked down first before saying anything, but unfortunately, everyone heard me. On the other hand, if you are looking at a microphone, I think the goal is to make sure you are heard. Today, we have the FIFINE AmpliGame AM8, a PC microphone that offers versatility with its USB and XLR connection options. How does this microphone perform, and will it pick up my voice with clarity? Let us read on to find out!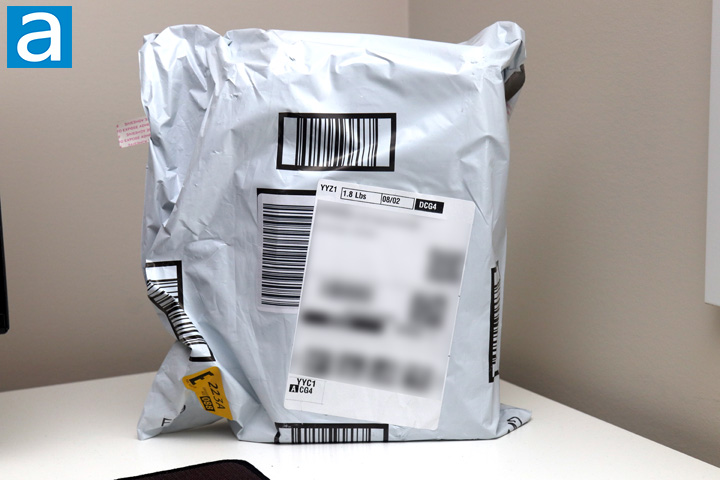 Our review unit arrived to our APH Networks offices in Calgary, Alberta via Amazon and their own FBA Swiship. Due to the lack of tracking information, I am not entirely sure where this parcel originated from, but everything came in good condition. The FIFINE AmpliGame AM8 was packaged in a white Amazon bag with minimal protection. There are no gashes or marks on the bag, which is a positive thing, but any dents or bruises would not show up here either. As such, I grabbed a pair of scissors and opened up the plastic envelope to see what was inside.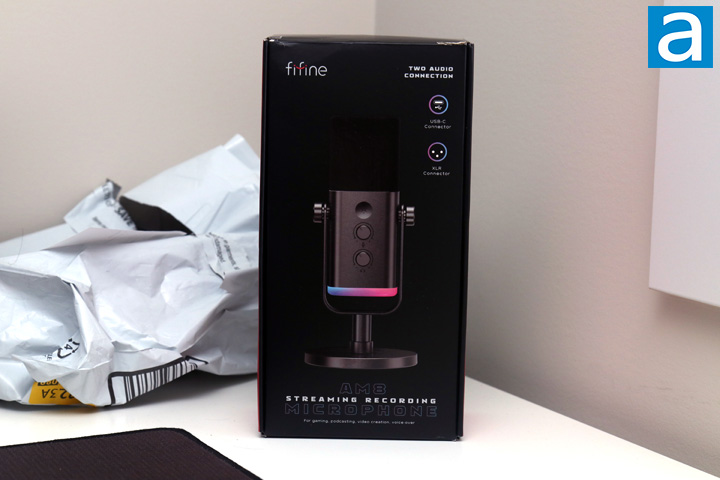 Based on the slight dents and tear at the top, you can see the FIFINE AmpliGame AM8 did endure some discomfort during transit, but it is nothing to be concerned about. The retail container of the AmpliGame AM8 is pretty clean with an all-black finish and red accented side panels. The company logo can be found on the top, with the microphone showing up in the middle. Underneath, we have the AM8 name, along with a description of "Streaming Recording Microphone" underneath. At the very bottom, we have a tagline of "For gaming, podcasting, video creation, voice-over". Finally, down the top right corner, you can see this advertises its two audio connection options, including USB Type-C and XLR. It is pretty neat to see a microphone offering both, but we will see what this looks like later on in our review. Around the box, we have some more features and different images of the microphone inside.
Before moving on, I have grabbed the specifications from the manufacturer for your viewing pleasure:
Type: Dynamic
Polar Pattern: Cardioid
Output Connection: USB type-C (mic end) to type-A 2.0 (computer end)/XLR
USB Power Consumption: Voltage: 5±0.25 V
Bit Depth/Sample Rate: 16-bit/44.1k-48k Hz
Frequency Response: 50-16kHz
S/N Ratio: >80 dB
Sensitivity: -50±3dB
Shipping Weight: 1.0 kg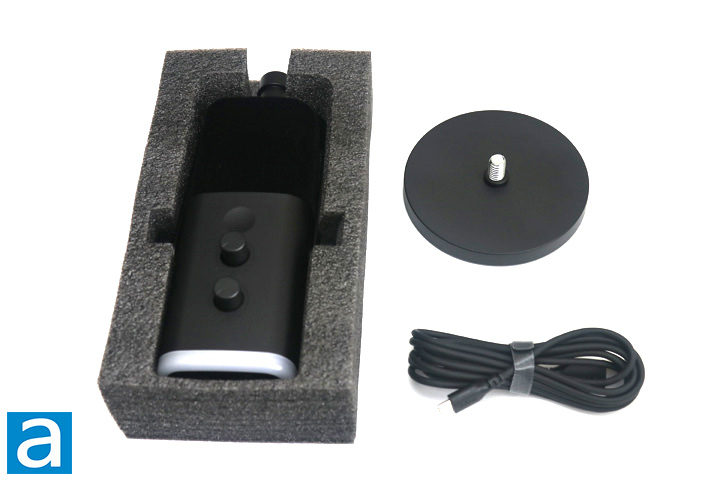 Out of the box, everything can be found sandwiched in a set of gray foam pieces. One holds a detached metal base stand, while the other holds the FIFINE AmpliGame AM8 microphone. A USB Type-C to Type-A cable is also included for connecting the microphone to your computer. This is a rubber one that measures approximately 2.0m in length. Finally, a small manual is included to help you quickly get started with the AmpliGame AM8.
---
Page Index
1. Introduction, Packaging, Specifications
2.
Physical Look - Hardware
3.
Recording Performance Tests
4.
Conclusion