By: Jonathan Kwan
August 4, 2008
It's been almost two years since we've conduced our last interview. There are so many interesting people in the world, I just don't know where to start! After taking a look at the Sumo Lounge SumoSac a few weeks back, there's one person I felt like I really need to interview. That's Andrew Milligan, the guy who came up with Sumo Lounge, a company that designs and markets beanbags, and brought it to what it is today. I really wanted to know more about the brainchild behind this company when I read the Wall Street Journal article on some background to his business. But how much can a couple paragraph say? Not a lot. I'm really lucky to get to know Andrew himself though. So, with our notebook (computers) and the such in hand, we had an opportunity to sit down with Andrew over at Sumo Lounge with our exclusive interview on APH Networks today.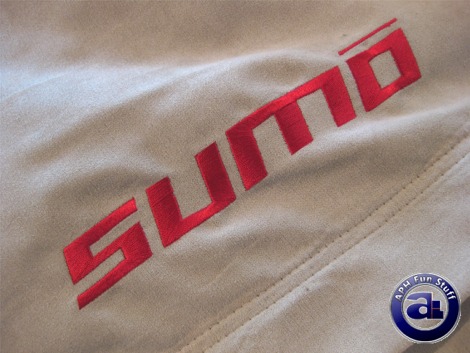 ------------------------------------
Jonathan: Hi Andrew! Thanks for spending time with us with us today in our interview. I won't beat around the bush, so first things first -- what's your daily routine as the owner of Sumo Lounge, and what kind of things do you process on a regular basis?
Andrew: Nothing is routine - I am always trying to find new products & open up new markets but the one thing I do every single day is spend many hours (usually 8 - 10) in front of my laptop writing & replying to emails.
Jonathan: It's always interesting to go over some history -- from what I read, you originally spent a significant sum of money on trade shows and magazine advertisements, but your business didn't really kick up until it has reached reviewers to write about your product. Why do you think the original business plan wasn't as optimal as you thought would be?
Andrew: The original business plan was trying to sell wholesale & it was a major pain.
Problems with it:
1) Retailers doubled the final price. Instead of a $129 bean bag chair it became $249 & hardly any people are stupid enough to pay that much money for a simple bean bag chair!!!
2) Wholesale account especially when they are small retail stores are a pain to deal with. A lot of them have attitudes, take up a lot of time & in the end a lot of them want "payment terms" & that is tough when you are starting out a business with no money!!
Jonathan: I used to run an online business as well. When things are down, it sure doesn't feel good. How was it for you personally when business was not as great as expected?
Andrew: It was tough but I believed in it & persevered through. Still not every day is great!!! Some days are much slower than others & the trick is not to let it get you down - push on & hope that things will get better & usually the do. In business I think "perspective" has a lot do with the outcome of things. If people don't think big or are positive people - how could they ever succeed?
Jonathan: When you exchanged twenty beanbags for three-months advertising on Engadget, and then Playboy magazine saw it and wrote about your products, did you expect such a significant impact on Sumo Lounge? How did it feel as compared to the slow business before?
Andrew: Ohhhh - that made a big difference. I just emailed Engadget & asked for a review & right away they got back to me & said "no reviews but we can trade you product for advertising". At the time I had lots of inventory & no money & said yes!!!
Next day a top editor at Playboy called & asked for a sample for a last minute shoot & I said yes of course!!!! It cost me over $600 to send it FedEx Express but I had a few weeks to pay it & knew that Playboy would pay off in the end.
In the end the review in Playboy sold a lot of bean bags & it allowed me to form a relationship with their marketing department who I still work with today. They are all really nice people - smart & professional as well but very good people & a pleasure to work with.
Jonathan: Speaking of which, do you "read" Playboy? ;)
Andrew: No.
Jonathan: Backtracking a bit, What did you do before you came into the beanbag chair business? Who or what brought you this idea, and how did you enter this market?
Andrew: Ohhh - this will take a minute.
When I was young I dropped out of high school & did not know what to do & shortly after I decided to become a sailor (good paying job & chance to see the world) & I moved to Rotterdam & stayed there for 3 years.
After that I got sick of working on ships & wanted to start a business but did not know what.
I moved back to Canada with a clock that I bought in Europe & decided to call the company to ask them for North American distribution & got the contract. After that I harassed a company in New York that looked cool named Totem Design (they are out of business now) & booked up a gallery with them to launch their clocks & some bean bags they just added. After that I called a famous designer named Karim Rashid & got a contract with him to produce some clocks to launch at the gallery.
The day before the gallery opened the company from Holland told me "no Karim clocks were ready" & it was a big disappointment & I was not too happy.
After the exhibition which cost me over $10,000 & was a total failure I went to Chicago & did a trade show. After the show I sent money in advance & put an order in with the people at Europe for some bean bags & they said:
"They had no more stock - I should have ordered more before" & they would recommend I start a more profitable business". I went to a lawyer who told me "I would not work with any ungrateful Europeans - you did a great job & I would advise you to create a new company". & so I did & that was in Jan 2004 & with no money & a lot of debt!!!
Since then though things are better - Sumo took off in 2006 & since then has been growing nicely. Now I have a fairly large business & a lot of marketing & good structure behind me & this year we are entering Europe with better products at a better price & the tables turned on the other guys & I am doing it all with a lot of satisfaction & a very big smile on my face! :) :)
Jonathan: Where are Sumo Lounge products manufactured in anyways?
Andrew: Covers for the Omni & Otto are done in China & sent to 2 factories in Canada, 1 in the US, 1 in the UK, 1 in Australia & 1 in New Zealand. SumoSac's & beds & the likes come from a few factories mostly based in the USA.
Jonathan: How did you come up with the name "Sumo Lounge"? I've always wondered about that haha.
Andrew: I dont know!!!!!! I thought Lounge was cool.
A man named David Shearer picked the name Sumo & I never really properly thanked him for that but might as well do it now!!! Sumo was the name of the company but the URL was taken so I threw in SumoLounge in the web registry, it was available & so I took it!!!
Jonathan: Where are most of your customers from? I see that you use FedEx to deliver the products -- wouldn't it cost a load to ship the products, even via ground methods and a FedEx account?
Andrew: A good chunk of the business is within Canada & US but Australia & the UK are picking up quickly as well. Europe I have good hopes on too!!!
When I started the business I was speaking with FedEx & got exact dimensions on their "OVERSIZE 2 TIER" & built the covers & boxes to fit it perfectly. If the boxes were half an inch over I would have got billed at 90lbs instead of 30 & had a $45 flat fee added on as well!!!
That's how I always had great rates with FedEx. In Feb 2007 FedEx got rid of their "oversize tiers" (maybe on account of people like me!!! - lol) but by that time I was a good customer who did a lot of volume / business with them so they were obligated to keep me as a customer. I had UPS & DHL match their rates as well but starting the business with FedEx I like them (they helped build the business) so I will probably always be partial to them.
Jonathan: Beanbang chairs may seem like simple products, but I'm sure it takes a lot of work to come up with a new product. How do you come up with new products (Like inspirations, and you know, to that extent), and do you plan to expand into other furniture products?
Andrew: R&D is top secret!!! :) :) & I cannot share that info.
Lots of new products in the works & we are hoping to launch 3 more within the next month.
Jonathan: Are there any particular 'guidelines' you stick to when new products are designed?
Andrew: Quality & retail price are most important!!! Also since we almost always cover shipping we look at shipping costs as well.
I have studied a lot of other bean bag companies & mean really tore them apart with in depth investigations from ex CIA & intelligence agents who moved over to the private sector. Most bean bag companies hit a plateau - get a little hype, grossly over charge for their products & then sooner or later within 2 - 3 years business drastically decreased & they fall on their arse.
Sumo is more about making customers happy. Send them a great quality bean bag chair for around $200 & then they recommend 10 friends. Price is important - bean bag business is a bit silly anyways - no such thing as a real brand - just have good quality, good service & good pricing & you should survive.
Right now Sumo is 4.5 years old & still growing strong while lots of other companies have come & gone & hit their plateau years ago.
Jonathan: Any exciting new products that are coming along that you can tell us about?
Andrew: Dog beds, rocker chair & a video game chair that should be ready Jan / Feb.
I am also working on a software company & have an idea for a furnished suite / hotel business but they will come down the road. New Year I hope!!! :)
Jonathan: What are some of your current plans for your business, and what's your vision of Sumo Lounge in the next ten years?
Andrew: Ohhh - 10 years is long & I could barely see 1 year in advance.
This year I want to get a strong position in Europe. Next year the Middle East, Asia & Australia a little bit more.
From there I don't know but usually I come up with new ideas & am sure I will figure something out.
Jonathan: How many beanbag chairs do you have at home?
Andrew: None!!! I used to have a bunch but now I live in Argentina (Buenos Aires) & since it would cost a fortune in shipping I never bothered sending any. My friends & family always have a ton & I always get to spend time on a Sumo chair one way or another.
Jonathan: Well, now that we got to know more about Sumo Lounge... let's talk about the less serious side of Andrew himself. And I'm going to ask some random questions too, bear with me haha. As we're a tech site here, and I'm geeky enough to ask -- what computers do you have?
Andrew: 3 laptops (2 back-ups & one) IBM Notepad which I am using now. I use Windows - probably Mac's are better but I am used to Windows & too lazy to learn anything new.
Jonathan: Do you like stalking people on social networking sites such as Facebook? (I'll admit I do that quite a bit, lol.)
Andrew: Not really!!!!! Maybe one girl a little bit but maybe I got a bit arrogant over the last few years. If someone does not want to return messages "it is their problem & I will find someone better". Maybe a bit arrogant but probably not a bad philosophy.
Jonathan: What are the things you like to do on your free time? What aresome of your hobbies?
Andrew: I travel & travel a lot. Usually I take around the world trips at least 3 times a year. Always North America, South America, Australia, Asia & Europe & do it all again. Then I will try to stop off in small / interesting places like Iceland or Easter Island just to spend a few days & see something new.
Mostly it is all business & maybe it could get lonely bouncing around from place to place but I like travel & always having a flight & next trip coming up is something that I have gotten used to & grown fond of.
Jonathan: What kind of car do you drive?
Andrew: I do not drive - never had a license & probably never will. I have bad motor skills & would probably kill myself.
Jonathan: What if Pokemons were real?
Andrew: I would ask them to review Sumo :) :)
Jonathan: What did you want to be when you were a kid?
Andrew: In business.
Jonathan: Any childhood dreams yet to be fulfilled, and already fulfilled?
Andrew: Starting to come around. I was always a bit of a left brainier - didn't like rules & always wanted to be free & do what I want. Now things are starting to come along…
Jonathan: What kind of music and movies do you like in particular?
Andrew: Music I like everything but when it comes down to it I like electronic.
Movies - I don't know - they all comes & go so quick. In the last year though I would say Charlie Wilson's War & There Will Be Blood were quite good.
I like the guy in There Will Be Blood - shrewd but smart bastard & he always got what he want.
Jonathan: As per tradition, before we close today, what is your favorite review site of all times? (Hint, hint!)
Andrew: Well of course APH Networks!!!
I tell you one I got last week & have watched it over 20 times already was a video by Something Awful - dang are those guys smart & funny!!!!
Hahahaaha - money can't buy stuff like that - it is priceless!!!! :) http://www.sumolounge.com/press/somethingAwful08.php
Jonathan: Ahahaha anyways, thanks again for being with us in our interview, Andrew, and we are extremely happy to have you in with us today! Looking forward to more of your really cool beanbags, and keep up the great work!
Andrew: No prob for the interview - it is really quite interwesting & flattering!!!! Nobody ever want to interview me so this is cool.
New bean bags are always in the works & your always entitled to first samples!! :)