Page 2 - Backup and Recovery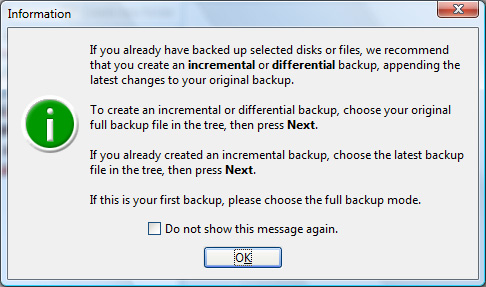 Backing up was a breeze. Three distinct options are available for the user to choose from; which are Full Backups, Incremental Backups, and Differential Backups, which I felt could really have been simplified because I did a double-take and had to read it a second time to get the gist of it. For those new to this whole back-up thing, Full Backup simply backs up everything, and Incremental Backup backs up the data changed since previous backup (Of any sort), and Differential Backup backs up everything since last Full Backup only.
I used a 4.34GB archive to test the backup performance of Acronis True Image Echo Workstation. It took a lot shorter than I thought it would: around fifteen minutes. Impressive. Acronis True Image Echo Workstation compressed the data to around 2.73GB. I thought the compression was pretty decent in terms of performance and compression ratio -- because, had the files been in the megabytes, I'd have been able to burn my backed data up on my old CD-R's that I don't use anymore.
It was unfortunate that Acronis didn't have a burn-to-DVD function: I had to go through CDBurnerXP, a free burning software. Not totally necessary, but it would've been extremely convenient to not have to open CDBurnerXP and do it automatically or even manually within Acronis True Image Echo Workstation itself.
The archive is actually a .tib file that can be opened with Windows Explorer when Acronis True Image is installed, which I thought was sweet of Acronis. After all, that does feel much more natural digging through the folders and files in Windows Explorer.
Just a warning -- when updating archives, it will create a totally new file, so stay organized! The bright side to this is that you don't have to constantly make your Full Backup any bigger than it already is -- which is gigabytes worth of data, in our case -- and, you'll get an extremely comprehensive and chronological table of contents of what you backed up. As for size, relative to the 2.73GB, the Incremental Backup in my case was a mere 6.73MB. Not too bad, but if you update a lot, it could all sum up to quite a bit of data.
Remember, folks -- if you want to burn to DVD, you have to include the Full Backup version of the Archive and not just the Incremental or Differential Backups, because, well, Full Backup will have most of your data! Usually, the Full Backup is the largest in size as it backs up everything. Burning and re-opening worked fine, and -- get this: Acronis can read from DVD! I was very impressed -- now if only it can figure out how to write to DVD.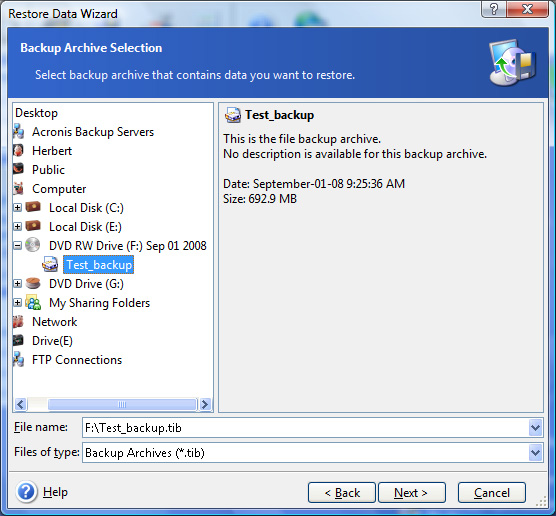 Recovery, in the sort of small scale I looked at, worked well. Much as I love all of you readers, I wasn't about to format my computer to see if it worked as well as it claimed. However, for the files I did attempt recovering, Acronis worked smoothly -- and all in a matter of minutes, again, I'm impressed by the performance. As I already mentioned, it took only ten or fifteen minutes to patch up.
---
Page Index
1.
Introduction, User Interface, Installation
2. Backup and Recovery
3.
Hard Drive Management
4.
Networking Features
5.
Acronis Universal Restore
6.
Impressions and Conclusion