Page 5 - Acronis Universal Restore
One of the great things about Acronis True Image Echo Workstation is the ability to buy special additional add-ons developed by Acronis and works seamlessly with the main piece of software. One of these add-ons is the Acronis Universal Restore program, which costs $29.99USD on Acronis' website at press time. Universal Restore allows users to users to restore machines and virtual machines using an Acronis Universal Restore boot device.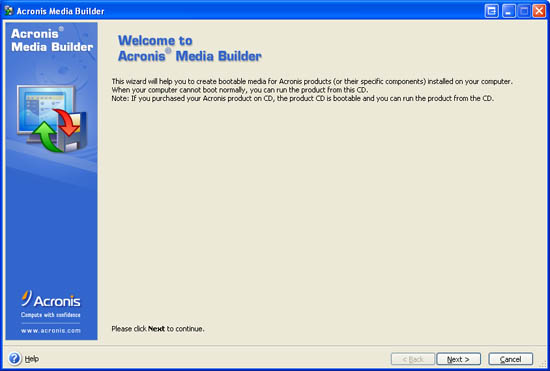 The creation of a Acronis Universal Restore backup media is fairly simple, all the user required to do is open Acronis True Image Echo Workstation and click on Create Bootable Rescue Media. A prompt will pop up; giving you information about the usage of Acronis Media Builder. This is used to create bootable media that can be used to restore your computer later on. The most unique feature is the ability to restore an image to a computer with completely different hardware. This will be explained further on in the report.
After you click "Next", the user will be brought to a screen for the user to pick the contents to be put onto the rescue media. That said, besides the Universal Restore only features, these will be included the Acronis True Image Echo Workstation anyways. Burning a bootable image to disc includes an Acronis True Image recovery program for the user to boot into the disc, and select the image to restore later on.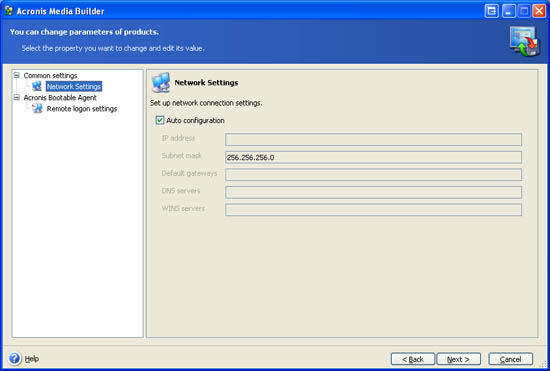 The menu after that allows the user to configure remote settings, if the user is setting this up on a virtual machine. In this screen, options for configuring IP address, user name and user password are available. There is also an automatic configuration setting for network settings if you don't want to set it up manually.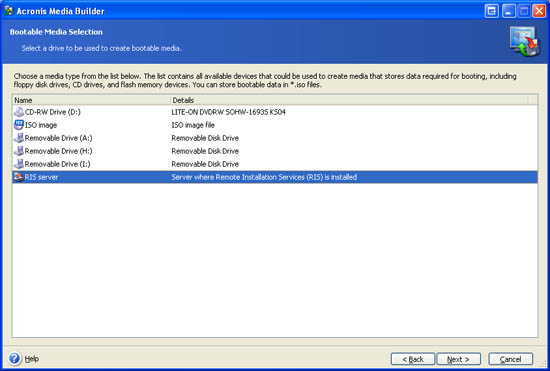 The last page before copying backup contents to your media of choice allows, well, the user to pick which device you would like to move it to. These devices include floppy disks (???), CDs, and USB mass storage devices. Most importantly though, is the inclusion of the RIS (Remote Installation Services), which allows users to upload the boot data files to any remote server with RIS installed.
Now, back onto the most important aspect of Universal Restore: it allows the user to restore data universally. This means that it has the ability to go beyond your drivers when restoring data. For example: Every time major hardware changes are made -- such as changing your motherboard -- the OS pretty much needs to be reinstalled. When you use Universal Restore, you can restore your data when such hardware is replaced. Universal Restore can detect and install drivers for Hardware Abstraction Layer (HAL). This is a layer of software between your hardware and the software that runs on your computer such as the OS. Universal Restore also detects hard disk controllers, or prompt the user for driver locations. This software is not OS dependent, and can be used to restore data, software and settings easily.
Overall, Universal Restore is an easy to use and an innovative add-on that allows for the easy restoration of your computer. Integration with Acronis True Image Echo Workstation will find itself just at home in advanced home computing and scalable business environments. The ability to restore important data in times that requires hard disk formatting makes computing much easier for the consumers and enthusiasts alike -- not to mention it's extremely convenient and time saving.
---
Page Index
1.
Introduction, User Interface, Installation
2.
Backup and Recovery
3.
Hard Drive Management
4.
Networking Features
5. Acronis Universal Restore
6.
Impressions and Conclusion