Page 6 - Impressions and Conclusion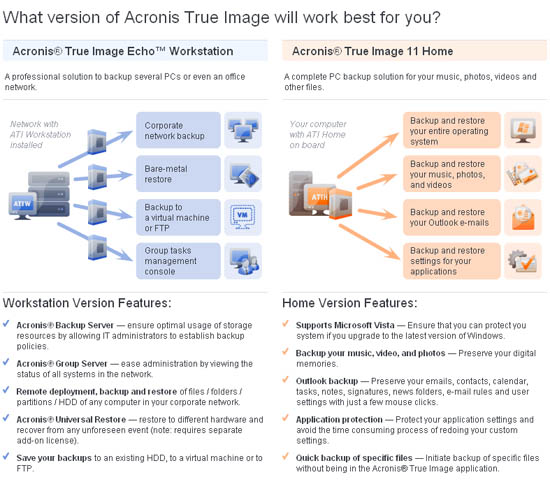 If you think you are paying your hard earned money for a piece of common backup software, then you've got it wrong. Acronis True Image Home extends beyond that. Acronis True Image Echo Workstation brings it to the next level for power users and corporate users alike.
Of course, being that, we're glad to see that Acronis did not miss out the very basis of this software -- and as you guessed it, backup and restore functions. With reasonable compression ratios and great tested performance, along with an ease of use, it's something we've definitely grown to appreciate. The networking features allows enthusiasts with a sophisticated local area network structure at home to more easily centralize and manage backups. IT managers in corporate office environments would also appreciate the scalability of this software, in addition to the features power users would appreciate. And that's not to mention a very reasonable price of $79.99 online with none of those shamefully modern licensing/activation junk attached.
The hard drive management features, especially Disk Cloning, can be especially useful at times -- with its flawless operation and performance. Consistency and well-defined integration within Acronis True Image Echo Workstation is also very nice, making the standalone portion and networking features work seamlessly together. It also plugs in perfectly with Universal Restore ($29.99); another innovative and excellent-performing software from Acronis.
For all there is, we can tell you one thing: Acronis True Image Echo Workstation is undoubtedly a quality piece of software. It does everything you want it to do, but better than what you would think it could do. Not only that, combined with features such as disk cloning, add a new disk, conversion to dynamic disks, and the such, it makes life just so much easier with this powerful piece of software. Addons such as Universal Restore, as previously mentioned, well, at 11:23PM at night and needing to leave at 7:00AM tomorrow to endure another hard day of Engineering classes, let's just say it's awesome and makes life easier? Haha. Well, just read Page 5 of this report. Oh yeah, before I forget, it would be nice if there's a skin for Acronis True Image Echo Workstation that also resembles that of Vista's instead of just Windows XP.
-----------------------------------------
Acronis True Image Echo Workstation is highly recommended for power users and small to medium corporate environments who requires something that can handle data and data backups in a whole new fashion. A whole new fashion meaning that it's scalable and easy to use, fast and convenient, powerful and loaded with features, with the aim to make life in this regard much easier and manageable. And with all honesty, Acronis True Image Echo Workstation is the pack that you're looking for that has it all.
Acronis True Image Echo Workstation website: http://www.acronis.com/enterprise/products/ATICW/
MSRP at time of writing: $79.99 USD; Universal Restore +$29.99
---
Page Index
1.
Introduction, User Interface, Installation
2.
Backup and Recovery
3.
Hard Drive Management
4.
Networking Features
5.
Acronis Universal Restore
6. Impressions and Conclusion