Page 4 - Networking Features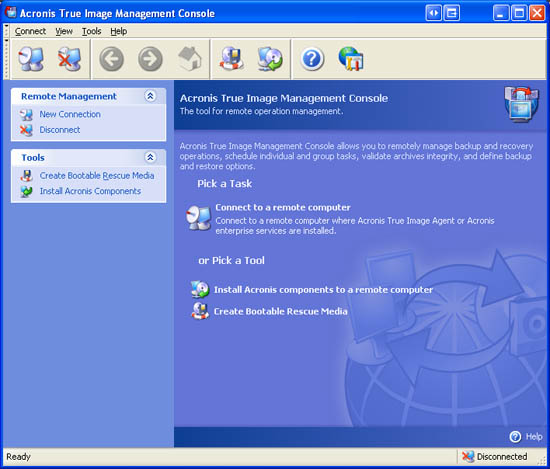 Acronis includes two networking features: one for setting up a network backup server, and the other for setting up a group server. Each of these can be installed individually, as demonstrated in the installation screenshot on Page 1. For remote management of the server, both of these work through Acronis' TrueImage Management Console that can be installed on the client system, and is installed separately from the main program. It can be installed on as many computers as needed.
Once the user loads up Acronis TrueImage Management Console, choose "Connect to a remote computer".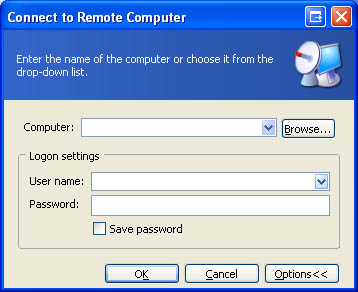 A prompt similar to the Windows' Remote Desktop Connection client will appear. The prompt asks the user for the Acronis backup server to connect to, where it can be defined as either an IP or a URL. The "Options" button extends the prompt and allows the user to enter a username and password beforehand.
The Backup Server feature allows users to create connections to network servers and configure/update backup profiles. Individual profiles allows the client machine to have preferred settings, such as the ability to schedule backups, delete backups, manage backups (Set file size, set permissions, set backup location, time to keep backup).
The Group Server feature further extends the ability of the Acronis Backup Server. This permits the administrator to view status of machines running Acronis on the network, if backups are successful for easy troubleshooting, as well as creating backup tasks for a group of machines on the network at once.
The Acronis TrueImage Agent will allow the user to manage backup and restore functions of the system it's installed on from the remote Acronis server.
One of the highlights of Acronis True Image Echo Workstation is, by no doubt, the networking features over the home edition. Not only does it allow the user to make backups and restores remotely, but it also has the ability to group things together to make this task easier with Acronis Group Server.
---
Page Index
1.
Introduction, User Interface, Installation
2.
Backup and Recovery
3.
Hard Drive Management
4. Networking Features
5.
Acronis Universal Restore
6.
Impressions and Conclusion