By: Aaron Lai
June 12, 2020
Since the beginning of social distancing measures, our children's program at our church had been cancelled. However, our director still wanted to do a year-end celebration for all the kids, so we decided to do one final meeting as an online gathering. We all logged into our devices and all the kids were on their computers or tablets. It was quite clear these kids had already used the meeting software for a while now, so some of them were even more rambunctious online than they were in person. Shielded by the wall of their screens, chaos started to ensue with kids randomly yelling something out loud to the group before they were identified. They also decided it would be fun to annotate on shared screens, drawing and scribbling all over the place. The coordinator called this behavior out multiple times, but kids will always be kids. As one of the co-hosts to the meeting, I spent a lot of time clicking "clear all drawings" to wipe the screen, but I would have to do this multiple times. Unfortunately, I was unable to stop the shared content or stop participants from annotating, so I just kept on clearing. After a while, I realized there had to be a simple workaround, so instead of telling my host to stop sharing, I shared my own content, which was a blank screen, and then immediately stopped sharing right after. I could have probably just kept clicking the clear button, but I was too lazy and I wanted a simpler solution. Today, we have the Cooler Master MWE 650 White V2 650W, a power supply that is targeted at the wallet-conscious user who still needs a bit of wattage to keep their system powered. It may not come with all the bells and whistles, but does this simple PSU get the job done? Are there areas you should be aware of when looking at a budget option? Let us read on to find out!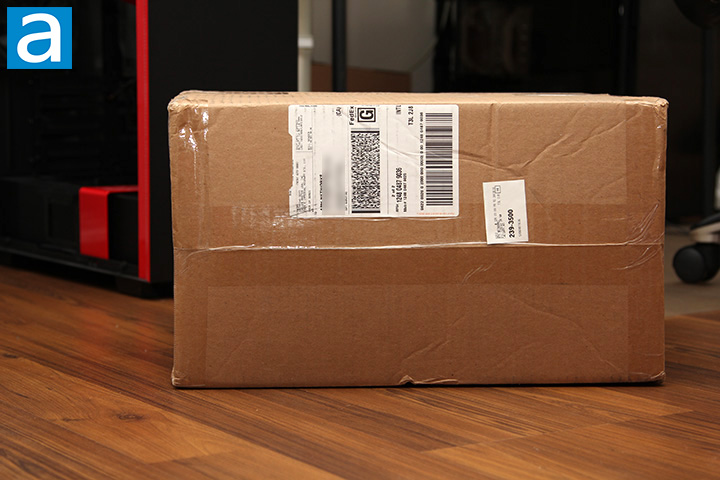 Today's unit of the Cooler Master MWE 650 White V2 650W arrived from Cooler Master's offices in Brea, California. FedEx and their Ground service delivered this corrugated cardboard box arrived in decent condition with no real issues to speak of in terms of package quality. In addition to this mouse, we received quite a few other Cooler Master products, including the Cooler Master MM831 I reviewed last week. Otherwise, Cooler Master also packaged some packing paper with these products to prevent any damage or dents to the items inside.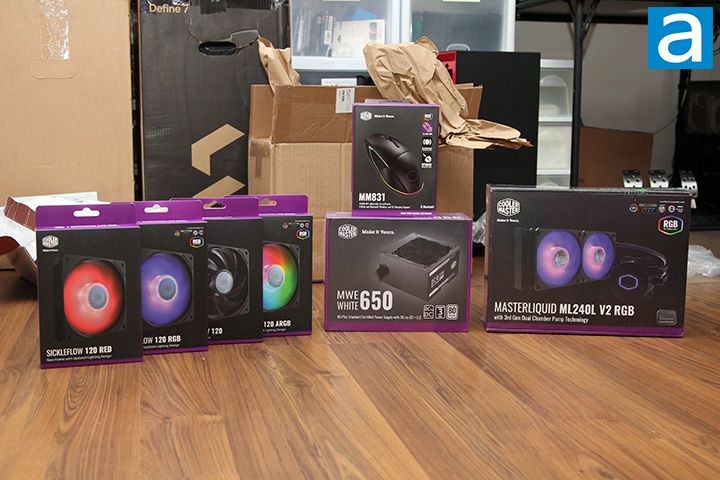 As you can see from the photo above, Cooler Master has sent us a whole lot of different products with our Cooler Master MWE 650 White V2 650W. Despite existing in different product lineups, all of them follow the same design language when it comes to the packaging. The typical colors of Cooler Master are shown here with the slate gray and purple combination. As for our power supply, the PSU is shown on the front with the product name on the bottom left, while the top shows the manufacturer logo and tagline. At the bottom, we have several primary features for the MWE 650 White V2. This includes a DC-to-DC circuit design, a three years of warranty coverage, and an 80 Plus certification. We will explore these features and more later on.
Before we move on, I have grabbed the specifications from the manufacturer's website for your viewing pleasure:
ATX VERSION: ATX 12V V2.52
PFC: Active PFC
INPUT VOLTAGE: 100-240V
INPUT CURRENT: 10-5A
INPUT FREQUENCY: 50-60Hz
DIMENSIONS (L X W X H): 140 x 150 x 86 mm
FAN SIZE: 120mm
FAN BEARING: HDB
FAN SPEED: 2400 RPM
NOISE LEVEL @ 20%: 12.82 dBA
NOISE LEVEL @ 50%: 20.4 dBA
NOISE LEVEL @ 100%: 41.2 dBA
EFFICIENCY: 80% Typically Load
80 PLUS RATING: 80 PLUS Standard
ERP 2014 LOT 3: Yes
OPERATING TEMPERATURE: 40°C
POWER GOOD SIGNAL: 100-500ms
HOLD UP TIME: >14ms at 100% Full Load@230Vac
MTBF: >100,000 Hours
PROTECTIONS: OVP, OPP, OTP, SCP, UVP
REGULATORY: CB, TUV, cTUVus, CE, FCC, CCC, EAC, RCM, BSMI, KC
ATX 24-PIN CONNECTORS: 1
EPS 4+4 PIN CONNECTORS: 1
EPS 8 PIN CONNECTOR: 1
SATA CONNECTORS: 6
PERIPHERAL 4-PIN CONNECTORS: 3
PCI-E 6+2 PIN CONNECTORS: 4
80 PLUS: Standard
MODULAR: Non Modular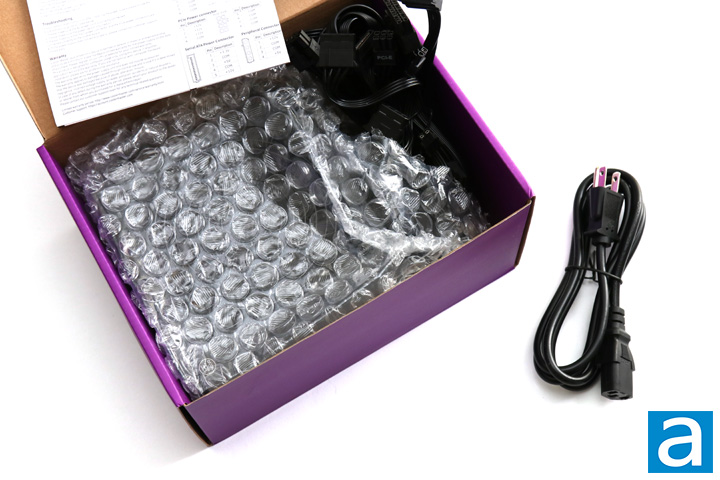 Out of the box, we have the Cooler Master MWE 650 White V2 650W contained in a massive bubble-wrap bag to prevent damage to the power supply. As this is a non-modular power supply, the bundle of cables is held with a large twist tie and wrapped together. On the side, we have a few pieces of documentations. We also have a standard AC power cable. Finally, a small bag of screws is included to help you mount the Cooler Master MWE 650 White V2 650W.
---
Page Index
1. Introduction, Packaging, Specifications
2.
Physical Look - Outside
3.
Physical Look - Inside
4.
Minor Tests and Conclusion