By: Jonathan Kwan
August 26, 2022
A few months ago, I was chatting with a friend from Japan who recently settled down in the United States for work placement. He ended up in Dallas, Texas, and those who has been there or from there would know -- it is not exactly known for good Asian food, at least compared to most major cities in Canada, where I live. It is probably getting better now, but I got a little curious and asked him what he thought of the sushi and ramen in Dallas. "Oh, I like burgers," he said. I thought that was a pretty funny answer, and it is not just because he did not exactly answer my question, but also because he genuinely enjoys American food. I am sure he likes sushi and ramen as well, but I think the big takeaway here is wherever you end up, adjusting to what is around you is the best way to live. In a similar manner, Cooler Master has gone a long way from making computer cases and CPU heatsinks. The company has expanded in the last decade or so into computer peripherals, monitors, and even gaming furniture. But even within their traditional product lines like PSUs, there has been ways they are adapting to build custom solutions for what they think the market around them needs. The company claims the XG Plus Platinum series to be "the first Cooler Master in-house designed power supply, providing next-level efficiency, rigid design, and sturdy performance". In fact, the XG850 Plus Platinum we are reviewing today even has a built-in information display panel that can monitor real time performance data, showing fan speed, temperature, power load, and customized ARGB LED lighting. Is this really as a big of a deal as Cooler Master claims, and will this be something people want? We took one apart to find out.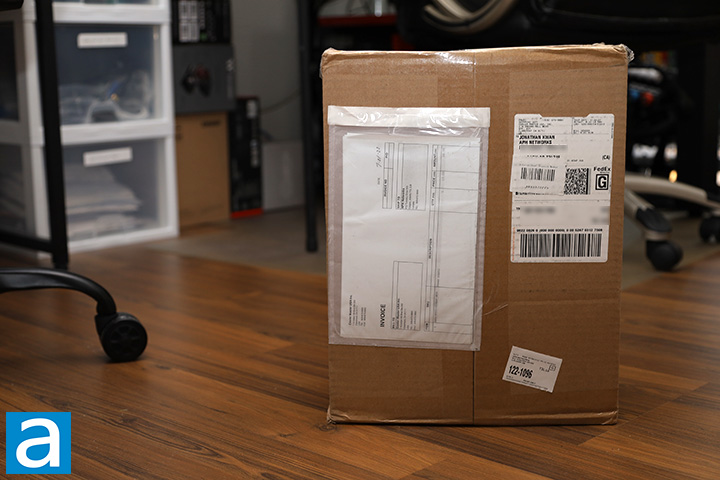 Our review unit of the Cooler Master XG850 Plus Platinum 850W arrived in a medium-sized brown corrugated cardboard box from the company's American headquarters in Claremont, California, USA. Claremont is a city within the Los Angeles County. Using FedEx Ground, our XG850 Plus Platinum arrived in very good condition to us here in Calgary, Alberta, Canada for our review today.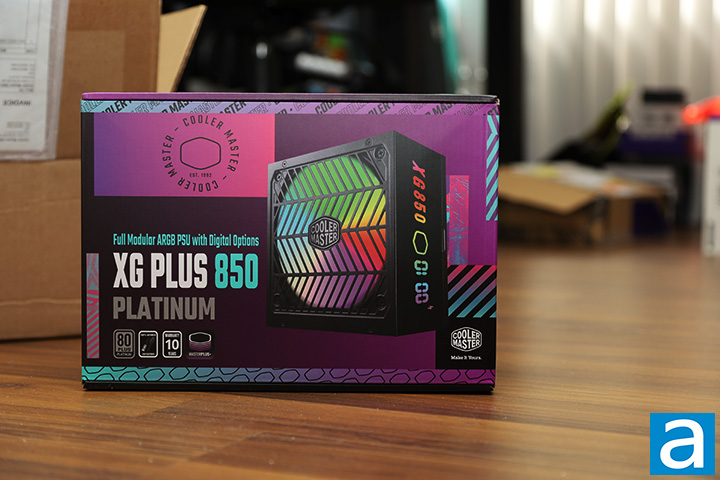 Inside the shipping box is the Cooler Master XG850 Plus Platinum 850W's retail box. It has been a while since I have reviewed a Cooler Master product, and the box design has been updated to fit the company's latest design theme. It features a purple gradient background with large, bold font. On the left half of the box, we have a form of Cooler Master's logo that looks like it was taken from a T-shirt design at the top. This is followed by the name and product description of this power supply. At the bottom, there is an array of four badges, showing off its 80 Plus Platinum certification, 100% Japanese capacitors, 10-year warranty, and MasterPlus+ software. A photo of the power supply turned on in three-quarters view is placed prominently on the right half of the box. Finally, we have Cooler Master's actual logo on the right. The remaining sides of the box have feature highlights and specifications, including a fan curve and efficiency chart.
Speaking of which, before we move on, let us take a look at the specifications of the Cooler Master XG850 Plus Platinum 850W, as obtained from the manufacturer's website:
Model: MPG-8501-AFBAP-X**
ATX Version: Intel ATX 12V Ver. 2.53
PFC: Active PFC
Input Voltage: 100-240V
Input Current: 12-6A
Input Frequency: 50-60Hz
Dimensions (L x W x H): 160 x 150 x 86 mm
Fan Size: 135mm
Fan Speed: 1800 RPM
Noise Level @ 100%: ≤ 25 dBA
Efficiency: ≥ 92% @ Typical Load
80 PLUS Rating: 80 PLUS Platinum
ErP 2014 Lot 3: Yes
Operating Temperature: 0-50°C
Power Good Signal: 100 - 150 ms
Hold Up Time: ≥ 16ms
MTBF: >100,000 Hours
Protections: OPP, OVP, OCP, UVP, SCP, OTP, Surge and Inrush Protection
Regulatory: TUV, cTUVus, CE, BSMI, FCC, CCC, EAC, UKCA
ATX 24 Pin Connectors: 1
EPS 4+4 Pin Connectors: 1
EPS 8 Pin Connector: 1
SATA Connectors: 12
Peripheral 4 Pin Connectors: 4
PCI-e 6+2 Pin Connectors: 6
USB Protocol 10P: 1
Series: XG Series
80 Plus: Platinum
Modular: Full Modular
Wattage: Above 750W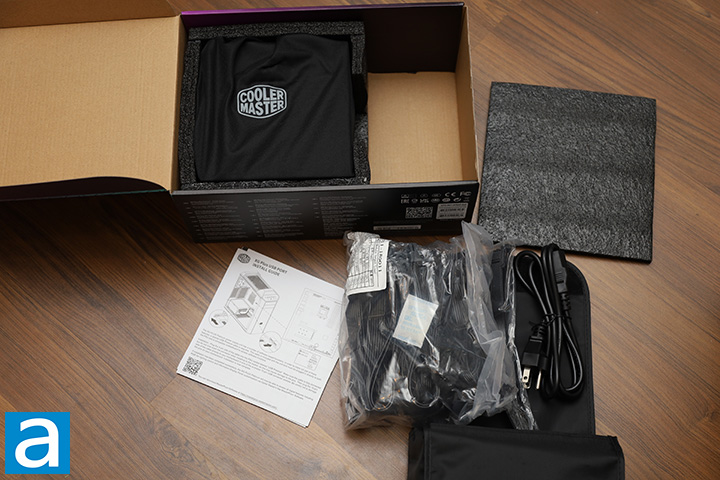 The Cooler Master XG850 Plus Platinum 850W's retail packaging can be opened by a flap attached on the right. Upon opening the box, you will find everything is neatly organized. The power supply is placed inside a fabric drawstring bag and securely clipped in by two foam brackets. Cables are located inside a nylon Velcro bag.
Out of the box, you will receive the XG850 Plus Platinum 850W power supply itself, modular cables, internal USB connector cable, AC power cable, four screws, three Velcro straps, bunch of zip ties, and some instructional literature. The bundle is simple and reasonable.
---
Page Index
1. Introduction, Packaging, Specifications
2.
Physical Look - Outside
3.
Physical Look - Inside
4.
Minor Tests, Software, Conclusion