By: Jonathan Kwan
October 18, 2019
I recently purchased a plane ticket to fly to Vancouver from Calgary to attend my friends' wedding. Given both cities are major population centers in Canada, there is a healthy selection of airlines to choose from. The traditional Air Canada and WestJet tickets always hovered around $300 CAD round trip, but during one of my searches, I found Flair -- an ultra low cost airline -- was selling tickets for an astoundingly impressive $118 CAD both ways. I knew Flair is literally the worst rated airline in the country, but thinking it was only a one hour flight, what could possibly go wrong? As it turned out, things went very wrong. My scheduled flight at 10:25pm did not take off until 3:44am, and by the time I arrived, it was almost 4 am local time. Not only was my flight delayed for over five hours, I was also stuck at a small regional airport with really nothing at all. The car rental office was long closed at 11:30pm and will not reopen until 8:00am, not to mention Abbotsford is almost 50km away from my colleague Kenneth's house where I was planning to stay. In the end, Kenneth bailed me out by picking me up four in the morning. Lesson learned: Never cheap out because things can go wrong. And when it comes to PCs, some may utter famous last words, what could possibly go wrong with a cheap power supply? Horror stories plaster the internet, so I will not repeat here. In the same way you should never fly with Flair, never buy a cheap power supply. Today, we will take a look at the Fractal Design Ion+ 760W Platinum, which promises excellent performance at a very reasonable price. Is this the WestJet of power supplies? Read on to find out!
Our review unit of the Fractal Design Ion+ 760W Platinum arrived in a medium-sized brown corrugated cardboard box from the company's American headquarters in Dallas, Texas, USA. Using UPS Standard, our Ion+ 760W Platinum arrived in excellent condition to us here in Calgary, Alberta, Canada for our review today. Sure enough, at no point did this power supply travel on a Flair flight.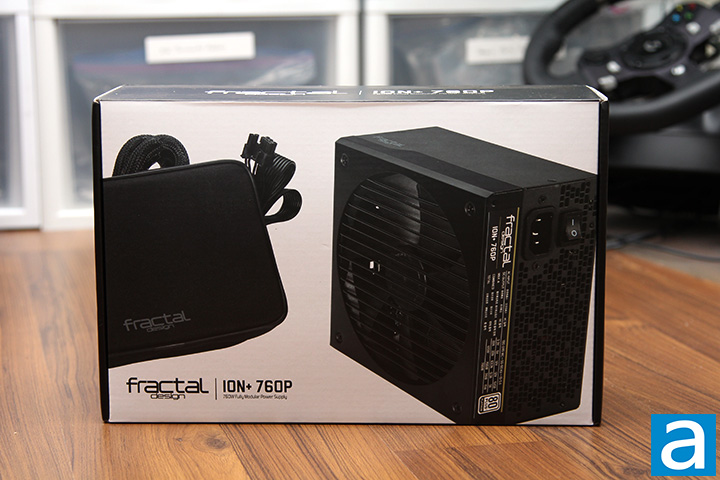 Inside the shipping box is the Fractal Design Ion+ 760W Platinum's retail box. This is the first time I have ever reviewed a power supply from Fractal Design, but the packaging has immediately recognizable branding. Its design is consistent with the Fractal Design Prisma AL-12 and Adjust R1 we reviewed earlier this year. The front is clean, featuring a white background and a photo of the power supply occupying the majority of the space. Next to it is a photo of some cables inside a bag, while Fractal Design's logo and Ion+ 760P modular power supply text can be found along the bottom left corner. The remaining sides have feature highlights and specifications.
Speaking of which, before we move on, let us take a look at the specifications of the Fractal Design Ion+ 760W Platinum, as obtained from the manufacturer's website:
80 PLUS® Certification: Platinum
Modular cables: Fully modular
Cable type: Modular 24-pin: Braided sleeve UltraFlex wire Others: Flat UltraFlex wire
Fan type: Customized 140 mm FDB bearing Fractal Design Dynamic Series fan
Maximum operating temperature at full load: 50°C
Semi-passive operation: Yes, user selectable (Zero RPM)
Sleep State Compliance: C6/C7
Warranty: 10 years
Capacitors: Japanese
Protection features: Over voltage protection. Under voltage protection. Over power protection. Short circuit protection. Over current protection. Over temperature protection
Approvals & Certifications: CE, FCC, TUV, cTUVus, EAC, RCM, CCC, BSMI, CB, RoHS, WEEE
Life expectancy (MTBF) at max output load: 100,000 hours
Input voltage: 100-240V AC
Input frequency: 50-60 Hz
Input current: 10A/5A
Number of 12V rails: 1
PSU specification compliance: N/A
Standby efficiency: ErP 2013 (<0.45W @230 VAC, 45 mA load on +5Vsb)
Unit measurements: 150 x 150 x 86 mm
Unit weight (unit only): 1.665 kg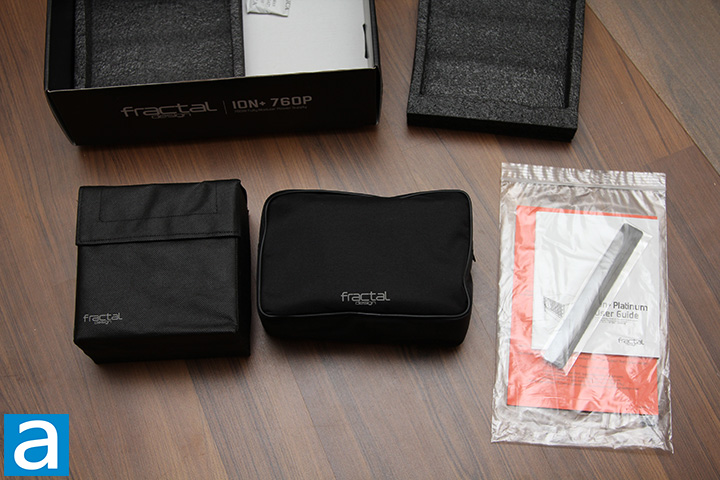 The Fractal Design Ion+ 760W Platinum's retail packaging can be opened by a flap attached at the bottom. Upon opening the box, you will find everything is neatly organized. The power supply is placed inside a nylon bag and securely clipped in by two foam brackets. Cables are located inside a nylon zipper bag that looks like a big pencil case. A plastic resealable bag contains everything else. Out of the box, you will receive the Ion+ 760W Platinum power supply itself, modular cables, AC power cable, four screws, user guide, and three Velcro straps. The bundle is simple and reasonable.
---
Page Index
1. Introduction, Packaging, Specifications
2.
Physical Look - Outside
3.
Physical Look - Inside
4.
Minor Tests and Conclusion