By: Jonathan Kwan
April 27, 2012
In the introduction of my NZXT Switch 810 review last week, we have discussed the concept of "switch" -- whether it be "switch" (Like a transistor in electronics), or "switch" (As in "change"; Obama's favorite word back in '08). For the first example, I have talked about my Electrical Engineering exam. Good news: That went well. In the second example, I have quoted opinion polls regarding the Alberta provincial election earlier this week. Right up to election day, everyone thought the Wildrose party will defeat the Progressive Conservatives and end their forty one year dynasty. The unexpected news: The Progressive Conservatives, against all odds, not only won the election -- they absolutely crushed the competition with sixty one out of eighty seven seats for a majority government. I don't think I have ever seen such an amazing turnaround in a matter of days; that is not to mention this result made all predictions look like an engineering student trying to do draw a picture. This week, I am just going to stop with the predictions, and just stick with the facts. In the past, we have reviewed two very unique PSUs. The Cooler Master Silent Pro Hybrid 1050W and Seasonic Platinum 1000W can deliver up to 200W and 300W without activating the internal fan, respectively. But here's the deal: Thermaltake promises that, with their Toughpower XT Platinum 1275W, it not only has a higher wattage than the competition with Platinum efficiency -- it can also deliver up to 500W fanless. Is it as impressive as it sounds? Read on to find out!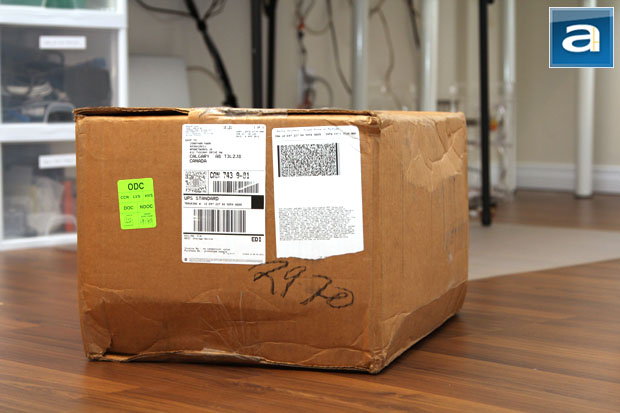 Our review unit of the Thermaltake Toughpower XT Platinum 1275W came in a big, ugly, and beat up corrugated cardboard box from the company's American headquarters in California. I am not entirely convinced it took all those bumps and bruises during its 2500km trip up north as compared to, say, it was like that when it left its origin. Either way, despite what can be seen on the outside, it is what's inside that counts, right? With all the packing peanuts they have included, we are happy to say our power supply arrived in perfect condition for our review today via the usual UPS Standard.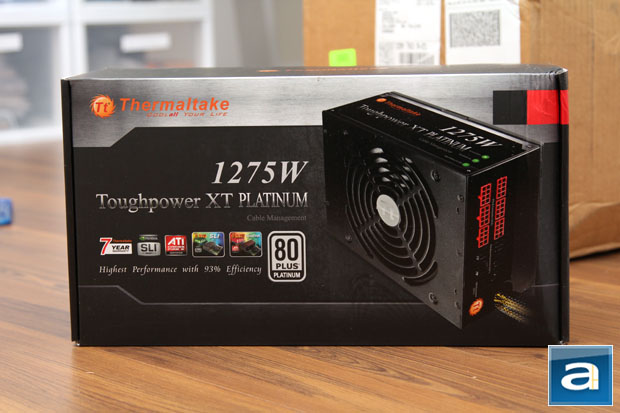 The retail packaging for Thermaltake's Toughpower XT Platinum 1275W is something that looks a little different compared to what we have seen in the past from the company. Despite the updated design, we are happy to say it is still thematically consistent with other products from the renowned cooling manufacturer. To highlight its 80 Plus Platinum certification, the primarily black background is accentuated by a silver strip at the top, so the consumer knows this power supply is the real deal. As usual, we have Thermaltake's logo and slogan at the upper left hand corner, while a prominent image of the PSU itself occupies pretty much half the front surface on the right. Printed boldly across the center is the model and wattage; followed by an array of certification icons, as shown in our photo above.
Before we move on, let's take a look at the features and specifications of the Thermaltake Toughpower XT Platinum 1275W, as obtained from the manufacturer's website:
P/N: TPX-1275M
Model: TP-1275AH3CCP
Type: ATX 12V 2.3 & SSI EPS 12V 2.92
Max. Output Capacity: 1275W
Peak Output Capacity: 1375W
Color: Black
Dimension (W / H / D): 150mm(W)x86mm(H)x200mm(L)
Hold Up Time: 16msec (minimum) at 70% of full load at 115Vac input
PFC (Power Factor Correction): Active PFC
Power Good Signal: 100-500 msec
Input current: 115Vac / 13A max.
Input Frequency Range: 47Hz - 63Hz
Input Voltage: 100V - 240V
Operation Temperature: 10℃ to +50℃
Operating Humidity: 20% to 90%,non-condensing
Storage Temperature: -20℃ to +70℃
Storage Humidity: 5% to 95%, non-condensing
Cooling System: 14cm dual ball bearing Fan: 1900RPM ± 10%
Efficiency: MEET 80 Plus PLATINUM at 115Vac input.
MTBF: MTBF>120,000 hours.
Safety Approval: CE, TUV, FCC, UL, CUL, GOST and BSMI certified.
PCI-E Connector: 6+2PIN PCI-E Connector x 6
8PIN PCI-E Connector x 2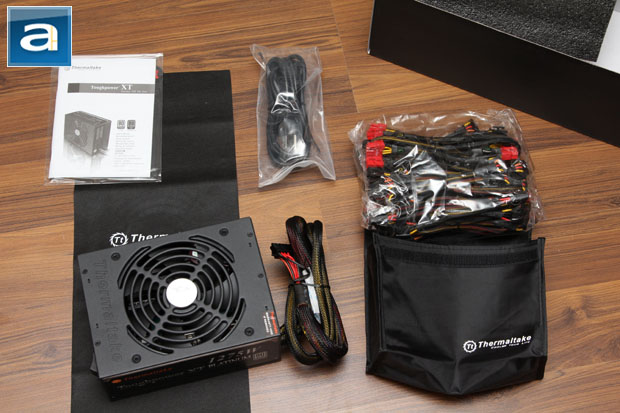 Unlike the Thermaltake Toughpower Grand 1200W we have reviewed last year, the Toughpower XT Platinum 1275W comes with a much smaller bundle. It is still very comprehensive, but with a little less accessories. You will still get a fancy Velcro pouch that holds all your modular cables, but notably missing are stuff like the extra drawstring bag and self-adhesive rubber vibration dampeners. Here is a checklist of items included right out of the box:
1x Thermaltake Toughpower XT Platinum 1275W PSU w/Modular Cables
4x Attachment Screws
1x Power Cable
1x Manual
---
Page Index
1. Introduction, Packaging, Specifications
2.
Physical Look - Outside
3.
Physical Look - Inside
4.
Minor Tests and Conclusion