By: Jonathan Kwan
April 20, 2012
While a product's success is ultimately determined by the product itself, it all starts off with one thing: The name. As I have discussed in my Kingston DataTraveler HyperX 3.0 64GB review last year, what a product is called already leaves a strong first impression. Being a person in electrical engineering living in the province of Alberta, the word "switch" can really be quite meaningful at this time of the year. For one thing, we are having an election in a few days, and unless something significant happens between now and April 23rd, the Wildrose Party is expected to unseat the Progressive Conservatives -- effectively eliminating its massive forty-one year reign in this province -- forming a new government. Secondly, with final exams rolling up the semester this week (Yes, I really should be studying right now), it is important to keep in mind that, at least for the digital electronics circuit class, transistors are essentially switches on a conceptual level. So whether we are thinking about switching out the government or using what are basically switches to crunch some ones and zeros, where does the NZXT Switch 810 fall into place? Is the not-so-hidden-message of "switch to this chassis to house all your expensive combinations of billions of switches" the right thing to do? Read on to find out!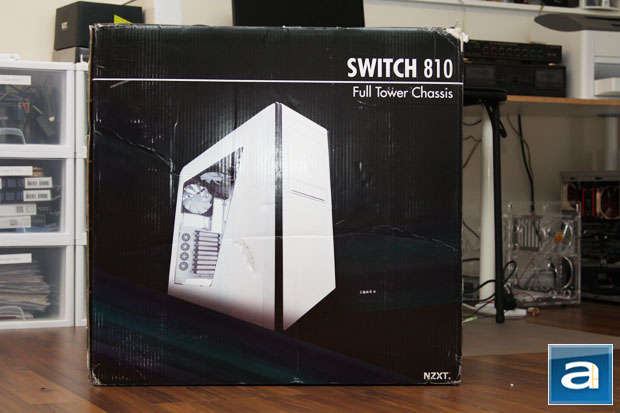 Our review unit of the NZXT Switch 810 came via FedEx International Economy in its original retail box -- something that you can just come to expect for a computer chassis. They are designed with shipping in mind, and this one is no exception. We were pleased to discover that everything arrived in excellent condition from California, and with a knife in hand, we got straight to work.
Giving a quick glance at the surface of the box, one can accurately assert there is not a whole lot going on right here. And why should it be any different? With the name of the product at the top right hand corner, NZXT's logo at the bottom right hand corner, and a front three-quarters photo of the Switch 810 itself big bold and center, everything that can be highlighted about this white case is highlighted thanks to the sharp contrasting black background. Meanwhile, feature highlights can be found at the back of the box.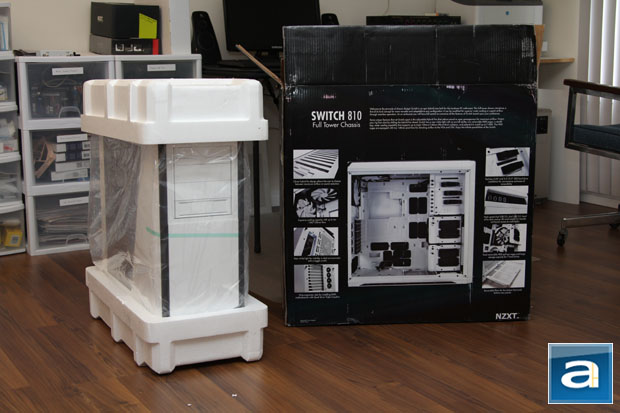 Clipped between two large Styrofoam brackets at the top and bottom is the NZXT Switch 810 computer chassis. The accessories are placed inside the case, just like every single one I have reviewed in the past. As I have alluded to in the previous paragraph, the particular unit we have received for review is white in color; you can also get one in black if you wanted. Now that this topic has been brought up, I just realized I have never owned a white case before, so this is definitely my preferred choice. With that in mind, we can see the Switch 810 wrapped inside a large plastic bag to prevent any scratches from occurring during transport, as shown in our photo above.
Before we move on, let's take a look at the specifications of NZXT's Switch 810 full tower, as obtained from the manufacturer's website:
MODEL: Switch 810
CASE TYPE: Hybrid Full Tower
FRONT PANEL MATERIAL: Plastic/Steel
DIMENSIONS (W x H x D): 235 x 595 X 585 mm
VGA Clearance Maximum: 375mm (w/out fan), 350 (installed), 285 (full pivot)
COOLING SYSTEM: FRONT, 2 X 120/140mm (1x 140mm included); REAR, 1 X 120/140mm (1x 140mm included); TOP, 3 X 120/140mm (1x 140mm included); BOTTOM, 2x 120/140mm; INTERIOR, 2x 120/140mm (1x 140mm included); SIDE, Large acrylic window
DRIVE BAYS: 4 EXTERNAL 5.25" DRIVE BAYS; 6 INTERNAL 3.5" DRIVE BAYS; Screwless Rail Design
MATERIAL(S): Steel, Plastic
EXPANSION SLOTS: 9
WEIGHT: 14.42 kg
MOTHERBOARD SUPPORT: E-ATX, XL-ATX, ATX, MICRO-ATX, Mini-ITX
---
Page Index
1. Introduction, Packaging, Specifications
2.
Physical Look - Outside
3.
Physical Look - Inside
4.
Installation and Conclusion