Page 4 - Installation and Conclusion
The installation process is extremely straightforward with the NZXT Switch 810. For the most part, it is very easy to work with as far as a standard full tower is concerned -- an incredible amount of room with a beautiful design. Out of preference, I installed the power supply first, followed by an Intel DZ77GA-70K motherboard (Performance numbers for the Intel Core i7-3770K "Ivy Bridge" processor is still on NDA until April 23rd). The power supply used is a Thermaltake Toughpower XT Platinum 1275W to be reviewed by Yours Truly in a couple of weeks. The completely ventilated bottom is enclosed fully by a series of dust filters, so rest be assured that your PSU or intake fan won't be doubling up as your vacuum cleaner with the case interior as a dust bag. Combined with a 1cm clearance room provided by six risers, the Switch 810 has no problems accommodating uber long PSUs like the one I have used in the photo above.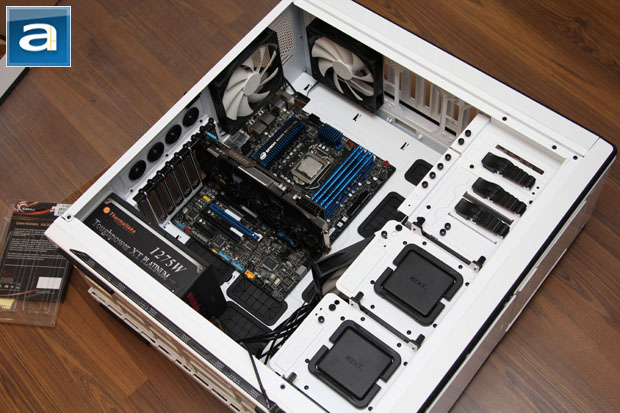 The rest of the installation process came and went just as smoothly, as I continued to install the rest of my components. The NZXT Switch 810 has a semi-tool-free design. It is not exactly something you can do completely without a screwdriver handy, but you can probably get away with it if you hate it enough. As far as your hard drives are concerned, using the flexible plastic tray to clip in your 3.5" HDD with precious data on it is definitely not something I would call completely secure. My advice? Don't be lazy. If you have a 2.5" SSD, you will still need to use a screwdriver. Optical drive installation is tool-free with the included clip mechanism, but again, use screws for best attachment. Thumbscrews are on the spot for all expansion card slots; although I think it is probably faster to just use a screwdriver.
For the purpose of this review, I have a Gigabyte Radeon HD 7870 2GB installed, as you can see in my photo above. Being the length of an average performance card (Which is, slightly longer than the span of your motherboard), I have had absolutely no issues fitting it into the NZXT Switch 810. I don't see why you would either, being eATX and all, haha. The center fan can still tilt to the fullest extent without any clearance issues.
On the other side, the CPU backplate opening is large enough to accommodate motherboard sockets across different generations. It is also a real pleasure to work with the vast amount of openings on the motherboard tray; it is definitely the right amount in all the right places. With the relatively wide gap between the motherboard tray and right side panel, the Switch 810 also has some zip tie attachment points to ensure your cables can be organized well. Heck, they have even included an EPS 8-pin extension cable out of the box to ensure your power supply can reach your motherboard! This is definitely something Fractal Design can take note of regarding their Define XL, haha.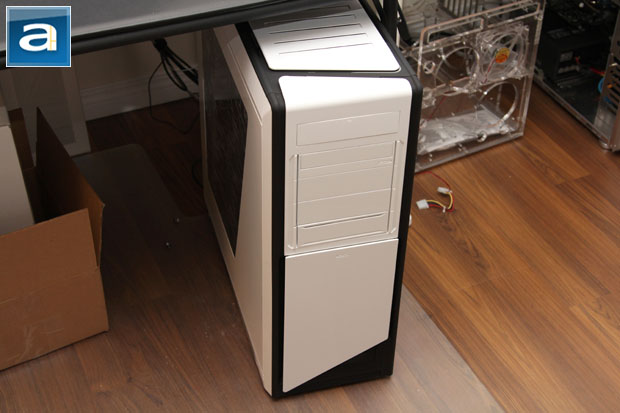 After plugging in everything, our system configured inside the NZXT Switch 810 is ready to roll. I hit the large power button at the top, and my computer came to life. Your finished system should resemble what I have above, since there is nothing much you can change here anyway, haha. As promised earlier on in this review, you can see the white power and HDD LEDs at the top of the case. My flash and fast shutter speed configured on my dSLR camera won't let you see it, but I can assure you, it is there. In my personal opinion, if you are planning on buying the white Switch 810 like mine, an NZXT HALE90 in conjunction with a set of the company's Sleeved LED Kit in white would look real sleek with the big side window.
On a scale from 0.0 to 10.0 where 0.0 is silent and 10.0 is the loudest, the four fans would come in at 6.0/10 subjective sound rating at full blast. That is pretty darn loud. As my colleague Devin pointed out in his FX 140LB review, they are not just loud at full throttle; they are also very 'clicky'. Slowing them down will reduce the noise, but unfortunately, the integrated fan controller PCB has no option to adjust fan speed. This makes absolutely no sense in my personal opinion. I am quite sensitive to perceived sound volume, and if you are a quiet PC enthusiast, the NZXT Switch 810 will require some modifications to suit your needs.
-----------------------------------------
Switch. Sometimes, it is just a better word to replace the term "change" -- you know, as part of the language politicians love to use so they can get a job for the next four or five years. But while politicians can promise rose garden and end up providing nothing more than an outhouse, the real question we should be asking today is whether or not the NZXT Switch 810 is a product of a smart marketing team, or a gem from a team of great designers. In my personal opinion, I think the company got quite a number of things right in this case. So to save you time, I will highlight only the stuff I think are outstanding, otherwise I will just be rewriting this review. Firstly, the large, unobstructed side window. Back in the days, they were easy as heck to find. Nowadays, it deserves an entire section of its own. Either way, I love it. Secondly, the top ventilation. It can be opened or closed at your desire. Simple? Yes. But this is definitely something other case manufacturers need to learn from NZXT for those who don't like dust in their case. Thirdly, the tilting center fan. Enough said. Fourthly, the cable management features. With the right number of openings in the all the right places on the motherboard tray, the Switch 810 is definitely a pleasure to work with. Of course, there are a few things that I would like to see addressed. For one thing, it is not travel friendly. All the fancy click lock panels are cool, until you need to move your case around. Also, it is freaking loud. Considering it already has a centralized fan board, I don't think a variable speed controller is too much to ask for. And last, but not least, some of the plastics are too scratch happy or flimsy feeling. Fix all these, and the Switch 810 is definitely the case to switch to; pun intended. But even with the current issues, all the outstanding attributes makes it impossible not to recommend this work of simple brilliance.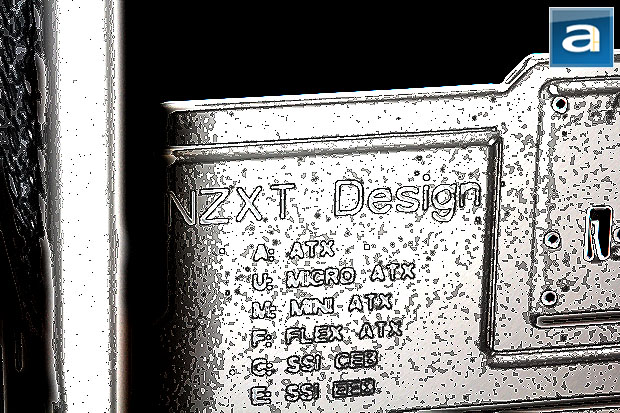 NZXT provided this product to APH Networks for the purpose of evaluation.

APH:Renewal Award | APH Review Focus Summary:
7/10 means Great product with many advantages and certain insignificant drawbacks; but should be considered before purchasing.
8/10 means Definitely a very good product with drawbacks that aren't likely going to matter to the end user.
-- Final APH Numeric Rating is 7.1/10
Please note that the APH Numeric Rating system is based off our proprietary guidelines in the Review Focus, and should not be compared to other sites.
The NZXT Switch 810 is a case that combines classical excellence in design with flashes of brilliant innovation.
Do you have any comments or questions about the NZXT Switch 810? Drop by our Forums. Registration is free, and it only takes a minute!
---
Page Index
1.
Introduction, Packaging, Specifications
2.
Physical Look - Outside
3.
Physical Look - Inside
4. Installation and Conclusion