Page 2 - Physical Look - Outside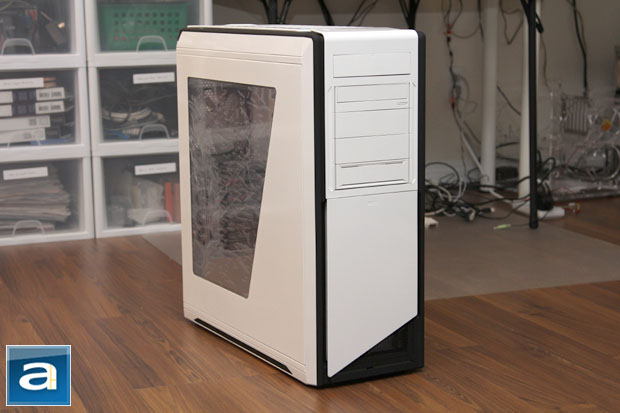 After unwrapping the large plastic bag over the big full tower, something made me wonder why there is so much plastic protection tape over various panels; especially on the front. The reason is self-explanatory after everything has been removed. The first thing that comes to my mind: iPhone 3GS. If you recall the back casing construction of the second and third generation iPhone in white, this is exactly what the NZXT Switch 810 appears to be. The slightly creamy-toned white plastic is finished off with a semi-glossy shine, and although scratch and fingerprint prone, it is definitely something enjoyable to behold if maintained accordingly. The side panels, on the other hand, makes me think "washing machine" -- the SECC panels come with a high gloss finish compared to your usual matte look. Our white version of the latest addition to the company's Crafted series only has four external 5.25" drive bays in the front. This should more than enough for most people, but surprisingly little for a case of this size. We will go over this in detail in just a moment. Meanwhile, the left side panel is something that deserves a mention of its own. It features a large, clean, and unadulterated window that provides an unobstructed view of your computer's interior. I'd like to say more, but it simply isn't necessary. Just look at the picture above, and the NZXT Switch 810 is a fine example of a case with a windowed side panel done exactly right.
According to NZXT's measurements, the Switch 810 comes in at 23.5cm width, 59.5cm height, and 58.5cm depth. These dimensions are about right for an eATX computer case. It tips the scales at approximately 31.7 pounds, which is also about average. These figures should not arrive as a surprise, because the Switch 810 is constructed out of plastic and steel.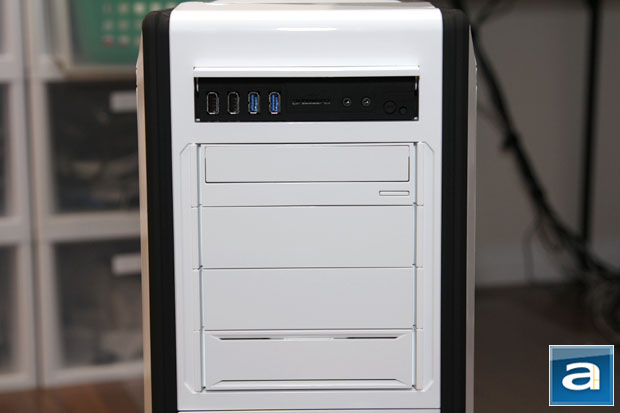 The uppermost 5.25" door is actually a rotating cover that encloses an array of front panel connections. It is not very conveniently accessible (Especially if your computer is on the floor), but I don't think it will pose a huge issue for most people down the road. To list everything present on the NZXT Switch 810's front panel starting from the left, we have two USB 2.0, two USB 3.0, one SD card slot, two 3.5mm jacks for headphone and microphone, reset button, and rear LED switch. The NZXT Switch 810's USB 3.0 ports are connected internally. If your motherboard does not have any internal USB 3.0 headers, then you are out of luck -- a USB 2.0 adapter is not included. A white HDD LED, power button, and power LED is located at the top of the case, and we will grab you a photo of the sleek implementation on Page 4 of this review.
The top 5.25" drive bay is enclosed by a special cover to accommodate the optical drive of your choice. This is especially beneficial, because the natural color of your optical drive will not affect the appearance of your case when installed. The subsequent two are standard, while the last one, when detached, reveals a tray for one removable SATA hard disk drive. Although there are no 3.5" external drive bay adapters out of the box, it is really not a big issue in my opinion. After all, I don't recall anyone still using floppy disks anyway, haha. My only complaint is that the plastic covers feel very flimsy, and can be pushed in very easily. This is definitely a concern if you attend LAN parties frequently with your computer.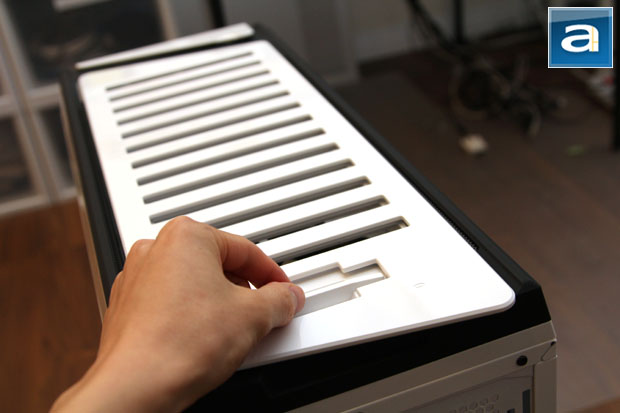 Besides the windowed side panel done exactly the way it is meant to be, there is another crucial element that NZXT got right in the Switch 810 in my personal opinion -- the top. While it is hard to argue against the laws of physics -- where heat rises, so exhaust fans are installed at the top -- most manufacturers conveniently 'forgets' how dust can really be a nuisance for many consumers such as yours truly. Of course, they argue that the top ventilation system blows air out, so it is not like dust will be sucked into the case. But how about when the computer is turned off? Oops. Well, with the Switch 810, it comes with one of those features that will probably send other case designers thinking, "Why didn't I think of that earlier?" A simple array of vents, kind of like something you would see in your house, is attached to a mechanical slider that can be opened or closed at your convenience. My beautiful hand shown in the photo is not included. The entire panel can be removed by a pair of click-locks. Up to three 120mm or 140mm fans can be installed in this location. My only suggestion for improvement is to have dust filters here like the Cooler Master 690 II, but it is not really a big deal.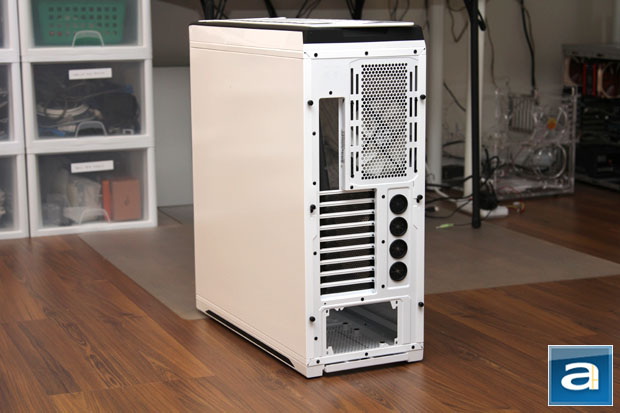 Complementing the pure and white right side panel, the back of our white NZXT Switch 810 is color matched for an extra touch of excellence. The rear layout is pretty much standard for a case with a bottom mounted power supply bay. We can expectantly spot an included black and white colored 140mm fan placed adjacent to the motherboard I/O backplate, with four pre-drilled water cooling holes in a vertical array right under. Your fingers are protected from the rear exhaust fan by a honeycomb mesh grille. A series of rails adjacent to the rear exhaust fan mount provides tons of flexibility in accommodating either two 120mm fans or one 140mm fan in the position of your choice. The expansion slot covers are fully ventilated as well, as shown in our photo above.
Remember the LED switch on the front I/O panel we have discussed earlier in this review? Yes. I did realize I did not talk about what it is. Actually, it controls two white LEDs, with one above the motherboard backplate, and the other above the expansion slot covers. When turned on, it will let you see the ports more clearly, especially if your computer is located in the dark corner of your room. How is that for thinking about your customer? You will no longer need to fumble around different cables wondering which goes into what.
Finally, both side panels are held closed by two thumbscrews each, but once again, with an extra twist to the story. A spring loaded mechanism in the middle of both keeps the flip-out panels locked even with the two thumbscrews disengaged. Obviously, it is not a big deal even if it does not have it, but the devil's in the details. Without doubt, here at APH Networks, we are big on refinement, and for those dumping your hard earned cash on a nice new chassis, you can be sure where your money went in the NZXT Switch 810.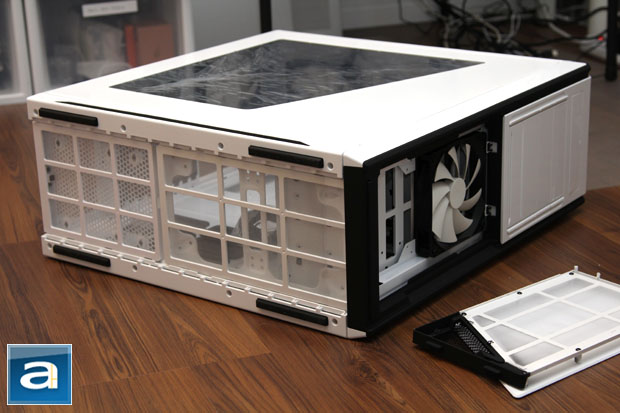 Two full-length rails support the NZXT Switch 810 off the ground, giving it a 1cm rise above the residing surface. Like the front air intake, the company has two separate removable fan filters to reduce dust from entering your power supply and bottom mounted case fans. These filters are clicked into place, and are very important, considering the entire bottom of the case is ventilated. The front panel can also be removed by giving it a nudge at the top to disengage the lock, as shown in our photo above. The click locks are definitely very convenient to use, but can be a real nuisance if you travel to LAN parties frequently with this case. Both the bottom and the front can accommodate up to two 140mm fans each.
Generally speaking, the exterior of the NZXT Switch 810 is filled with great ideas that are well implemented. The company has also taken steps to ensure the nitty gritty details are addressed, giving it a bit of edge over competing products. The panels fit together well enough with minimal panel gaps, but not all of them are perfect, with some parts feeling a little more flimsy than I would like. Don't get me wrong, it is still very good -- but if we plug some automotive jargon into this evaluation, I think it will be nice if it feels more "European" (Despite the fact that I still prefer Japanese cars, but that is a completely different story).
---
Page Index
1.
Introduction, Packaging, Specifications
2. Physical Look - Outside
3.
Physical Look - Inside
4.
Installation and Conclusion