By: Aaron Lai
December 2, 2022
"I am a metronome," my girlfriend exclaimed as she writhed in pain while clutching her head. I looked at her confused before chuckling and realizing she actually meant "meteorologist", which is someone who forecasts weather. Unfortunately, she has the ability to tell the incoming weather pattern changes because she gets bad migraines the day before major changes. This happens when it goes from a nice day to a rainy or snowy day and vice versa. As she was still unhappy, I looked at my weather app on my phone and it said nothing was going to change, but her headache said otherwise. Sure enough, the next day, we got a dump of unexpected snow. While I wanted to praise her for being right, it was also an unfortunate feeling since she had to go through the pain the day before it happened. Being a meteorologist is not necessarily a fun job, especially when you have to tell people about incoming weather that your viewers may not be happy about. Furthermore, while most meteorologists have more instruments than a headache to forecast weather, they can be wrong. As such, others may not necessarily trust you if you get it wrong enough times. In a similar fashion, a monitor is a very important output for computer users because it is one of the primary ways for users to get feedback from their PCs. However, what makes a monitor reliable and worth purchasing? Does the Yeyian Sigurd Series 2503 belong in this conversation? Let us read on to find out!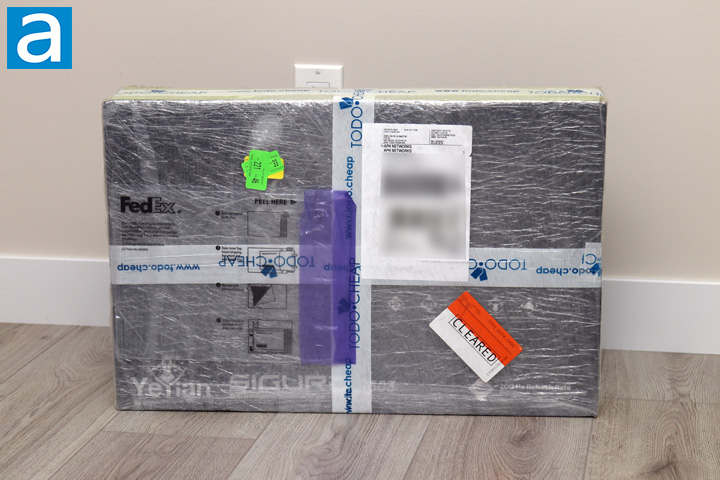 Today's monitor arrived from Todo Cheap's American offices in San Diego, California, USA. Traveling with FedEx and their International 2Day service, this monitor box arrived at the same time as our other recently received Yeyian products like the Agile NL, albeit this was in its own box and shrunk wrapped separately. Everything was sealed with tape and packing straps to prevent the monitor from being tampered with.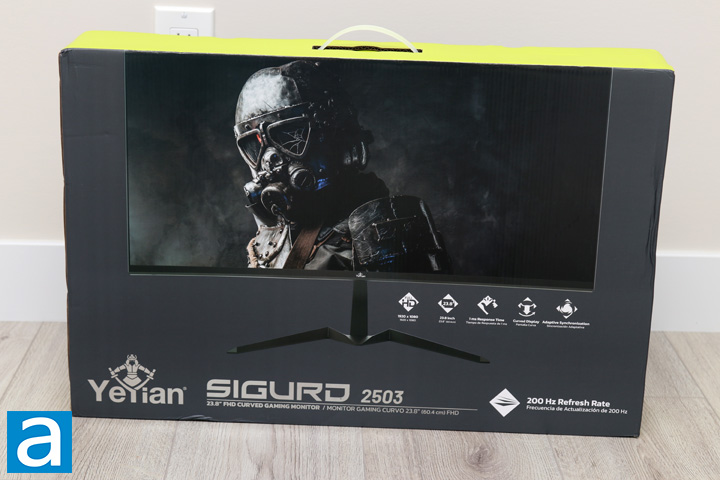 The retail box of the Yeyian Sigurd Series 2503 is pretty similar to the Agile NL, at least in its color scheme. For one, the Sigurd Series 2503 also has a gray box with a neon green-yellow border around it. The monitor can be found in the middle of the box with several features highlighted underneath. These features include its 1920x1080 resolution, 23.8" size, 1ms response time, curved display, and adaptive sync capabilities. The company logo and product name are printed at the bottom of the box, while a description of "23.8" FHD Curved Gaming Monitor" can be found in both English and Spanish. Finally, to the side is the impressive 200Hz refresh rate capability, although we will explore these features later in our report. Around the box we have several more features and specifications highlighted to explain the product more.
Before we continue on, I have obtained the specifications from the manufacturer's website for your perusal:
Standby Consumption: <0.5W
Consumption Adapter: N/A
Adapter Input Voltage: Pending
Top 5 Selling Points: VA, FHD, Freesync. Low blue light mode, Frameless, G-sync, Flicker-Free, Speakers 2 x 3W
Refresh rate: 200 Hz
Frequency: N/A
Current Input Adapter: AC
Top 5 Product Features: VA, FHD, Freesync. Low blue light mode, Frameless, G-sync, Flicker-Free, Speakers 2 x 3W
Voltage: 12V
Current type: DC
Current: 3A
Lighting type: Backlight
Viewing angle: 178º/178º
Contrast Ratio: 3000:1
Brightness: 300cd/m²
Input Ports: Display Port 1.2 x 1, HDMI 2.0 x 1, Audio Out 3.5mm
Mounting (VESA): VESA 75 x 75 mm
Dimensions: With stand 21.21*15.89*5.89 inches / Without stand 21.21*12.52*1.5 inches
Inclination angle: Forward 5 ° / Backward 15 °
Monitor Input Voltage: 12V 3A
Weight: Pending
Power cable length: 4.92 ft
Power Consumption: 28W
Power Type Adapter: External
Current Adapter: N/A
Packaging Weight: Pending
Screen Size: 23.8 Inches
Packaging Dimensions: 24.01*15.27*8.26 inches
Panel Type: VA
Screen shape: Curved R1650
Maximum resolution: 1920X1080 FHD
Aspect ratio: 16:9
Display Colors: 16.7M colors
Certifications: CE, FCC, RoHS, NOM
Diagonal Visibility: N/A
Response time: MPRT 1ms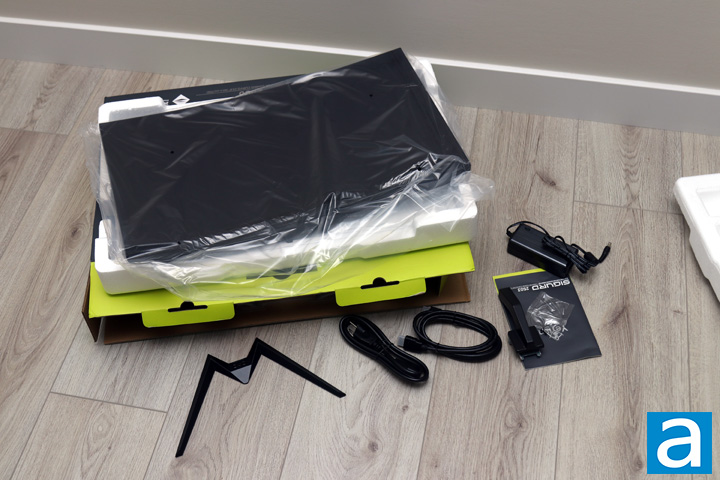 Out of the box, we have the Yeyian Sigurd Series 2503 in a plastic bag and sandwiched between two foam brackets. The accessories can be found seated in a pocket of one of the foam brackets, each wrapped in their own plastic bag. This includes the stand, AC power cable, external power supply, HDMI cable, and a small bit of documentation for setting up the Sigurd Series 2503. There is not much else to look at here, so let us continue in our inspections.
---
Page Index
1. Introduction, Packaging, Specifications
2.
Physical Look - Hardware
3.
OSD and Test System
4.
Display Performance Tests
5.
Conclusion