By: Aaron Lai
May 30, 2014
When the recent student union elections were held at the University of Calgary, there was a candidate running for a vice president position with a quirky yet neat idea. This person had other platform points, but one of them was to bring, what he dubbed, "Power Towers" to the university. These are universal-charging stations (Presumably USB) with the ability to charge at a "faster rate", while increasing Wi-Fi bandwidth throughout the university. These towers would be placed around the university for all students to use and enjoy. I am not sure how feasible this idea is, but it was probably the primary reason as to why he ended up winning his position. While I could rant on how inconsistent the internet is at the university, the charging capabilities do bring up an interesting concern. Our portable devices, both smartphones and tablets, use quite a bit of power. No matter how big the internal battery is, the battery life of these devices always seem to end up closer to zero than full at the most inconvenient time possible. ADATA believes they have a solution to this problem, and their answer is the ADATA PV100 Power Bank. Of course, they are not the only ones with this solution, as there are quite a few from many well known companies. This specific portable charger is advertised at being able to charge smartphones up to two times on a single charge, with a 4200 mAh battery inside, while delivering up to 2.1A of current. The last portable charger we reviewed was over two years ago, and it was able to remove up to twenty minutes off of charging time. Can the ADATA PV100 Power Bank pull up these kinds of numbers? Read on to find out!
Much like our recent ADATA products such as the DashDrive UE700 64GB and the DashDrive HV620 1TB, the ADATA items arrived via UPS Standard from their American offices in California, USA. All of the exposed edges were wrapped in a baby blue tape to ensure the items inside remain untouched by anyone but us here at APH Networks. Thankfully, UPS delivered the brown corrugated box without any issues, as there are no major scratches or bumps on the box. Of course, there were the small bruises on the corners, but this did not affect anything inside.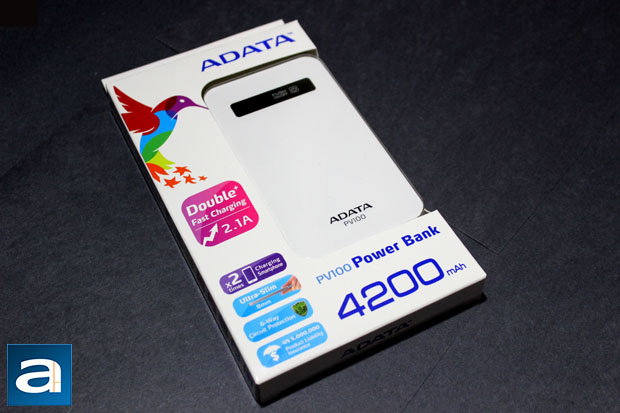 Popping open the box, and we were greeted with not one, but two products. Today's product, the PV100 Power Bank, also arrived with the ADATA DashDrive Durable HD650 500GB, which will be reviewed in the weeks to come. Once again, due to the superb shipping of UPS -- no sarcasm here -- our products arrived without any scratches or bumps on the retail packaging. Looking at the ADATA PV100 Power Bank box, and we can see this retail packaging is much like any of the other ADATA products. A flamboyantly colored hummingbird is located on the top left corner, and ADATA's logo is located on the top right side. On the front are some of the main features, each of which I will be covering later in the review. On the back of the retail box are even more features, specifications, and contents.
Since you cannot really see the back of the retail box, I have pulled the specifications of the ADATA PV100 Power Bank from the manufacturer's website for your own perusal:
Battery: Rechargeable Li-polymer
Colors: Black / White / Pink / Blue
Dimensions (L x W x H): 67 x 118 x 8mm / 2.6 x 4.6 x 0.3in
Weight: 105g (3.5oz)
Input: 5V 1.0A (Micro USB)
Output: 5V 2.1A (Type-A USB)
Power Bank: 4200 mAh
Warranty: 1 Year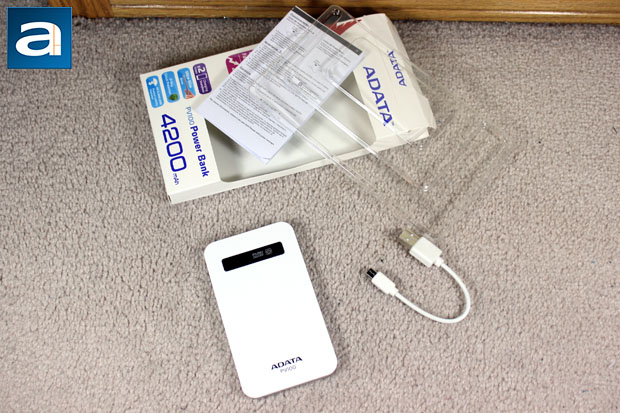 Popping open the retail box reveals to us three things inside. First is the Power Bank itself, which is white on the front, and metallic silver on the back. As you have read above, it does come in other colors like black, pink, and blue. Next is a short Micro USB to USB cable. Finally, there is a small user manual to tell users how to charge and use the ADATA PV100 Power Bank.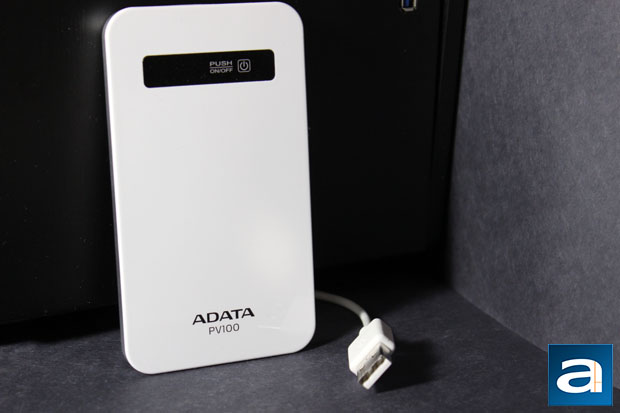 When I first popped the ADATA PV100 Power Bank out of the box, I immediately wondered if Jony Ive had designed this. This portable charger bears a resemblance to the fifth generation iPod Classic, with its glossy front and its metallic back. Taking cues from Apple in terms of design is never a bad idea, especially when a lot of their popular products have excellent design choices. While I am by no means an Apple fanboy, I must admit that Apple makes some stunning, if not eye-catching products to say the least. Of course, there are the obvious changes like the removal of the scroll wheel, and the 2.5" LCD screen. I mean, what do you call a device with a scroll wheel, 2.5" LCD screen, and features a battery inside?
Anyway, the rest is quite similar. In fact, the overall dimension of the ADATA PV100, which is 67 x 118 x 8 mm or 2.6 x 4.6 x 0.3 inches, is quite similar to the aforementioned iPod. The ADATA PV100 Power Bank is quite a bit lighter too, at 105g or 3.5 ounces. The overall slimness of this portable battery in both dimensions and weight is a plus, especially since it is compact enough to go into your pants pockets without making a big bulge. You know, you do not want to give people wrong impressions. The front glossy plastic is unfortunately a bit of a fingerprint magnet, and it easily shows up. Of course, the white version is not as bad as the black version, but it is still very visible. At the top of the front panel is a black bar that hides the four LED lights and the power button. The cable is also shown on the side, and measures approximately 163mm from end to end. This is a bit short and causes some flexibility problems as it cautiously hangs from places, whether it is charging or charging other devices. On the flip side, the cable is also small enough to be unnoticeable when you are on the go.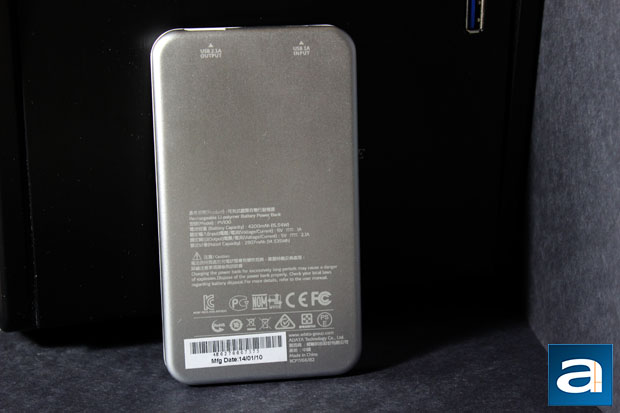 The backside is made up of a smooth brushed metal, and it feels nice in your hands. While it does mean the PV100 may slip out of your hands easier, it emphasizes a premium look and feel. The back also has specifications engraved onto the metal, as well as certifications and the serial number, in case you have to file any sort of warranty claim. As mentioned in the specifications, there is a one year warranty with this product. Overall, I have to say ADATA has practically nailed the PV100 Power Bank for aesthetics. Both the front and the back are very clean and polished. There is a bit of overhanging metal where it meets with the plastic on top, but it is not very noticeable. The power button also creaks whenever pressed, and I would have preferred it be a separate button, instead of part of the front black bar, but these faults are both really nitpicky. I have seen other portable chargers before, and this is by far the best looking one.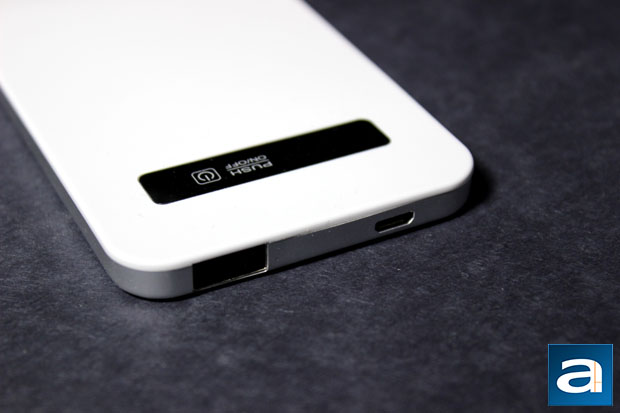 In the picture above, we see the only two input/output ports the ADATA PV100 Power Bank has. On the left is the USB 2.0 output, and on the right is a micro USB 2.0 input. It would be nice if ADATA provided more than one output USB connector, as it would allow for double the charging at the same time. This would probably require a larger battery to be inside the PV100 too, just to accommodate for the extra expected load. Speaking of which, inside the PV100 is a non-removable 4200 mAh lithium-polymer battery, with its full name being lithium-ion polymer or Li-Po for short. In general, Li-Po batteries are made up of many secondary cells in parallel addition to maximize discharge current capacity. A solid polymer holds the lithium salt electrolyte in place, creating cells with increased ruggedness, shape flexibility, and can lower costs of manufacturing. ADATA has also stated the battery inside is designed to have a "6-Way Circuit Protection", which are overcharge, over-discharge, over-temperature, short circuit, over-voltage, and over-current protection. The PV100 Power Bank supplies up to 2.1A @ 5V, similar to most tablet chargers, and more than the conventional 1A charger that comes with majority of smartphones. Of course, a standard USB 2.0 port is limited at 500mA, which is a quarter of the current at the same voltage.
-----------------------------------------
The Tests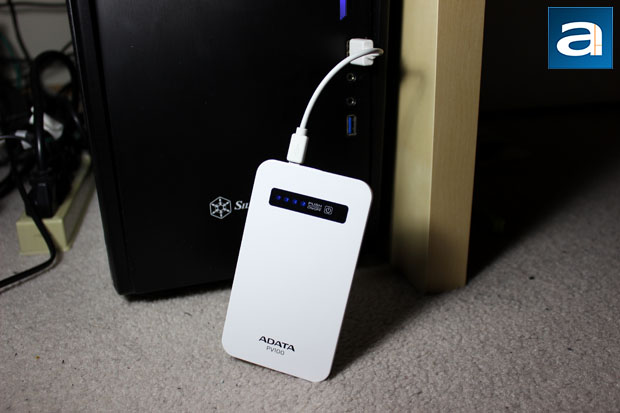 As the ADATA PV100 Power Bank is meant to be a convenient device for charging, I charged it up to full capacity with my desktop computer (I will be covering this in the future review of the Silverstone Precision PS10 later on). This allows us to see how long the PV100 can last in a single run when fully charged. When charging the PV100 itself, no devices were plugged into it. This allows us to gauge how long it would take to charge the portable charger accurately.
Out of the box, the ADATA PV100 Power Bank was already 75% full, as indicated by the stars that were lit when first turned it on. To optimize the performance of the battery for first use, I charged the battery, drained the battery all the way down, and then fully recharged it without interruption. Once this initial charge/discharge cycle was completed, I unplugged it and put it through our tests. For this, I pulled out two of my daily devices that have been featured in past reviews before, my HTC One X+ and my Google ASUS Nexus 7 (2012). I plugged these devices in, and recorded the results to charge the devices. For the HTC One X+, I charged it from 0 to 100%, as the internal battery is approximately 2100 mAh, and can be charged by the ADATA PV100 Power Bank twice, theoretically. The tablet on the other hand was charged from 50% to 100%, as the internal battery is larger than the PV100. I compared this charging with the stock chargers that came with each of the devices. HTC's charger is rated at 1A @ 5V, while ASUS' charger is rated at 2.0A @ 5V.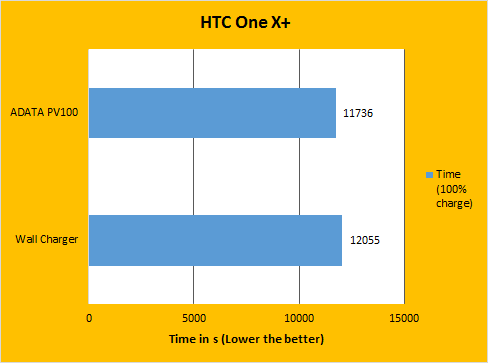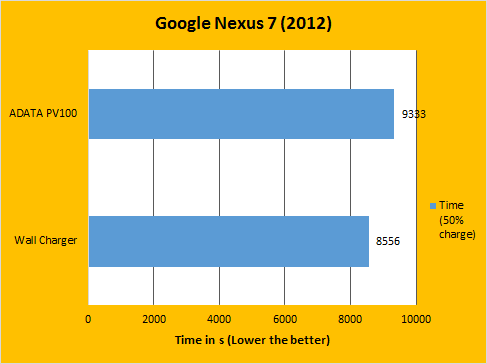 As you can see from the results above, the ADATA PV100 is a mixed bag of answers. First for the phone, we can see the ADATA PV100 Power Bank charges slightly faster from zero to full by approximately 500 seconds, which equates to around eight minutes of less time waiting for your device to charge. Conversely, looking at the Nexus 7, we can see the OEM wall charger actually charges the device faster from half to full by approximately 800 seconds, or around thirteen minutes. Now you may ask, why the discrepancy? I would probably pin this on the way these devices are designed to pull current. As we can see from the results, the HTC One X+ is able to pull greater currents than the provided 1A from the wall charger. After perusing ADATA's website, and the packaging of the PV100 Power Bank, I also see that this charger is not specified to be used with tablets, but nothing is stopping you from doing it. The 4200 mAh capacity is rather small if you are to use it for this purpose, as this is approximately the size of 7" tablet batteries. Once I finished these tests, I continued to drain the ADATA PV100 until it was fully dry, and finally plugged it into my computer to charge it back up. This took approximately five hours to charge back over a 500mA, 5V USB port. ADATA claims that it can pull up to 1A current with any wall charger. Unfortunately, they do not provide any wall charger, but with the number of smartphones and tablets out there, wall chargers are easily found anywhere.
-----------------------------------------
The ADATA PV100 Power Bank is generally a decent portable charger, which is capable of charging many everyday electronics on the market these days. On the good side, we see a very well designed product. The slim and light build means the PV100 will not be a hassle to carry around, and slips into any pocket or bag you might carry around. The design cues ADATA have implemented are welcomed and ADATA should be proud. In terms of charging, the Power Bank is definitely able to cut numbers off of charging times, especially with our phone. With the ability to deliver 2.1A, we can see some small but noticeable decreases in times for the phone. On the other hand, the device's front panel is a bit of a fingerprint magnet especially with the glossy surface. There are also some small refinements that could be made to remove some overhang and creakiness of the plastic. If there were any other improvements to be made, it would be to increase the battery size, as many other options out there boast up to 10000 mAh, as well as having two or more output ports to charge devices. While I understand this will obviously increase the price, it is an idea to consider especially since smartphones and tablets are only increasing in battery size. If we look at the market price, the PV100 Power Bank runs your wallet for approximately $29.99 USD at press time, a reasonable price considering comparable USB chargers are about five to ten dollars more. If you are in the market for an extremely portable charger, then the ADATA PV100 Power Bank should be on your list.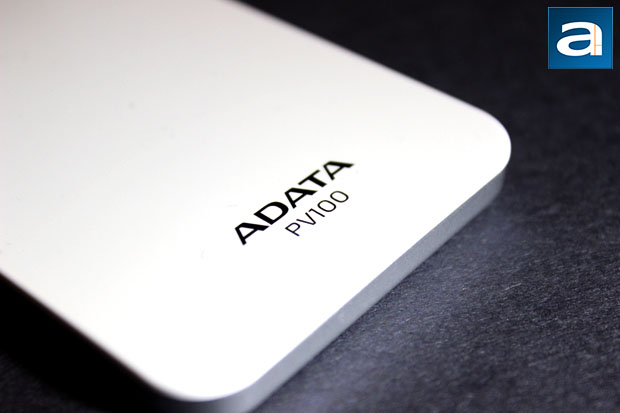 ADATA provided this product to APH Networks for the purpose of evaluation.
APH Review Focus Summary:
7/10 means Great product with many advantages and certain insignificant drawbacks; but should be considered before purchasing.
6/10 means A product with its advantages, but drawbacks should not be ignored before purchasing.
-- Final APH Numeric Rating is 7.4/10
Please note that the APH Numeric Rating system is based off our proprietary guidelines in the Review Focus, and should not be compared to other sites.
With the sleek and shiny design, the ADATA PV100 Power Bank is one portable charger that looks good and performs well, too.
Do you have any comments or questions about the ADATA PV100 Power Bank? Drop by our Forums. Registration is free, and it only takes a minute!