Page 3 - Physical Look - Hardware, Board Layout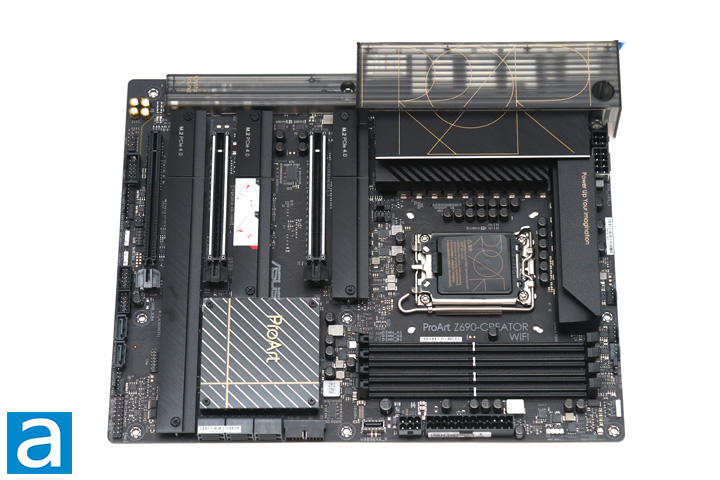 The ASUS ProArt Z690-Creator WiFi is a standard ATX board, with typical measurements of 30.5cm by 24.4cm. This is a top-tier motherboard in the ProArt lineup, and like its retail box, there are a lot of similar visual elements to make this motherboard fit in the same design language. ASUS is using the same matte black solder mask on this motherboard that they have used on many of their motherboards, making for a subdued and clean appearance. All of the components are carefully shaded with monochrome, while gold accenting can be found on areas like the VRM heatsink and back panel cover, text on the top and chipset heatsink. Even components like VRMs and capacitors are black in color to fit in with this color scheme. This clean aesthetic is really appreciated in a world of RGB LEDs and gaming vibes everywhere. Obviously, the aesthetics do not translate into quality internal components, but it may affect your purchasing decision. We do know however that ASUS has tested these components though a 168-hour durability test for reliability and your peace of mind.
From the photo above, you can see the ASUS ProArt Z690-Creator WiFi is covered with heatsinks. This includes large VRM heatsinks on the MOSFETs and chokes around the processor socket, which we will take a deeper look at in a moment. All four PCIe 4.0-based NVMe M.2 slots have included heatsinks with thermal pads underneath. A simple passive cooler is on top of the Z690 chipset, as we only have a 6W TDP. Thankfully, we do not require any active fans as we have seen on most AMD X570 motherboards. The ProArt Z690-Creator WiFi should perform well, even in cases with lacking airflow, but we will do some temperature testing later on in this review.
At the top left corner, we have the CPU power connectors, with two connections in the form of an ATX 4-pin and EPS 8-pin, to provide the extra power needed for your processor. It is a bit crowded in this area, but this is still better than some other motherboards as it is located right at the edge of the motherboard with nothing in between. This provides a bit more wiggle room for your fingers to unlatch the cables. Clearance should not be an issue here, unless you have gargantuan hands or have other components like a large heatsink or a radiator hanging over the motherboard at the top here. Moving over to the right side, we have three 4-pin fan headers, labeled CPU_FAN, CPU_OPT, and AIO_PUMP. This supports up to two cooling fans and one all-in-one cooler pump.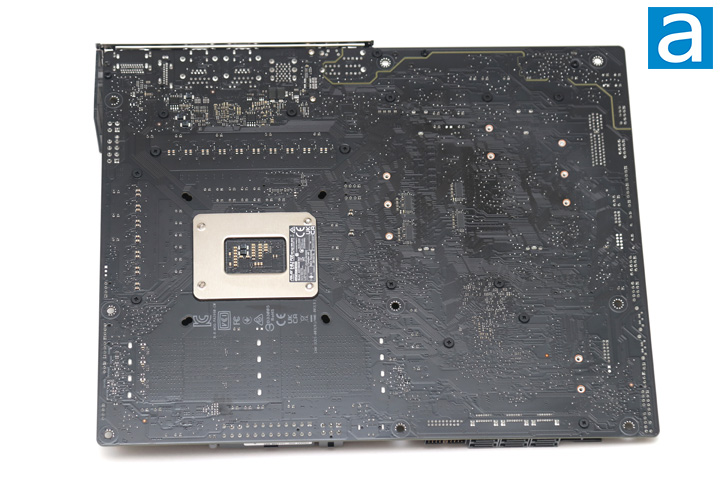 Flipping the motherboard over, you can see we have a clean look at the backside of the ASUS ProArt Z690-Creator WiFi. Once again, the design here is clean and has no other components here. This makes adding aftermarket CPU cooling solutions easier, as there is nothing to interfere with here. A standard Intel backplate is spotted, which should work with all LGA1700 aftermarket coolers. Some sockets and headers use through-hole connectors, as shown in our photo above. SMT or surface-mount technology is generally less capable of withstanding higher mechanical stress required for certain use cases.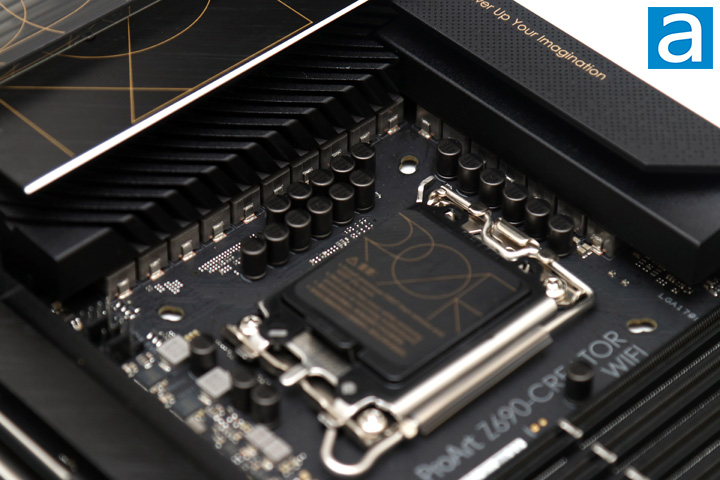 Here we have the LGA1700 processor socket with the typical array of items located in close proximity. These are related to the CPU voltage regulator circuit, as well as two corresponding heatsinks. The heatsinks are relatively low profile considering their size, and I had no problems installing larger heatsinks in this area. The ProArt Z690-Creator WiFi features a Digi+ EPU and a 16+1 70A power stage design for solid and precise power delivery with fast transient response to your CPU. Two more 4-pin chassis fan headers can be found here, near the southwest corner of the CPU socket.
Four DDR5 RAM slots are placed in close proximity to the CPU socket. Most modern RAM should have low enough profile heatspreaders, while most modern coolers are designed to sit over adjacent memory modules, so you should not run into clearance issues. The slot closest to the CPU socket is DIMM A1, followed by A2, B1, and B2. If you are planning on using only two slots of memory, be sure to fill in A2 and B2 first, despite the naming. All of these have metal dividers to increase the strength of these slots.
An ATX 24-pin power connector can be found at the side of the motherboard, which is pretty standard. Above the ATX 24-pin power connector, ASUS has placed four LEDs here to indicate status for CPU, memory, graphics card, and boot device to help with diagnosing problems on boot. It might have been nice to see a seven-segment display to read out more specific POST codes, but this does provide a clean and simple way to troubleshoot immediate issues. An AURA 5V addressable RGB Gen 2 header is found next, followed by an AURA 12V RGB Gen 1 header around the corner. Below the ATX 24-pin power connector is a 6-pin PCIe connector to provide up to 60W of power to the front panel USB 3.2 Gen 2x2 Type-C connector and a USB 3.2 Gen 2x2 Type-C header. It should be noted this is Quick Charge 4+ compatible and follows the USB Power Delivery specification.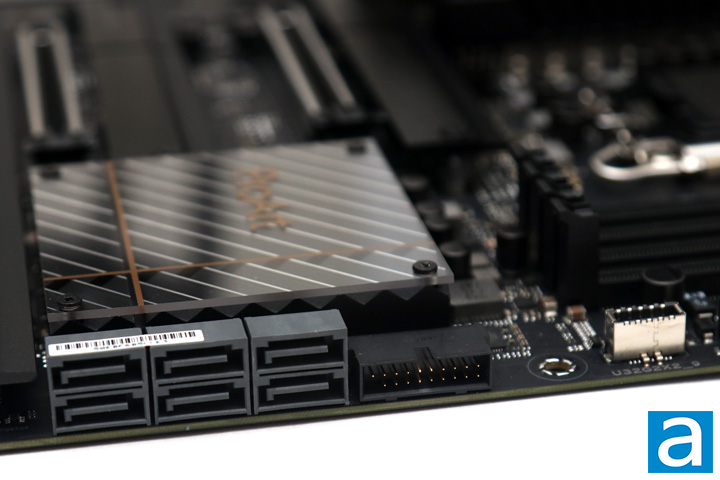 Moving past the Type-C header, we have a USB 3.2 Gen 1 header, angled perpendicular to the motherboard, followed by six standard SATA 6Gb/s ports native to the chipset, which are also angled in the same way. These SATA ports support RAID 0, 1, 5, and 10. The SATA ports also share bandwidth with the M.2 slots; more on this in a moment. Overall, this is a pretty straightforward layout and generally optimal in placement to ensure everything is placed along the edge for easier cabling.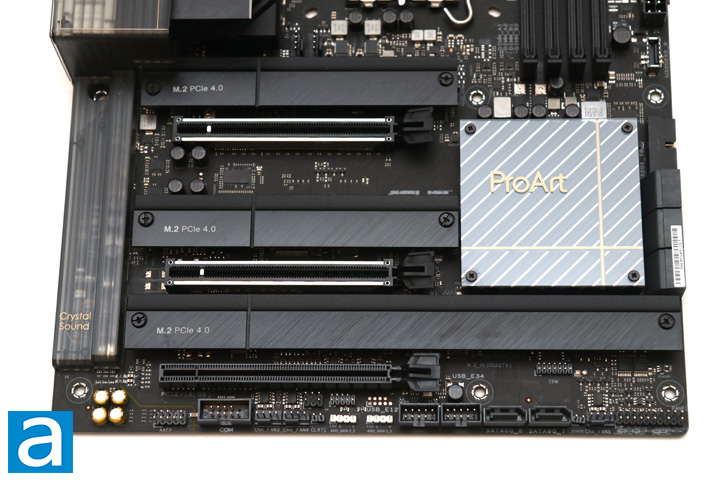 There are a total of three PCI Express expansion slots on the ProArt Z690-Creator WiFi. The top two slots are notably reinforced for increased strength. The top two slots are PCIe 5.0 x16 slots provided by the CPU. Both of these share sixteen lanes. As such, if only the top slot is populated, it will receive the full sixteen lanes, but if the second slot has something installed here, the bandwidth is split so that each slot gets eight lanes of bandwidth. The third and final PCI Express slot is provided by the Z690 chipset, and this is a PCI 3.0 x16 slot with four lanes total of bandwidth.
As for storage, there are four M.2 storage slots, providing a solid amount of NVMe storage if you want to fill up your motherboard with fast SSDs. Three of them support sizes up to 22110, while the fourth one is limited to a 2280 size. All of them use a nice tool-free mechanism, called Q-Latch, to secure SSDs. While they are easy to use, I would have liked to see a metal mechanism here instead of plastic. All of these slots are PCIe 4.0-based with four lanes. The top slot is given lanes by the CPU, while the rest are given four lanes each by the chipset. The fourth slot supports both NVMe and SATA drives here, and shares bandwidth with SATA ports 5 to 8. As such, if a drive is detected here, it will disable the last four SATA ports on the motherboard. Otherwise, all of these slots have beefy heatsinks, which is great to see.
The rest of the internal headers can be found all at the bottom of the ASUS ProArt Z690-Creator WiFi. From left to right, we have the front panel audio, serial, two 4-pin PWM, clear CMOS, two AURA ARGB Gen 2, two USB 2.0, two SATA 6Gb/s, thermal sensor, another 4-pin PWM, and front panel I/O. I could not locate the CMOS battery, but I presume it is fixed in place near the back panel I/O. It is also unlikely you will need to pull it out, since there is a clear CMOS header at the bottom. I really appreciate the placement and layout of all of these internal headers, making them easily accessible.
At the back, there is a dedicated audio zone electrically separated and physically shielded from the rest of the components to reduce noise. A thick line for the audio guard path is on the solder mask to give the user a visual cue of this design. A Crystal Sound-branded cover is placed over the Realtek S1220A 7.1 24-bit/192 kHz audio codec. Further sound quality optimization is made with a power pre-regulator, de-pop circuit, audio-grade capacitors, and audio shielding.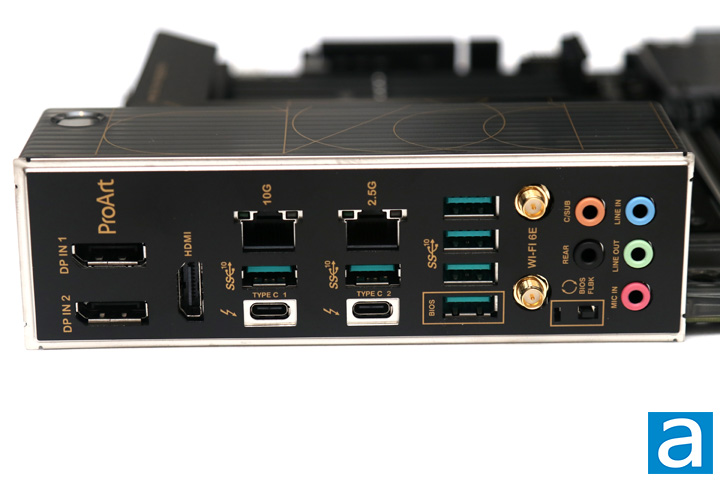 The back panel uses an integrated rear I/O shield and offers a generous array of modern external connectors. There is a total of six USB 3.2 Gen 2 Type-A ports offering up to 10Gbps of data transfer speeds. The first two are adjacent to the 10G and 2.5G Ethernet port. The 10G Ethernet is powered by a Marvell FastLinQ Edge AQC113CS controller, while the 2.5G is provided by an Intel I225-V chip. There are two Thunderbolt 4 USB Type-C ports to provide output for up to two 4K or one 8K display options. This is powered by an Intel JHL8540 Thunderbolt 4 controller.
We have two additional video connectors in addition to the USB Type-C ports. This includes an HDMI output and two DisplayPort inputs. The DisplayPort inputs are used to connect to your video card's output for the Thunderbolt controller to pair with your discrete graphics. The rest are audio connectors based off the Realtek codec. Five standard 3.5mm analog jacks can be found at the bottom, but interestingly, there is no optical audio port. Instead, we have a BIOS flashback button here to let users flash their BIOS without even needing a processor installed. Finally, the last thing to note is the two WiFi antenna jacks to use with the included antenna. This is driven by an Intel AX210 WiFi 6E Wireless Network Adapter card that provides connectivity for both WiFi 6E and Bluetooth 5.2.
---
Page Index
1.
Introduction, Packaging, Specifications
2.
Bundle and Chipset
3. Physical Look - Hardware, Board Layout
4.
BIOS and Test System
5.
Benchmark: AIDA64
6.
Benchmark: Cinebench R23
7.
Benchmark: PassMark PerformanceTest 10
8.
Benchmark: PCMark 10
9.
Benchmark: 3DMark
10.
Onboard Sound Frequency Analysis
11.
Thermal Measurements and Overclocking
12.
Conclusion