Page 11 - Thermal Measurements and Overclocking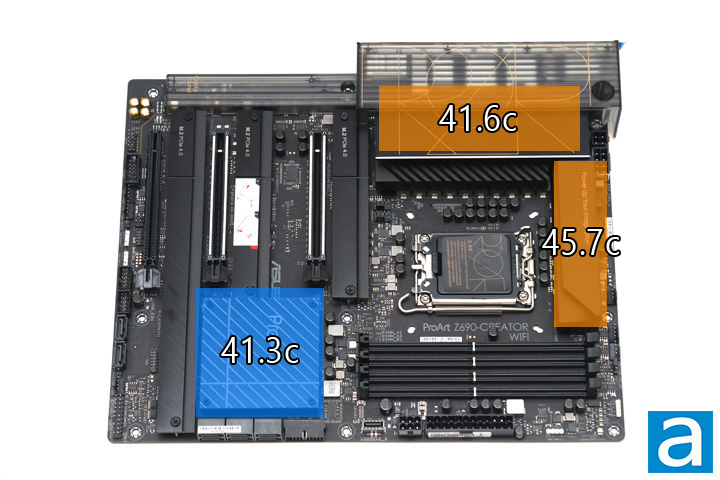 As we have already seen, the ASUS ProArt Z690-Creator WiFi has two chunky heatsinks over the 16+1 70A power stage design along with a passive heatsink over the Z690 chipset. The Z690 chipset is rated at 6W TDP, which does not require active cooling. For this test, I put the system under full load using Prime95 and used an Etekcity Lasergrip 800 infrared thermometer to measure the surface temperature of key areas of the motherboard after 30 minutes. The surface temperature of both VRM heatsinks came in under 50c, while the chipset heatsink measured only 41.3c, as shown in our above photo. I have not experienced any stability problems caused by heat while using this motherboard. I also scanned the surface of entire motherboard using the infrared thermometer and there were no areas of concern or outliers on the ProArt Z690-Creator WiFi.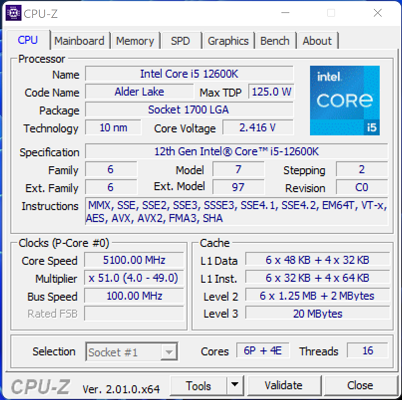 Since my last motherboard review, the Gigabyte GA-Z170N-Gaming 5, overclocking your CPU has become a bit unnecessary. This is because many modern processors, including Alder Lake and Ryzen CPUs, come with boost settings that allow for excellent performance out of the box. However, I still wanted to see if we could tune up the CPU any further on our ASUS ProArt Z690-Creator WiFi.
Overclocking the CPU is still a pretty straightforward process, which includes increasing the core ratio and voltage to the CPU. As such, I applied an all-core ratio of 51 and increased the core voltage to 1.35V, both of which are a modest increase from stock. This resulted in a Prime95-stable 5.1GHz on all P-cores, while also maintaining the stock 3.6GHz on the E-cores. While this only represents a 4% increase over Intel's specified 4.9GHz maximum turbo frequency, it should be noted that this maximum turbo frequency is for a single-core maximum. In our case, we were able to reach this on all cores at the same time, making this result slightly more impressive. When I tried to increase this any further to 5.2GHz, I noticed thermal throttling on the CPU under my Noctua NH-U12A chromax.black when running long Prime95 stress tests. The motherboard was stable throughout all of my overclocking, despite the thermal throttling I did see.
---
Page Index
1.
Introduction, Packaging, Specifications
2.
Bundle and Chipset
3.
Physical Look - Hardware, Board Layout
4.
BIOS and Test System
5.
Benchmark: AIDA64
6.
Benchmark: Cinebench R23
7.
Benchmark: PassMark PerformanceTest 10
8.
Benchmark: PCMark 10
9.
Benchmark: 3DMark
10.
Onboard Sound Frequency Analysis
11. Thermal Measurements and Overclocking
12.
Conclusion