By: Jadon Lee
December 24, 2021
I started to watch The Office again just to see how badly the humor has aged into today's day and age. In my time of procrastinating studying for exams, I started to think about the character Michael Scott more in depth. Despite being such a weird character, was there method to his madness? He may have not been a good manager in the way he acts, but he was an excellent salesman. If you use Michael Scott Paper Company, for example, Michael literally sold a worthless company to people who understood the industry's ins and outs. Michael is really good at making interpersonal connections and relationships with his clients. He is also good at reading business situations. The ability to build relationships with clients and read into situations, but failing utterly at bonding with his employees is interesting. It is almost like he is doing everything on purpose. Scranton is the greatest branch for a reason. Is there something special about Michael's way of management? I think so. I believe Michael acts in a very calculated way to focus on each individual person. This is just like how ASUS focuses on all categories of people with their product lines. ASUS has sent over their ROG Cetra II Core Moonlight White for us to try out. I am quite interested in how comparable these earbuds will be to a standard gaming headset. Will the ASUS ROG Cetra II Core Moonlight White perform just as well for the mobile gamer? Keep reading to find out!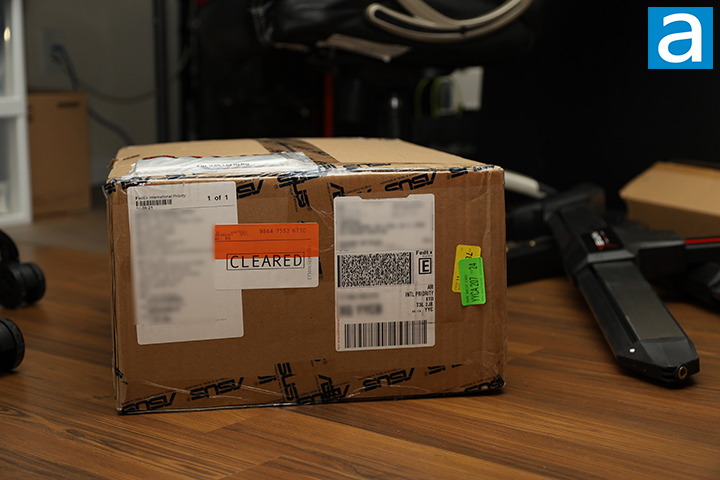 Our review unit of the ASUS ROG Cetra II Core Moonlight White came in a large brown corrugated box that was shipped all the way to us in Calgary, Alberta, Canada from Newark, California, USA via FedEx International Priority. The shipping process went well as the box had very little marks or dents and ASUS used their branded packing tape to ensure there was no tampering. The box also contained the ROG Strix NX TKL Moonlight White, ROG Strix Scope Impact II Moonlight White, ROG Strix Go Core Moonlight White, ROG Strix GS-AX5400, and ZenWiFi XD6, which my colleagues and I have reviewed or will be reviewing later.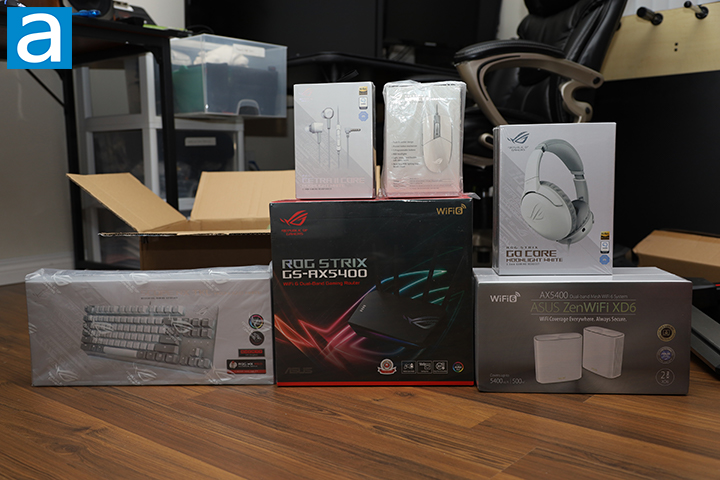 The ASUS ROG Cetra II Core Moonlight White's box design is very appealing, utilizing a nice bright grey for the base and some silver text. The silver text has as slight reflection to it, shining with a turquoise hue. I am a big fan of the color scheme, as it is clean. If you have read some of my previous reviews, I personally am a big fan of gray and white color schemes, as it changes things up compared to using a generic black and red color to shout "gaming". As expected, the earbuds themselves are placed in the center of the box. The top left has the ASUS ROG logo and the bottom displays the name. On the right side, it talks about some of the features such as Hi-Res Audio, TeamSpeak Certified, and Discord Certified. I find it interesting how there are certifications for chatting services. The back of the box contains some general information regarding the design.
Before we continue, here are the specifications for the ASUS ROG Cetra II Core Moonlight White, as specified by the manufacturer's website:
Interface: Wired
Connector: 3.5mm
Support Platform: PC, MAC, PlayStation 4, PlayStation 5, Nintendo Switch, Xbox One, Xbox Series X, Xbox Series S
Driver Material: Neodymium Magnet
Driver Size: 8.4mm
Headphones Impedance: 32ohm
Headphones Frequency Response: 20Hz – 40KHz
Microphone Pick-up Pattern: Omnidirectional
Microphone Sensitivity: -40 ± 3 dB
Microphone Frequency Response: 50Hz – 10KHz
Active Noise Cancellation: No
Channel: Stereo, Virtual 7.1 (Windows Sonic)
Weight: 18g
Carry Bag/Box: Yes
Color: Special Edition
Cable: 1.25 m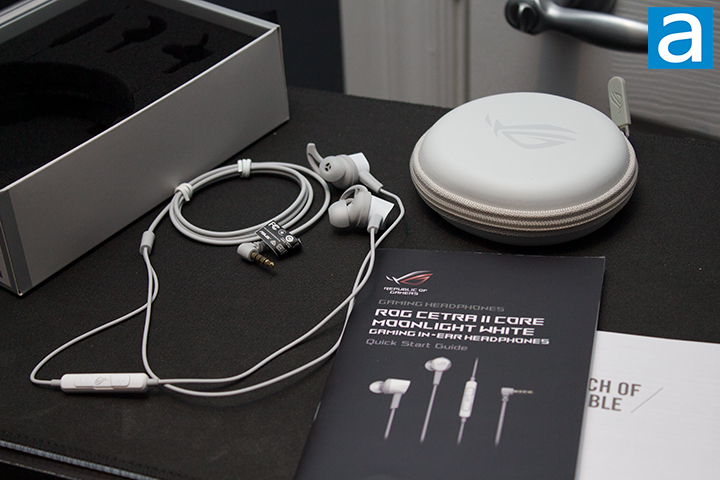 After removing the plastic from the box, I realized how ASUS had opted to using a magnetic box design, making my unboxing experience nice and simple. The ASUS ROG Cetra II Core Moonlight White is found tucked into some well-cut sheets of foam with the carrying case below. Underneath the foam is the Quick Start Guide and inside the carrying case are the Audio/Mic splitter cable, three sets of ear fins, three sets of silicone tips, and a single set of foam tips. The quality of packaging is excellent and surpasses my expectations. Likewise to the ASUS ROG Strix Scope NX TKL Moonlight White keyboard I reviewed a while back, the top of the box has some additional cushioning, which you can see in the very corner of the image above. The packaging is simple while having some nice additions to maintain the safety of the earbuds.
---
Page Index
1. Introduction, Packaging, Specifications
2.
Physical Look - Hardware
3.
Subjective Audio Analysis
4.
Conclusion