By: Jadon Lee
November 12, 2021
It has been about two months since I have last reviewed a product, and in that time many things have changed. First of all, my complaining about online university is over as we have moved to in-person classes now. With this news, I will now go on to complain about in-person classes. The struggles of hours of transit rides are back, and it has not been an uncommon circumstance for my lectures to start late due to the rooms being locked. The lucky thing for me to consider is how most of my lectures are three-hour blocks, meaning there is plenty of time for my professor to teach despite the late start. Another fun occurrence my friends and I have experienced is having our whole building's electricity go out in the middle of a session. This is why they are raising the cost of our tuition, right? Second of all, I acquired a promotion to the role of supervisor at the bubble tea store I work at. The fun change in this promotion is how the job has not changed, just my pay and title reflect my role more accurately now. Last of all, I have been spending more time playing Genshin Impact with my older brother. I have recently made quite the investment in whaling to obtain some characters and weapons. It is honestly quite sad as my brother has already passed me despite starting much later. With all of these small changes, it is nice to return to something normal like reviewing a mechanical keyboard here at APH Networks. This week, we have the ASUS ROG Strix Scope NX TKL Moonlight White to try out. Will this keyboard provide a refreshing experience in typing and gaming? Keep reading to find out!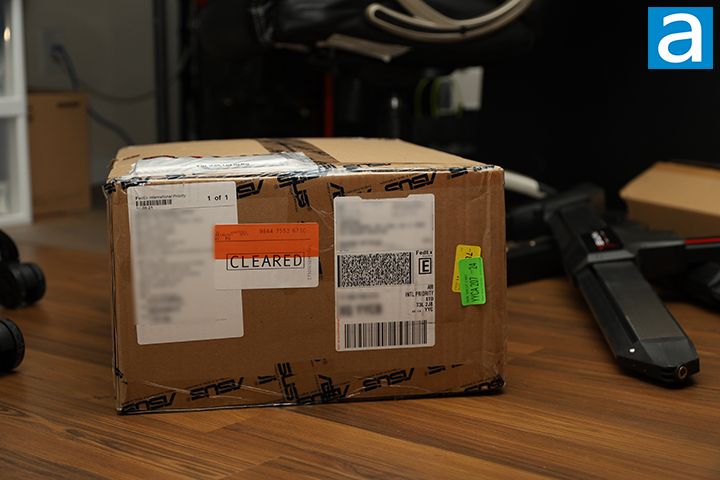 Our review unit of the ASUS ROG Strix Scope NX TKL Moonlight White came in a brown, corrugated box that was shipped all the way to us in Calgary, Alberta, all the way from Newark, California via FedEx International Priority. The shipping was quite good, having very little marks or dents and ASUS used their branded packing tape to ensure there was no tampering. The box also contained the ROG Strix Scope Impact II Moonlight White, ROG Strix Go Core Moonlight White, ROG Cetra II Core Moonlight White, ROG Strix GS-AX5400, and ZenWiFi XD6, which my colleagues and I will review later.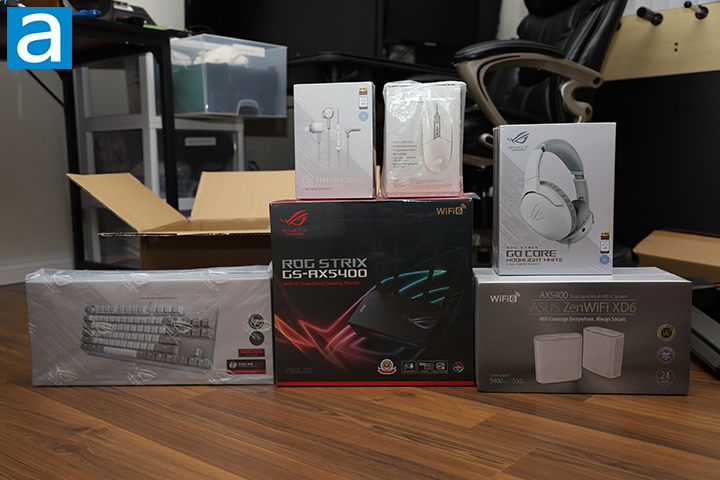 The ASUS ROG Strix Scope NX TKL Moonlight White's box design is very appealing, utilizing a nice bright grey for the base and some silver text. The only thing that comes to mind when I look at this box is the word "clean". I am a little biased when I say these things as I am a big fan of the grey and white color schemes. I am always glad when companies choose to not opt for the classic black and red as I personally find it overused, so the change in color scheme is refreshing. As usual, the keyboard itself is placed in the center of the box. The top left has the ASUS ROG logo, and the top right displays the name. On the right side, it talks about some of the features such as ASUS Aura Sync, ROG MX Switches, QWERTY layout, and the specific switch being used. The back of the box contains some general information regarding the design.
Before we continue, here are the specifications for the ASUS ROG Strix Scope NX TKL Moonlight White, as specified by the manufacturer's website:
Key Switch: ROG NX Red, ROG NX Brown, ROG NX Blue
Connectivity: USB 2.0
Size: 80% (TKL)
Actuation Force: 45g, 43g, 55g
Lighting: Per-Key RGB LEDs
AURA Sync: Yes
Anti-Ghosting: N-Key Rollover
Macro Keys: All keys programmable, except Fn
USB Report Rate: 1000 Hz
Cable: Detachable 1.8m braided USB Cable Software: Armoury Crate
Dimensions: 356 x 136.2 x 39.7 mm
Weight: 880g with cable
Color: White and Gray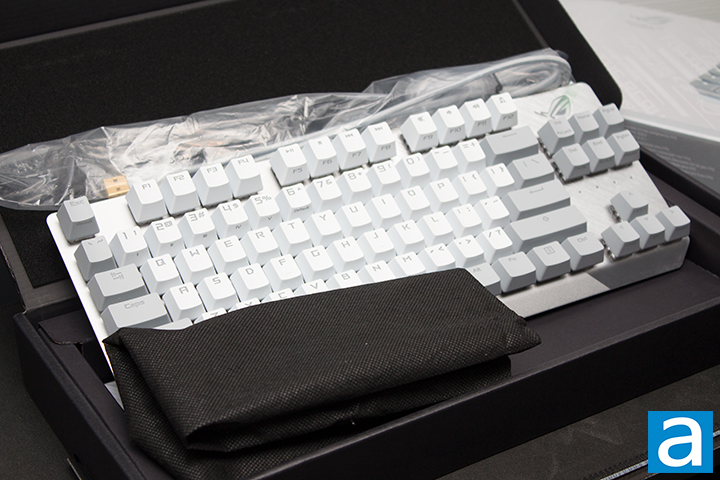 Out of the box, you will receive the ASUS ROG Strix Scope NX TKL Moonlight White itself alongside the braided cable, quick start guide, warranty booklet, and the incredibly important sheet of ROG stickers to slap on to your gaming PC. The keyboard was wrapped in a nice fabric bag to prevent any surface scratches on the keyboard, while the cable was wrapped in plastic. The quality of packaging was significantly better than anything I had expected, as the top of the box had some additional cushioning, which you can see in the image above. The packaging was nice and simple, while having some nice additions to maintain the safety of the keyboard.
---
Page Index
1. Introduction, Packaging, Specifications
2.
A Closer Look - Hardware and Software
3.
Conclusion