By: Jonah Chow
December 31, 2021
One of my favorite manga series, Demon Slayer, recently released its second season just a few weeks ago. I have read the whole manga series already, but I enjoy watching the show nonetheless due to its impressive animation and a solid set of voice actors. One gripe I have had with the second season is the first few episodes are essentially recaps of a story arc that had already been animated in movie form. I do understand where this decision came from, as some viewers might not have had the chance to watch the movie due to COVID-19. However, just by going through Reddit and YouTube comments, I think I can reasonably assume the majority of fans had watched the movie. My annoyance comes from the fact this season was initially teased to be, well, a new season with new content. It feels like a bit of a cop-out to claim something as a new season while still showing content most viewers have likely seen. While these first few episodes are not poorly made by any means, the label of a new season should be backed up by substance, and re-showing old content does not exactly make for a new season. ASUS ROG recently released a new Moonlight White product line, which are products with a distinct white and grey color scheme to give off a "moonlight white" feel. We will take a look at one of those products today, the ASUS ROG Strix Go Core Moonlight White. Does the Go Core Moonlight White have the substance to back up its new fancy label? Let us read on to find out!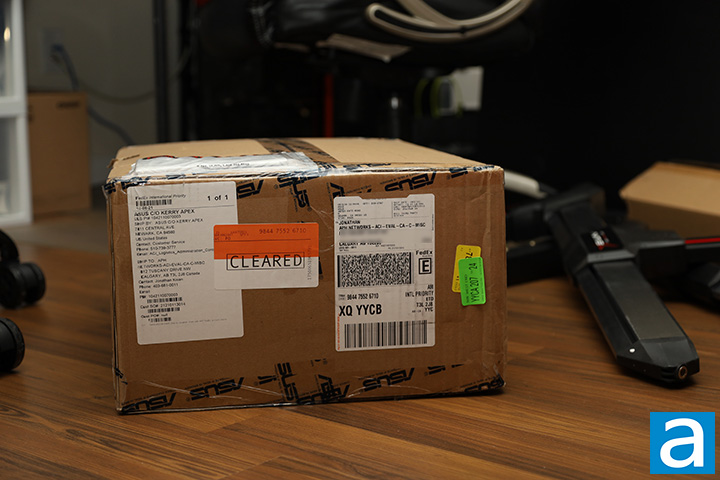 Our review unit of the ASUS ROG Strix Go Core Moonlight White arrived here in Calgary, Alberta, Canada from the company's offices in Newark, California using FedEx International Priority. The shipping box was in decent condition with a few marks and scuffs alongside the corners. Generally, I had nothing to worry about as the marks were not severe enough to damage the retail box. With the shipping box protecting it so well, the retail box arrived in perfect condition. ASUS also sent us their other products in the Moonlight White lineup, including the ROG Strix NX TKL Moonlight White, ROG Strix Scope Impact II Moonlight White, and ROG Cetra II Core Moonlight White. We also got a couple of routers, the ROG Strix GS-AX5400 and ZenWiFi XD6.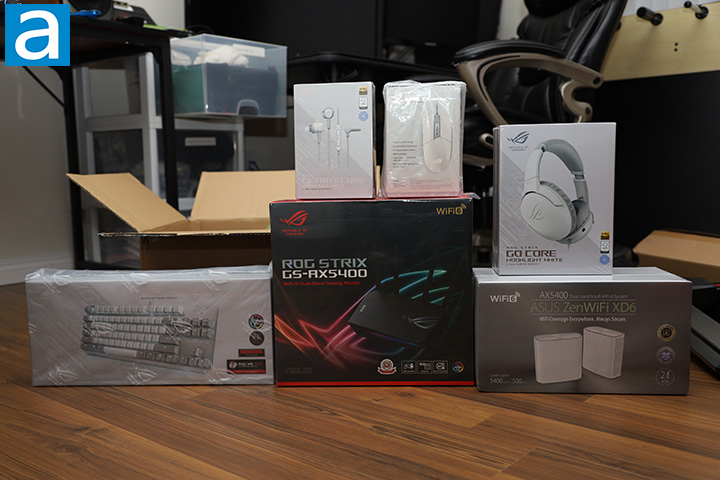 The retail box for the ASUS ROG Strix Go Core Moonlight White uses a sleek white and grey mix, as the name of the product suggests. This sleek white and grey mix can be found on all ASUS ROG Strix Moonlight White products, which can also be seen in the photo above. The box itself is quite clean and does a good job of displaying the headset front and center along with its prominent features. The Republic of Gamers logo is located at the top left corner. The brand name can be seen at the bottom left side with the text "3.5mm Gaming Headset" below. Some certifications are shown towards the bottom right corner, including certifications from TeamSpeak and Discord. More information regarding the headset can be found on the sides and back of the retail box.
Before we continue, here are the technical specifications from the manufacturer's website:
Interface: Wired
Connector: 3.5mm
Support Platform: PC, MAC, PlayStation 4, PlayStation 5, Nintendo Switch, Xbox one, Xbox Series X, Xbox Series S
Driver Material: Neodymium magnet
Driver Size: 40 mm
Headphones Impedance: 32 ohms
Microphone Pick-up Pattern: Unidirectional
Microphone Sensitivity: -45dB
Microphone Frequency Response: 100Hz - 10Khz
Active Noise Cancellation: No
Channel: Stereo, Virtual 7.1 (Windows sonic)
Weight: 252g
Extra ear-cushion: No
Color: Special edition
Cable: 1.2m + 1.2 m Y-cable
Accessories: 3.5 mm mic/audio- splitter cable, Detachable microphone boom, Quick Start Guide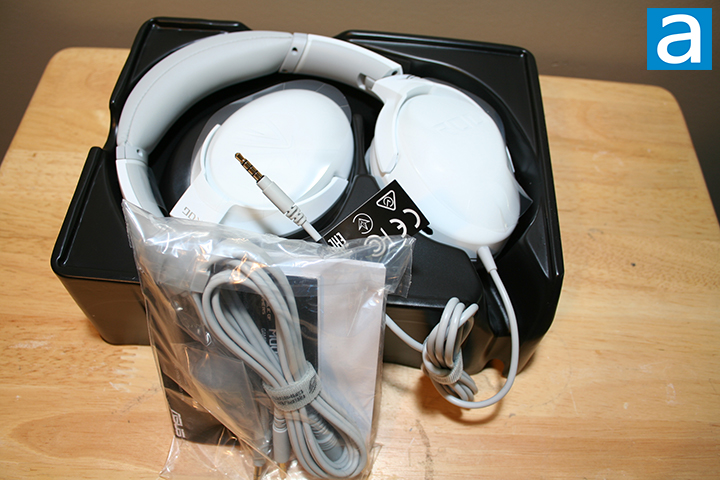 Unboxing the ASUS ROG Strix Go Core Moonlight White was a standard process with nothing special of note. Opening up the retail box, we are greeted with the headphones themselves folded on a plastic tray. We can see the Y-split cable for PCs that have a separate audio and microphone jack. The detachable microphone is also seen. Overall, the retail packaging did its job as all the contents of the box arrived undamaged.
---
Page Index
1. Introduction, Packaging, Specifications
2.
Physical Look - Hardware
3.
Subjective Audio Analysis
4.
Conclusion