Page 2 - A Closer Look - Hardware and Software
The appearance of the ASUS ROG Strix Scope NX TKL Moonlight White is quite clean, splitting the backplate into two portions: One being a lighter grey and the other being grey brushed aluminum. The brushed aluminum adds a bit of contrast in the keyboard, making it look not overly flat. Underneath the backplate, we find a nice plastic casing. I absolutely love the appearance, as it will pop out in many desk setups. Not many people utilize a white keyboard for the reason that it is hard to maintain. As someone who has been using a mostly white keyboard, I have found no issue with it. Most users should not find issue with the white as long as you follow the rule of "no eating by the keyboard". ASUS opted to place the ROG logo on the top right of the keyboard, effectively removing some less commonly used keys, such as the Print Screen, Scroll Lock, and Pause keys. The ROG Strix Scope NX TKL Moonlight White does not come with a wrist wrest, which would have been appreciated given the flatter typing angle.
The ASUS ROG Strix Scope NX TKL Moonlight White measures in at 356mm length, 136.2mm width, and 39.7mm height. Compared to other keyboards, this is about average for a TKL layout. In terms of mass, this weighs in at about 880g, including the cord. Going into build quality, the top deck shows no flex when pushing into the keyboard. No flex should be noticeable in standard use cases, as flex did not occur until applying a significant amount of force to the deck. As previously mentioned, this uses an aluminum top plate, making it quite sturdy. I proceeded to try to twist the keyboard, finding little to no avail due to the aluminum plate and internal structure. The plastic portion of the case was well constructed, also being quite sturdy. I had no issues at all regarding the build quality.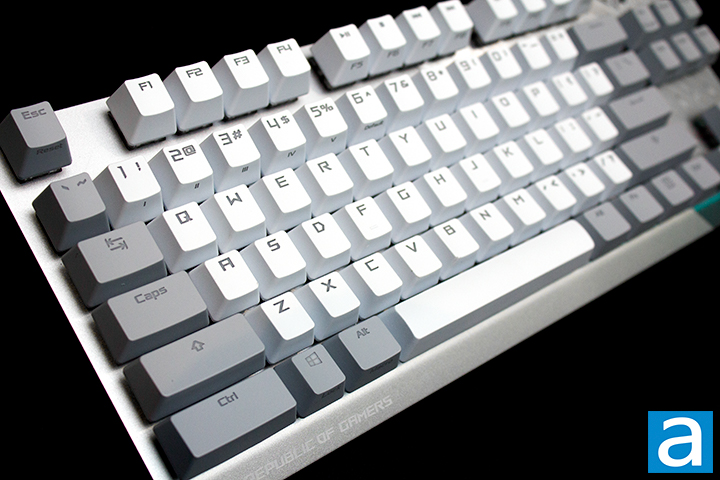 The ASUS ROG Strix Scope NX TKL Moonlight White comes with a standard TKL QWERTY ANSI layout for the most part. In this case, the ROG Strix Scope NX TKL Moonlight White has 84 keys, as it removes the previously stated keys of Print Screen, Scroll Lock, and Pause. The TKL or 80% layout typically has 87 keys, saving space on your desk by removing the numeric keypad. The QWERTY ANSI layout is the standard American layout, which uses the single row Enter key, as seen in some of the previous images. The keyboard does not use a standard bottom row, meaning that some of the keys in this row are bigger or smaller. The changes are on the left side of the keyboard. For those who do not know, 1U stands for a single unit, meaning a 1.25U keycap is 1.25 times wider than a regular one. As such, the left Ctrl is the same size as the left Shift key, being 2.25U. The Windows key is 1U, being the same size as the majority of the keys. The rest of the bottom keys, excluding the space bar, are 1.25U, as per a standard bottom row. To fit the wider Ctrl key, the space bar was reduced to 5.5U compared to the standard 6.25U. According to ASUS, the long Ctrl key is a gaming feature to make it easier to press, since it is often used in gaming as an action like crouch. A beneficial side effect of this change is that the Windows key is smaller, which is a key many users want to avoid pressing in-game. Of course, you can also lock the Windows key, preventing accidental presses entirely.
The ASUS ROG Strix Scope NX TKL Moonlight White has full N-key rollover, meaning every single key pressed will register even if they are all pressed simultaneously. This means there will be no ghosting issues, where some keys may not be registered. Gamers and fast typists who have fast actions per minute or words per minute will benefit from this, as it will allow more keys to be recognized at the same time. In reality, people usually only need 6-key rollover, so the addition of N-key rollover is nice for extremely fast typists who can reach 250 words per minute.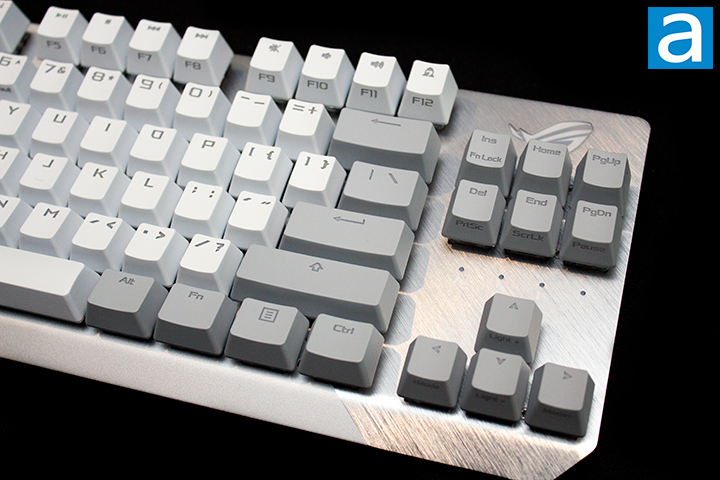 Let us look at the secondary functions located on the top row, cursor control, arrow, and a few extra keys. All of the secondary functions are labeled on the front side of the keycaps rather than the top. F5 through F12 can be accessed through holding down the Fn key on the bottom right side before pressing the indicated key. Starting on the left side, the Esc key is used to reset all of your settings to the default. The Windows key can be used to lock the Windows key from opening up, while the Alt key can be used to easily create macros. To record a macro, you simply press down Fn + Left Alt to start recording and once again to stop recording. Once you are finished, you will need to press a key to assign the macro. Numbers 1 through 6 are marked as different profiles, 6 being the default profile.
The media keys on the ASUS ROG Strix Scope NX TKL Moonlight White are quite interesting as they are placed where the F5 to F11 keys would normally be and have been made the primary functions. This makes the F-keys the secondary functions. If you wish to return to use the standard F-keys instead of media keys, you can simply activate the Fn Lock with the Fn + Ins key combination. F12 is a very interesting key which ASUS calls Stealth mode. By pressing this key, you will hide all the windows on your desktop while muting your audio. One can only imagine the use case for this function. For the previously stated removed keys, ASUS had added a secondary function under Delete, End, and Page Down to suffice for Print Screen, Scroll Lock, and Pause respectively. Finally, the last set of secondary functions is used for lighting control, which is placed in the Arrow keys. To quickly break down these functions, the Left and Right are used to rotate through different modes, while the Up and Down are used to adjust brightness.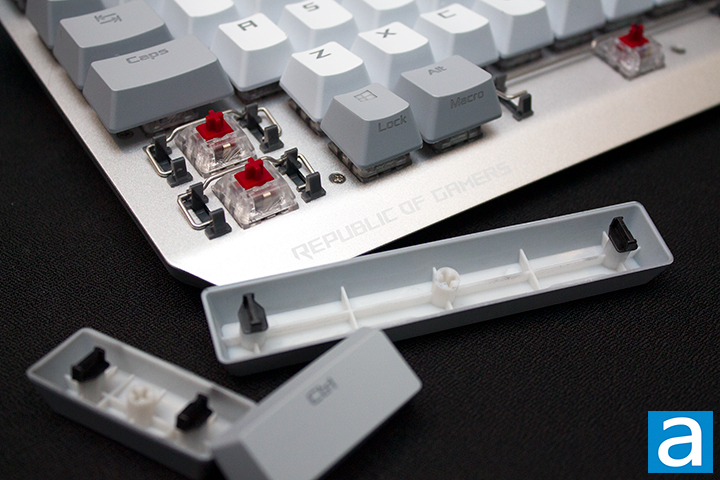 As for the keycaps, these are ABS plastic. I personally prefer PBT, or polybutylene terephthalate, because the material is harder, and resists keycap shining better. The lettering is printed on with a laser etching process, which removes the white cover to reveal the translucent plastic used for shine through. The font used is quite gamer-y, having a very boxy and sharp design. The font style is consistent through the whole keyboard, which is good, but I have personally found some of the letters to be off centered on some keys. A small issue I had found on the keycaps were some coloring issues, as my B key had some of the white paint scraped off, while my F key had an additional spec of paint on it. I do not imagine this to be an issue with all copies of this keyboard, but it is important to be aware of the possibility. Underneath the keycaps, you can see the typical MX stem. This means you can replace the keycaps with another set, but you will need to remember about the long Ctrl key and shorter space bar. In regard to thickness, they are about 1mm thick. This is on the thinner side, but manufacturers do tend to use thinner keycaps. The significance of the thickness of a keycap is important for the feel and pitch. To keep things simple, thicker keycaps have more depth and produce a deeper thock, while thinner keycaps produce a higher pitch sound.
The ASUS ROG Strix Scope NX TKL Moonlight White features their very own ROG NX switches. For our review unit, we were provided with some ROG NX Red switches. This can be considered a Cherry MX Red clone, but there are some subtle differences. These linear switches have a key travel of 4mm and an actuation point at 1.8mm. The total force required to actuate is roughly 55cN. Even with these specifications, it is quite hard to picture what these switches actually feel like, so I will try my best to explain. As this is a linear design, you will feel no bump as the travel will be quite smooth. For a stock switch, the ROG NX Reds are more than acceptable and with a good amount of break in time, they should become smoother. With that said, the ROG NX Reds are not just a knock off of Cherry MX Reds, but they are their very own unique switch with unique characteristics. As neither is better than the other, it all comes down to preference in what switch you will want. I will talk more in depth about the typing experience later into this review.
Moving on to the stabilizer, we have the forbidden Costar stabilizers. If you are unfamiliar, there are two main designs of stabilizers being Cherry and Costar. The main purpose of both is to maintain balance in the longer keys and stabilize them as the name implies. Cherry stabilizers will have stems matching the bottom of most keycaps, while Costar will require the wire to be hooked into a hoop placed on the keycaps. The main issue with Costar stabilizers is how they are a rattly mess and there is practically nothing you can do about it. Its competitor also does rattle, but the enthusiast community has found several ways to reduce the sound of the rattle, making it the superior choice. As the ASUS ROG Strix Scope NX TKL Moonlight White has an additional long key, it becomes a little bit more of a problem. Costar will still feel quite good and smooth and require less effort to maintain despite being rattly.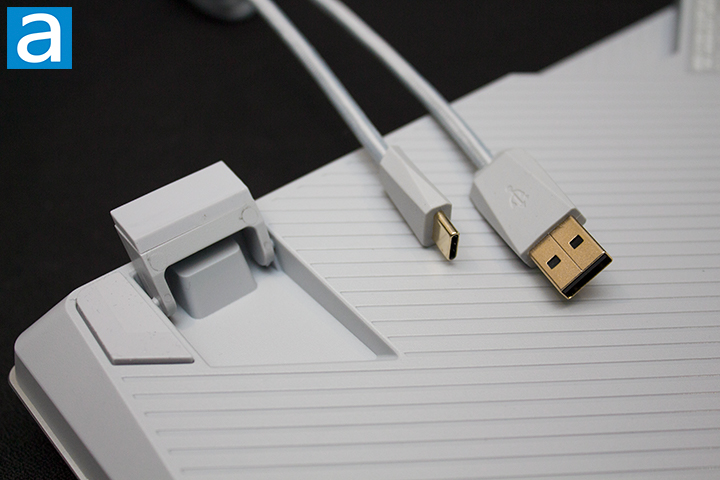 Taking a peek at the bottom of the keyboard, we have five rubber feet and two more on the flip-out feet. The feet on the bottom side are quite large, doing an excellent job of keeping the keyboard in place. There should be no noticeable unintentional sliding. There is no cable raceway to manage the cable on the bottom, but it is not a feature I find myself commonly using. The addition would have been nice, but not necessary. The cable plugs in at the bottom using a USB Type-C Interface. This is a good thing as this has become the standard.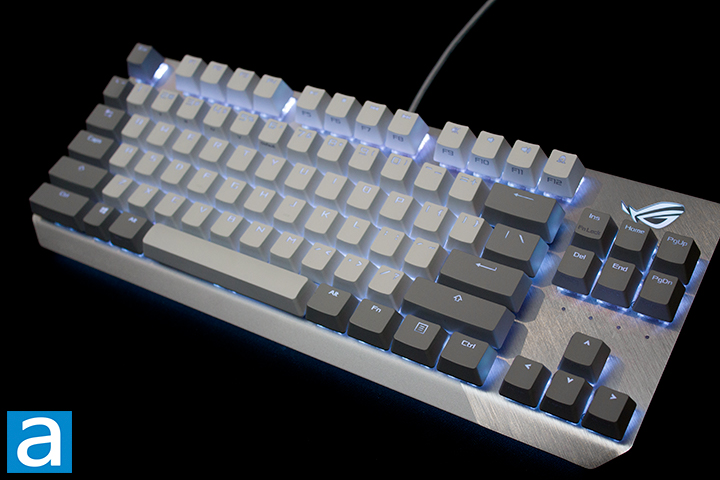 After doing my thorough inspection, I put the ASUS ROG Strix Scope NX TKL Moonlight White to use. As these ROG NX Red switches are linear in nature, I made sure to account for this in my typing tests. My first observation was a decent bottoming out sound without a metallic ping. I should note I am typing on top of a desk mat, which does help dampen higher pitched sounds. The smooth linear feel was consistent throughout all the keys. As someone who generally enjoys linear switches, I had a satisfactory experience. I enjoyed the 1.8mm actuation point as I never had any unintentional inputs like I did when I used Cherry MX Speed Silvers. The travel distance was good, and I had no issues whatsoever.
ROG NX Browns would be a good option for anyone seeking a more tactile typing experience in my opinion. ROG NX Blues would be another good option for those looking for audible feedback. I personally hate the noise of click jackets, so I tend to stray away from clicky switches. The stabilizers may have been decently smooth, but they still are Costar. As I have stated previously, they were as rattly as ever and there is no good solution to deal with it. Despite all the shade I give towards Costar stabilizers, they are still very functional and will only really be an issue for enthusiasts.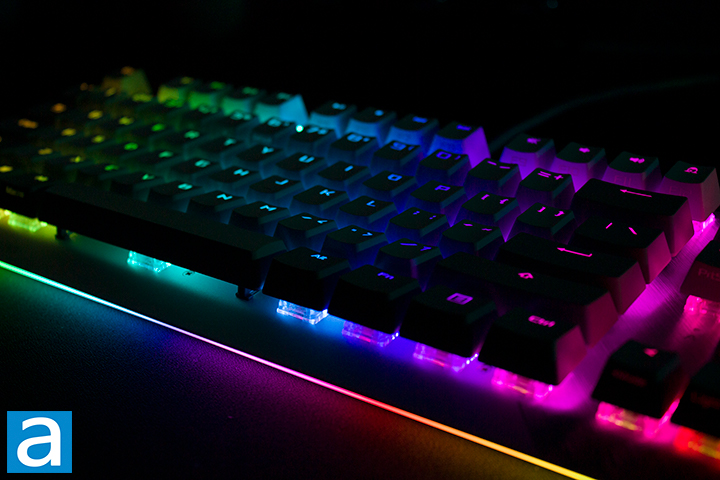 Something ASUS has executed incredibly well on the ROG Strix Scope NX TKL Moonlight White is the backlighting and effects. This is where the power of a white keyboard really shines through, if you know what I mean. The lights shine through the legends quite well and the reflection against every surface makes this keyboard glow. The ROG logo shines bright and is very tasteful. I really liked the under-glow effect, as it added a nice small touch to the character of the keyboard. When it comes to changing effects, users can use the Fn + Arrow keys to make some modifications. Left and Right are used to cycle between ten different modes, while Up and Down are used to change between five different brightness levels, including off. There are definitely more customizations that can be done through the software, which I will talk about next.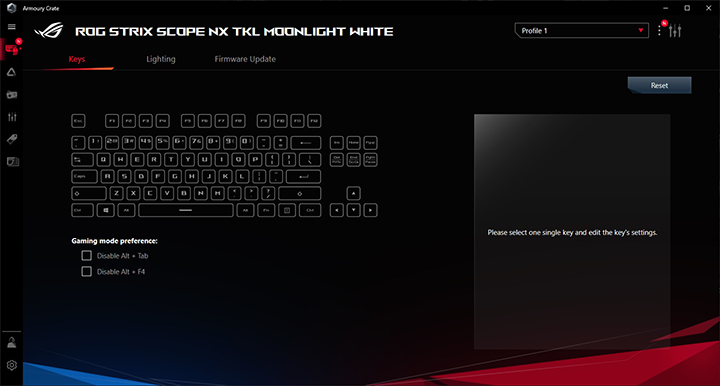 Many of ASUS' products, including their keyboards, mice, mousing surfaces, headsets, headset stands, NVIDIA Ampere GPUs, monitors, motherboards, and even full ASUS computers use Armoury Crate for modifying different devices as well as synchronizing their lighting effects. After downloading the 1.48MB compressed file, it immediately recognized my ROG Strix Scope NX TKL Moonlight White. The setup process was quite streamlined and simple. Armoury Crate includes many other features such as AURA Sync, game library, system-wide profiles, game deals, and more news, but I will focus on the configuration pages for the ROG Strix Scope NX TKL Moonlight White for the purpose of this review. I found all of pages to be quite intuitive.
After you select the keyboard, there are three tabs within this configuration page. The first page is marked Keys, and this lets you assign macros to individual keys. The macro creation is done on a separate page, where you can combine and record keyboard and mouse actions. You can also disable Alt + Tab switching and Alt + F4 closing on this page. Under the second tab, Lighting, you can modify the different lighting effects for this keyboard. There are several static and dynamic effects to pick from. You are also able to change colors and speeds if applicable to the given effect. If AURA Sync is enabled for the keyboard, the modification of lighting effects is on another page. Another application called AURA Creator can be used to further customize the lighting to your hearts content. For full customization, Armoury Crate is definitely a necessity. Lastly, we have the Firmware Update page, which will check for any necessary updates you may need to install.
Encapsulating all of this, some people may find Armoury Crate to be incredibly extra, but I think ASUS did a good job in providing anything necessary for their users. The interface was generally clean, and the level of customization was more than satisfactory.
---
Page Index
1.
Introduction, Packaging, Specifications
2. A Closer Look - Hardware and Software
3.
Conclusion