By: Jonathan Kwan (Hardware/Software) and Kenneth Kwok (Software)
March 4, 2016
Call me arrogant, but more often than not, I would consider myself to be a pretty decent debater. In my personal opinion, winning an argument comes down to several key areas: Facts, logic, and strategies. If you have extensive knowledge of the topic, good logical flow of your position, and a well-defined game plan to maximize the focus on your strongest key points while exploiting your opponent's weakest arguments, chances are you are already on the road to victory. However, this is not always how it works in real life. I have a friend who is obviously a bit crazy, and I am pretty sure most of our common friends will agree. One time, I was with her and another friend, and we were arguing about whether she was crazy or not. "Why is she crazy? She is not crazy," my other friend said. "Yeah she is, everyone-" I began, only to be quickly interrupted. "No she is not. If she is crazy, then I am crazy too. Are you saying something?" At that point, I decided to keep my mouth shut on this issue, and change the topic instead. As good as I may be as a debater, and how my other friend's argument is quite questionable at best in both facts and logic, the moral of the story is never argue with women -- especially when there are two of them working together on the same side. Likewise, if I was looking for a powerful network appliance, something equipped with an Intel Celeron N3050 and 2GB of RAM is certainly not be the first thing that comes into my mind. However, if you combine that hardware with a great operating system and used purposefully in the right environment, everything can change, just like how my friends teamed up together to debate on one issue. Today, we will take a look at ASUSTOR's latest 2-bay NAS, the AS3102T. Will it be able to exhibit the synergetic power of relatively modest hardware with the company's excellent ADM operating system once again? Read on to find out!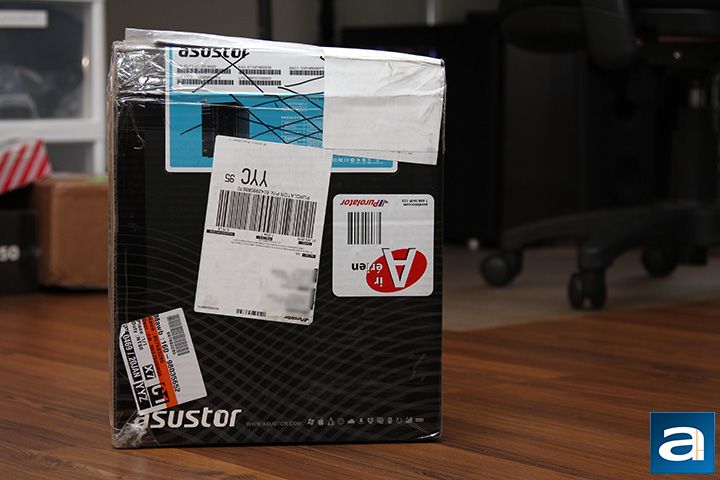 Our review unit of the ASUSTOR AS3102T came in a really beat up corrugated cardboard box, courtesy of some old packaging donated by another ASUSTOR network attached storage model. Despite what I saw, I was not particularly worried when I saw something that looked like this arrived at my doorstep, considering the ASUSTOR AS1002T I reviewed a few months ago was in even worse shape when it arrived. Beginning its trip in Taiwan with TNT Express, and transferred to Purolator Air as it arrived on Canadian soil, the contents inside turned out to be safe and sound for our review today here in Calgary, Alberta.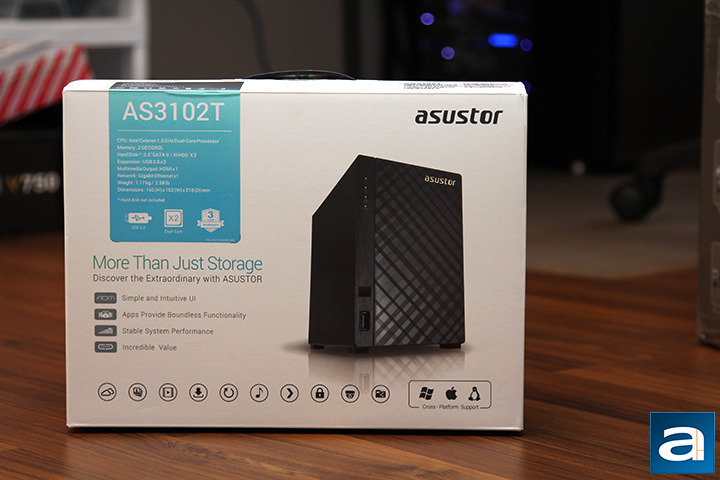 Our review unit of the ASUSTOR AS3102T came in retail packaging. The shape and physical features of the box should be nothing new to people who have purchased network attached storage systems before; it is a familiar mid-sized corrugated cardboard box with a plastic handle on top, so you can carry it around without too much hassle. It is pretty much the same as the ASUSTOR AS1002T I reviewed in November of last year, but surprisingly, it is also of striking resemblance to the QNAP TS-470. As you can see in our photo above, the front face features a photos of the NAS on a plain white background. You will find ASUSTOR's logo and the NAS model, AS3102T, at the top. Along the bottom, the company proudly proclaims it as "more than just storage" -- and indeed, it is -- four points and an array of icons provide a conceptual preview of some of the things this product is capable of doing. Features highlights and specifications can be found on the remaining sides of the box.
Before we move on, let us take a look at the hardware specifications of the ASUSTOR AS3102T, as obtained from the manufacturer's website:
CPU: Intel Celeron 1.6GHz Dual-Core (burst up to 2.16GHz) Processor
AES-NI hardware encryption engine integrated
Hardware transcoding engine supported format: H.264 (AVC), MPEG-4 Part 2, MPEG-2, VC-1
Memory: 2GB DDR3L (not expandable)​
HDD: 3.5" SATA II/ III x 2
Maximum Internal Raw Capacity: 16 TB (8 TB HDD X 2, Capacity may vary by RAID types)
Expansion: USB 3.0 x 3
Network: Gigabit Ethernet x 1
Output: HDMI 1.4b x 1
System Fan: 70mm x 1
Infrared Receiver
Input Power Voltage: 100V to 240V AC
Certification: FCC, CE, VCCI, BSMI, C-TICK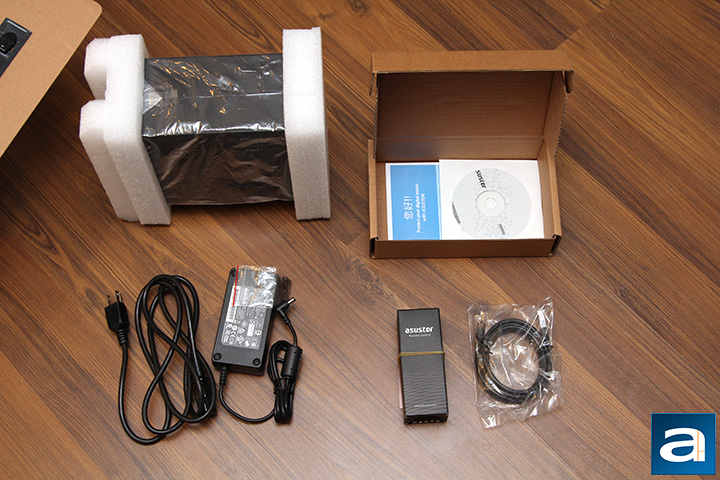 Opening the retail box reveals the ASUSTOR AS3102T clipped between two large Styrofoam brackets, and wrapped in a large plastic bag to ensure no bumps and scratches occurs during transport. A separate accessory box holds all your accessories in place, making it organized and easy to find. Overall, I found the packaging to be simple and effective, and I have never had any problems finding what I need from the factory.
The following items are included for the end user:
1x ASUSTOR AS3102T
1x Power adapter
1x Ethernet cable
8x Thumbscrews for 3.5" HDDs
1x Quick installation guide
1x Setup CD-ROM
ASUSTOR also threw in an optional AS-RC10 remote control for our review today, which we will take a look in more detail shortly.
---
Page Index
1. Introduction, Packaging, Specifications
2.
A Closer Look - Hardware (External)
3.
A Closer Look - Hardware (Internal)
4.
Configuration and User Interface, Part I
5.
Configuration and User Interface, Part II
6.
Configuration and User Interface, Part III
7.
Performance and Power Consumption
8.
Conclusion