By: Jonathan Kwan (Hardware/Software) and Kenneth Kwok (Software)
November 13, 2015
In my SanDisk Ultra Fit 128GB review introduction last week, I talked about my friend who said women are not that hard to understand, because a 'yes' means 'yes', and a 'no' means 'no'... sometimes. To give what she is saying some perspective, I decided to ask someone else about this issue. "I have to agree with her," she said. Therefore, I proposed a scenario. "Say you are mad at someone, because they did or said something you did not like. When you say, 'I am mad at you and I do not want to see you again' and walk away, are you actually implying, 'Please chase after me to apologize, convince me to be not mad at you, and try as hard as you can to change my mind'?" To which she replied, "Yep -- and I would immediately regret saying that, but I could not just back down all of a sudden." This, my fellow readers of the male gender, is one of the reasons why we do not understand women. On the other hand, if you are a woman reading this, my guess is you know exactly what I am talking about. After all, you have to be one to understand one. A while ago, I was talking to someone about owning a network attached storage system. As someone who has been using one since 2007, and watched the evolution of them going from simple file servers to everything short of making you breakfast, it is hard for me to imagine going without one nowadays. On the other hand, a lot of people are not entirely convinced about the purpose of owning one. For this, I have come to the conclusion that you have to be a NAS user to understand a NAS user. Not just any NAS, but a good NAS. Today, we will take a look at ASUSTOR's new AS1002T. This entry level model uses the company's excellent ADM operating system, features a stylish diamond-plate finished cover, and comes with a price of admission of under $200 at press time. Will this combination be attractive enough to turn some non-NAS users into a NAS user who understands? Read on to find out!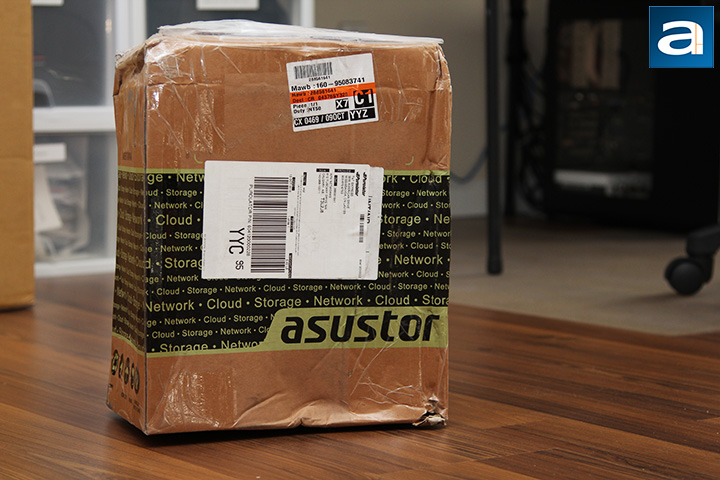 Our review unit of the ASUSTOR AS1002T was launched explosively across the ocean from Taiwan using TNT Express, and with a bit of luck as well as Cathay Pacific Cargo, landed here in Canada to the hands of Purolator. It really must have had a blast of a trip, because the package was pretty beat up by the time the really polite driver at Purolator delivered it to our doorstep here in Calgary, Alberta, Canada. Despite having a pretty blown package, I think the brown corrugated cardboard box shielded its contents pretty well, because everything inside arrived in excellent condition. We can only hope the AS1002T will be da bomb in our performance tests today. (Okay, I will stop with the puns now.)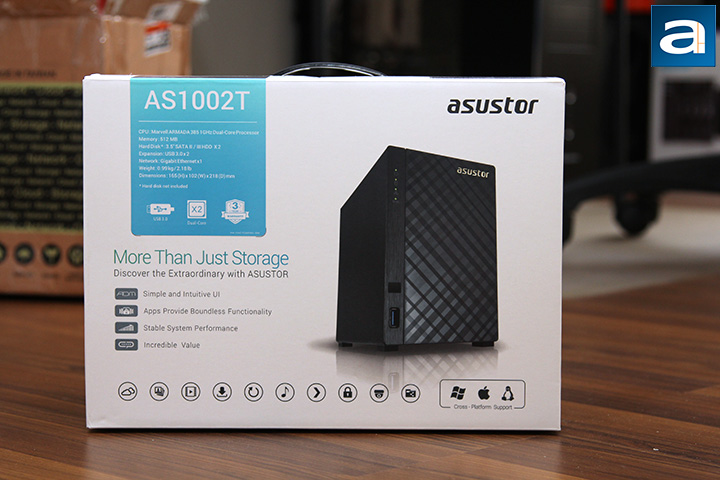 Our review unit of the ASUSTOR AS1002T came in retail packaging. The shape and physical features of the box should be nothing new to people who have purchased network attached storage systems before; it is a familiar mid-sized corrugated cardboard box with a plastic handle on top, so you can carry it around without too much hassle. It is not too dissimilar to the ASUSTOR AS7004T I reviewed in February of this year, but surprisingly, it is also of striking resemblance to the QNAP TS-470. As you can see in our photo above, the front face features a photos of the NAS on a plain white background. You will find ASUSTOR's logo and the NAS model, AS1002T, at the top. Along the bottom, the company proudly proclaims it as "more than just storage" -- and indeed, it is -- four points and an array of icons provide a conceptual preview of some of the things this product is capable of doing. Features highlights and specifications can be found on the remaining sides of the box.
Before we move on, let us take a look at the hardware specifications of the ASUSTOR AS1002T, as obtained from the manufacturer's website:
CPU: Marvell ARMADA-385 1GHz (Dual-Core) Processor
Hardware encryption engine integrated
Memory: 512MB (not expandable)
HDD: 3.5" SATA II/ III x 2
Maximum Internal Raw Capacity: 16 TB (8 TB HDD X 2, Capacity may vary by RAID types)
Expansion: USB 3.0 x 2
Network: Gigabit Ethernet x 1
Output: N/A
System Fan: 70mm x 1
Input Power Voltage: 100V to 240V AC
Certification: FCC, CE, VCCI, BSMI, C-TICK
Power Consumption: 13.2W (Operation); 6.6W (Disk Hibernation)
Noise Level: 33dB (Operation)
Operation Temperature: 5°C~35°C (40°F~95°F)
Humidity: 5% to 95% RH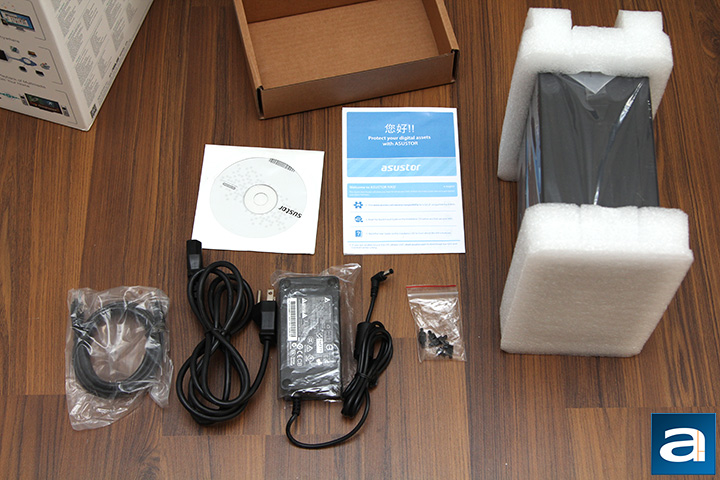 Opening the retail box reveals the ASUSTOR AS1002T clipped between two large Styrofoam brackets, and wrapped in a large plastic bag to ensure no bumps and scratches occurs during transport. A separate accessory box holds all your accessories in place, making it organized and easy to find. Overall, I found the packaging to be simple and effective, and I have never had any problems finding what I need from the factory.
The following items are included for the end user:
1x ASUSTOR AS1002T
1x Power adapter
1x Ethernet cable
8x Thumbscrews for 3.5" HDDs
1x Quick installation guide
1x Setup CD-ROM
---
Page Index
1. Introduction, Packaging, Specifications
2.
A Closer Look - Hardware (External)
3.
A Closer Look - Hardware (Internal)
4.
Configuration and User Interface, Part I
5.
Configuration and User Interface, Part II
6.
Configuration and User Interface, Part III
7.
Performance and Power Consumption
8.
Conclusion