By: Jonathan Kwan (Hardware/Software) and Kenneth Kwok (Software)
February 20, 2015
I have always been a big believer in the converging technology trend since the turn of the millennium. Basically, for every niche product that comes in a similar form factor as another niche product with a different purpose, both of them will eventually "converge" into one device that does both things. Back in 2004, I purchased a Dell Axim X30 personal digital assistant. This was prior to the invention of the first iPod that could play videos, long before smartphones were proficient in surfing regular websites, and when portable gaming was mostly made possible by the Gameboy Advance SP. Yet my one device -- the Dell Axim X30 -- was able to watch encoded episodes of The Simpsons, go on regular websites on a decently sized touchscreen, and even download a free flight simulator game in 3D. Sure, I was a little ahead of my time (The 3.5mm output had terrible SNR, its resistive touchscreen needed a stylus, and most games were not nearly as interesting as what Nintendo had to offer), technology convergence is indeed a real trend, hence the popularity of the modern do-it-all smartphone. The NAS is no different. When we reviewed our first system back in 2007, the Thermaltake Muse NAS RAID, it did only one thing: It stored files. Fast forward many years, the QNAP TS-470 is a performance four-bay unit that does almost everything short of making you toast for breakfast. However, QNAP is not the only company making boxes that does everything from storing data to playing videos on your TV. Today, we will take a look at the ASUSTOR AS7004T, the latest four-bay model from the company's performance line. With a speedy Intel Core i3 processor under the hood, HDMI and S/PDIF outputs at the back, and the excellent ADM 2.3 OS inside, is this one NAS to rule them all? Read on to find out!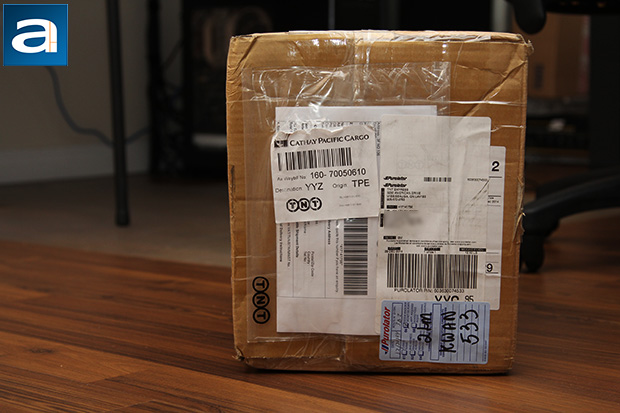 Our review unit of the ASUSTOR AS7004T made quite a trip before getting into our hands here at APH Networks. It started off its journey in Taipei, Taiwan using TNT Express via Cathay Pacific Cargo to Toronto, Ontario, Canada. After it got to Toronto, it made a three thousand kilometer trip west to Calgary, Alberta using Purolator Express. Technically, it arrived on December 31, 2014, so it should be the last product to get in our hands in that calendar year. Unfortunately, I missed the delivery, so I had to pick it up a few days later myself -- making it the first product to get to us in 2015 instead. By the time the NAS finally arrived in our labs, the brown corrugated shipping box was already quite beat up, but thankfully, its contents inside were all safe and sound.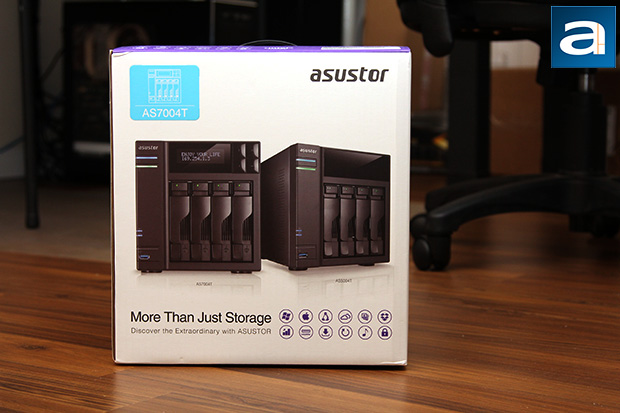 As always, ASUSTOR sent us the AS7004T in its retail packaging. The shape and physical features of the box should be nothing new to people who have purchased network attached storage systems before; it is a familiar mid-sized corrugated cardboard box with a plastic handle on top, so you can carry it to wherever without too much hassle. As you can see in our photo above, the front face features two photos in slightly varying angles of the NAS on a plain white background. You will find ASUSTOR's logo and the NAS model, AS7004T, at the top. Along the bottom, the company proudly proclaims it as "more than just storage" -- and indeed, it is -- a two-by-six matrix of icons provide a conceptual preview of some of the things this product is capable of doing. Features highlights and specifications can be found on the remaining sides of the box.
Before we move on, let us take a look at the hardware specifications of the ASUSTOR AS7004T, as obtained from the manufacturer's website:
Hardware Specifications
- CPU: Intel® Core i3 3.5GHz Dual-Core Processor
- Memory: 2GB SO-DIMM DDR3 (Expandable. Max 16GB)
- HDD: 2.5"" / 3.5"" SATA II/ III or SSD x 4
- Supports Hot Swappable Drives
- Expansion: USB 3.0 x 3, USB2.0 x 2, eSATA x 2
- Network: Gigabit Ethernet x 2
- LCD Panel
- Output: HDMI 1.4a x 1, S/PDIF x1
- System Fan: 120mm x 1
- Infrared Receiver
- Audio Output: S/PDIF
- Input Power Voltage: 100V to 240V AC
- Certification: FCC, CE, VCCI, BSMI, C-TICK
Operation
- Power Consumption: 39.1 W (Operation), 29.4 W (Disk Hibernation), 1.8 W (Sleep Mode)2
- Operation Temperature: 5°C~35°C (40°F~95°F)
- Humidity: 5% to 95% RH
Size and Weight
- Size: 185.5(H) x 170(W) x 230(D) mm
- Weight: 3.9 kg / 8.6 lb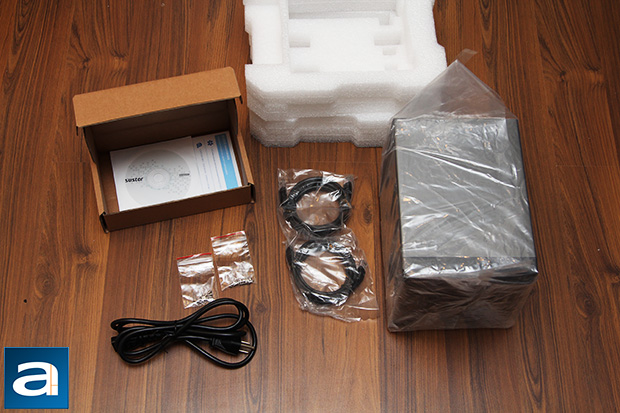 Opening the retail box reveals the ASUSTOR AS7004T clipped between two large Styrofoam brackets, and wrapped in a large plastic bag to ensure no bumps and scratches occurs during transport. A separate accessory box holds all your accessories in place, making it organized and easy to find. Overall, I found the packaging to be simple and effective, and I have never had any problems finding what I need out of the box.
The following items are included for the end user:
1x ASUSTOR AS7004T
1x Setup CD-ROM
2x Ethernet cables
1x Quick installation guide
16x Screws for 2.5" HDDs
16x Screws for 3.5" HDDs
1x Power cable
---
Page Index
1. Introduction, Packaging, Specifications
2.
A Closer Look - Hardware (External)
3.
A Closer Look - Hardware (Internal)
4.
Configuration and User Interface, Part I
5.
Configuration and User Interface, Part II
6.
Configuration and User Interface, Part III
7.
Performance and Power Consumption
8.
Conclusion