Page 4 - Configuration and User Interface, Part I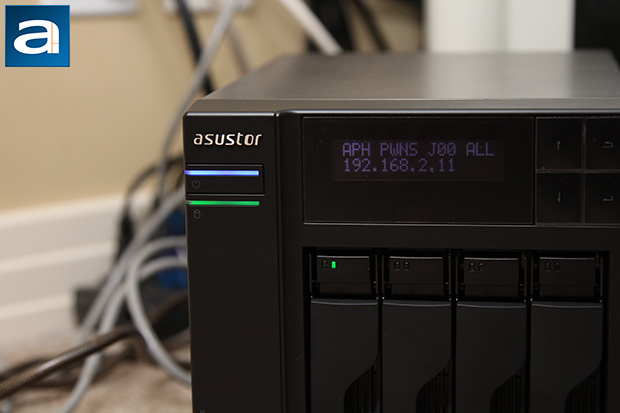 The process for setting up an ASUSTOR AS7004T NAS for the first time is quite easy. There is nothing out of expectations; if you have set up a similar product before, the procedure is quite standard. To begin, I did everything through the LCD screen. If you prefer to do it on your PC instead, point your browser to the LAN IP address of your NAS, go through a really simple wizard, and the OS will be updated, along with any settings you have in mind. It is quite similar to what QNAP has done with their latest OS, and one thing I can be sure of is that this process is very simple and foolproof. If you have never used a network attached storage system before, rest be assured everything is a breeze -- you will need very minimal networking experience to get your ASUSTOR device up and running in no time.
The LCD screen does a great job and showing system information and status; once it is on, it will show the server name and IP address. You can also get it to display a custom message, as shown above. You can even get it to display the "local temperature" in the settings. At first, I thought they meant the local temperature of the system, but it will literally display the local weather information of your city. Hitting the buttons will bring you into a menu for various configuration and maintenance tasks. The screen will turn off automatically if it is not being used, unless a custom message is specified, which will make the display not turn off by itself. I am not entirely convinced this is an intended feature, so I will take it as a bug.
ASUSTOR also promises that all files and settings can be migrated from one system to the next seamlessly; all you need to do is plug the disks from your previous NAS, and everything else will be done and ready. I do not have any per-initiated ASUSTOR disks, so I went ahead with a brand new setup.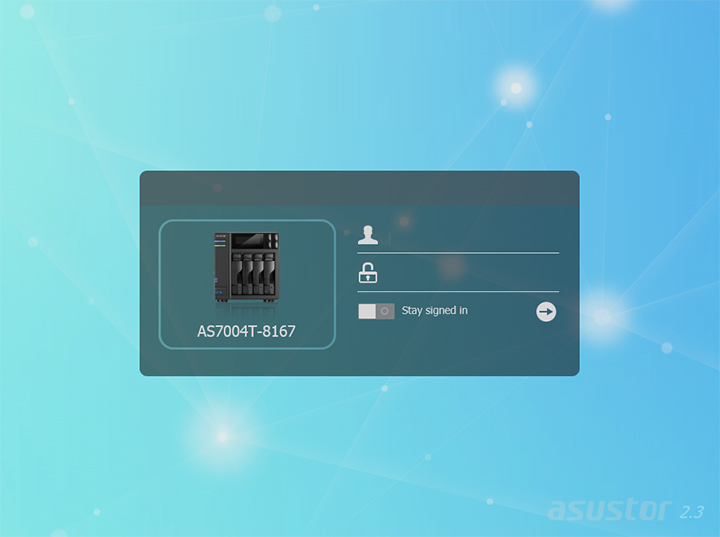 After setting up the NAS, we are sent to the login page, which is pictured above. Pointing our web browser to our NAS name or the LAN IP address assigned to it will give us this page. All we have to do here is enter the username and password set up earlier, then we are sent on our way to the main page. Additionally, the user can choose to stay signed in such that they do not have to sign in every time they access the page. The interface for the website is based off of the built in ASUSTOR Linux based OS. The operating system is called ADM or ASUSTOR Data Master, and is advertised to be one of the most modern NAS operating systems to date. Judging from my past experience, I do not have any objections to this claim. At press time, the latest version is ADM 2.3.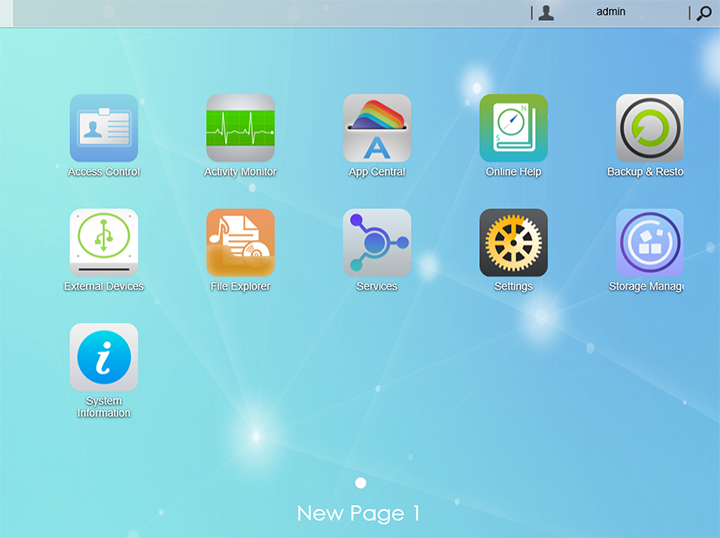 When it comes to visual appearance, the web interface of ASUSTOR Data Master does indeed look quite sleek and modern. The default theme was updated slightly in the latest revision. It is hard not to draw comparisons to Apple's iOS due to the usage of buttons for simplicity. This is not the first ASUSTOR product we have reviewed running ADM, but we will still take a closer look at the software provided, and all the features that comes along with it in a deeper fashion. In my personal opinion, I feel its sleek and simple layout to be a good thing. A lot of new home NAS users want simplicity -- after all, no device should take a Computer Science degree to figure out how it works -- and this system delivers just that. Advanced options can also be found if needed. The usage of AJAX for the overall design makes it look sleek and practical to use. You can even drag the icons around, remove shortcuts, and add your own items here, just like a real desktop.
By default, there are thirteen buttons. Listed from top to bottom and left to right, they are Access Control, Activity Monitor, App Central, Online Help, Backup & Restore, External Devices, File Explorer, Services, Settings, Storage Manager, and System Information. More will appear, depending on the applications you install. Each of these buttons will launch a small pop-up AJAX designed window when clicked that gives additional features or options to setup their NAS. These individual pop-ups are gray in color, and also look quite modern. We can attest to the fact the ADM system does look advanced and sleek, while being simple to use at the same time. At the bottom of the page, where it displays "New Page 1", it can be changed to any text that the user wants, and adds a small layer of customization to the front page. The top bar is also used as a taskbar as well. Any applications you run are added to the top bar next to the "Show Desktop" button at the very end.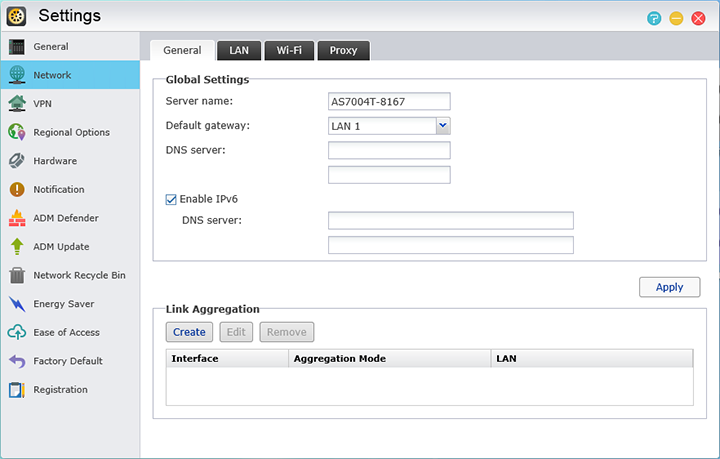 Given all the above icons we could look at, the first one I decided to examine was the Settings icon, since this is probably the most important part of the software due to what a NAS is used for. When we first open it up, we are given a whole slew of options on the left to choose from. From top to bottom, these are General, Network, VPN, Regional Options, Hardware, Notification, ADM Defender, ADM Update, Network Recycle Bin, Energy Saver, Ease of Access, Factory Default, and Registration. Most of these options are quite self-explanatory; we will just pick a few of the unique ones to take a deeper look at them.
The first one we will look into is the Network tab, as the options here are quite important. In the Network tab, there are three other options at the top, these are General, LAN, Wi-Fi, and Proxy. The General option allows the user to set the server name, default gateway, DNS server, and the option to enable IPv6. There is also a spot to create link aggregation if desired. The options under LAN are used to set up the default IP address, which can be done automatically or set manually. The Wi-Fi tab can be used to set up connections via Wi-Fi if a wireless dongle is installed. In most cases, this will not be used, as a NAS over Wi-Fi connection is not exactly the best use when a wired network can provide the backbone for distributing the file server through a wireless network. A proxy server can be specified in the last tab.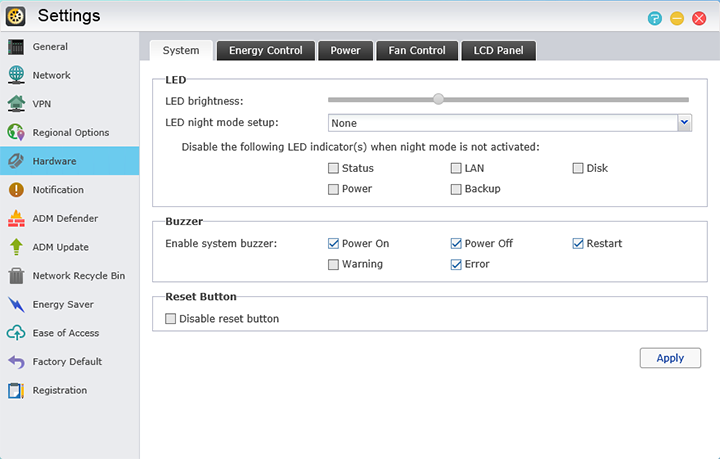 Secondly, we will take a look at the Hardware tab, as that is where we are able to control the majority of the hardware behind the ASUSTOR AS7004T. There are five tabs here, starting from left to right we have System, Energy Control, Power, Fan Control, and LCD Panel. The System tab gives the user to control the lights and sounds coming from the NAS itself. The LEDs can be turned on and off, and the brightness of the LED indicators can be set as well. It is also possible to disable the buzzer or system sounds from being heard. Finally, the reset button can also be disabled to prevent accidental resets. Under the Energy Control tab, the time before a drive goes into standby can be set. The ASUSTOR AS7004T can be sent to S3 mode if there is no data access within a given time period. The Power tab has a few settings to reduce the power usage on the AS7004T, including EuP mode and power scheduling. When it comes to Fan Control, there are four settings: Auto, Low speed, Medium speed, and High speed. The LCD Panel page allows you to output personalized text to the screen, which can be a user defined string, or local weather information. All of these can be found under the Hardware tab on the left side, and are pretty standard when it comes to options you would want to see on a NAS device.
---
Page Index
1.
Introduction, Packaging, Specifications
2.
A Closer Look - Hardware (External)
3.
A Closer Look - Hardware (Internal)
4. Configuration and User Interface, Part I
5.
Configuration and User Interface, Part II
6.
Configuration and User Interface, Part III
7.
Performance and Power Consumption
8.
Conclusion