By: Jonathan Kwan
July 14, 2017
A few weeks ago, in my Fnatic Gear RUSH Pro Silent review, I talked about how I had to take my GDL exit test twice to get my full driver's license. The first time I took the test, the examiner pointed out a few minor infractions in addition to the major infraction that failed me in the process, where one of them was me driving too slow. Apparently, according to her, if the speed limit was 100km/h, I have to hold to that as closely as possible. In fact, I can go 4km/h over the speed limit. That seemed a bit fishy to me, because the handbook clearly says "speed limits do not indicate the maximum speed drivers should travel", and "[they] are the maximum speed permitted when conditions are ideal". Therefore, I asked the new examiner about this in my second attempt. Much to my surprise, she said I could go 9km/h over the speed limit. Wait, what? To clarify, I asked her if it was acceptable for me to drive 39km/h through a school zone -- to which she told me to "feel free". (Just for reference, my friend recently got a ticket for going 36km/h through one.) Despite the objectivity in the rules, it seems to me there is quite a bit of subjectivity, even in driving tests, depending on who you talk to. Similarly, what is the best network attached storage system manufacturer in the market today? Objectively, I can say ASUSTOR and QNAP are definitely among the top for the last little while, thanks to their consistently top notch performance and ever growing list of features. But when it comes to money, most people will only buy one or the other. So which one is better? Well, let us consider the facts and the points, and I will let you be the judge with your wallet.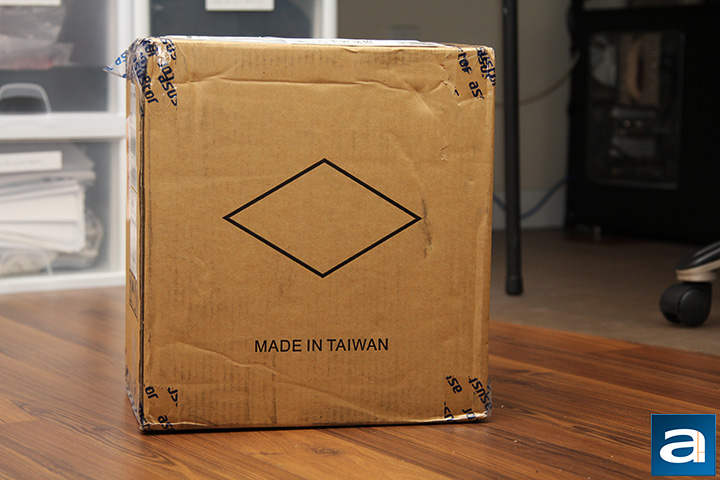 Our review unit of the was launched across the Pacific Ocean to us here in Calgary, Alberta, Canada via TNT Express from the company's Taiwanese headquarters. If you have been waiting for this review for quite a while, you have a pretty long fuse -- I did not fire up the unit until quite recently thanks to an extensive backlog we have here at APH Networks. There is no real reason to go nuclear over this, however; everything arrived in excellent condition for our review today. As such, I cracked open the package to see if ASUSTOR has something blow us away. Oh, and I will stop with the puns now.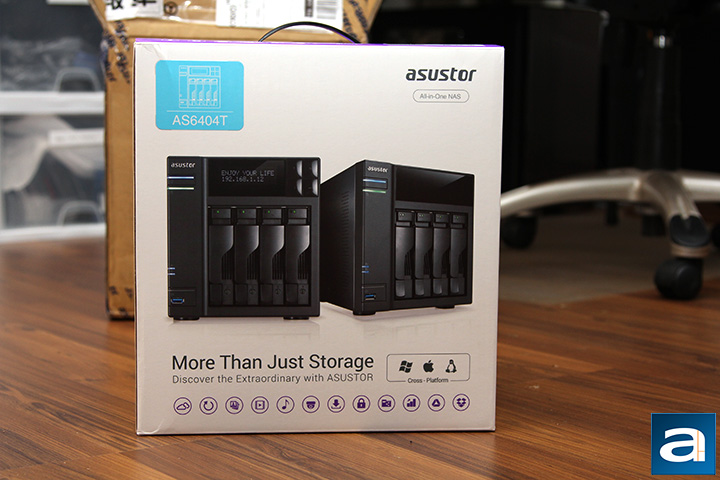 As always, the ASUSTOR AS6404T came in retail packaging. The shape and physical features of the box should be nothing new to people who have purchased network attached storage systems before; it is a familiar mid-sized corrugated cardboard box with a plastic handle on top, so you can carry it around without too much hassle. As you can see in our photo above, the front face features two photos in slightly varying angles of the NAS on a plain white background. You will find ASUSTOR's logo and the NAS model, AS6404T, at the top. Along the bottom, the company proudly proclaims it as "more than just storage" -- and indeed, it is -- an array of icons along the bottom provide a conceptual preview of some of the things this product is capable of doing. Features highlights and specifications can be found on the remaining sides of the box.
Before we move on, let us take a look at the hardware specifications of the ASUSTOR AS6404T, as obtained from the manufacturer's website:
CPU: Intel Celeron J3455 Quad-Core 1.5 GHz (burst up 2.3GHz) Processor
Memory: 8GB SO-DIMM DDR3L (4GB x2, Expandable. Max 8GB)
HDD: 4 x SATA3 6Gb/s; 3.5"/2.5" HDD/SSD
Maximum Internal Raw Capacity: 40 TB (10 TB HDD X 4, Capacity may vary by RAID types)
Expansion: USB 3.0 x 4 (Type A x3, Type C x1)
Network: Gigabit Ethernet x 2
LCD Panel
Output: HDMI 2.0 x 1, S/PDIF x1
System Fan: 120mm x 1
Infrared Receiver
Audio Output: S/PDIF
Power Supply Unit / Adapter: 90W x1
Input Power Voltage: 100V to 240V AC
Certification: FCC, CE, VCCI, BSMI, C-TICK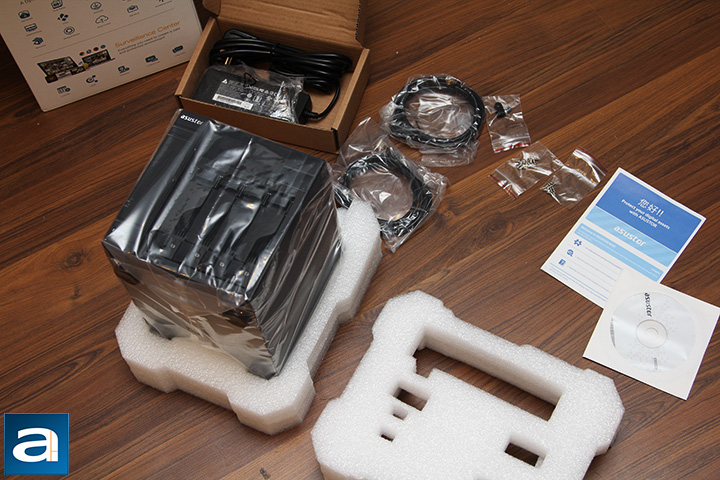 Opening the retail box reveals the ASUSTOR AS6404T clipped between two large Styrofoam brackets, and wrapped in a large plastic bag to ensure no bumps and scratches occurs during transport. A separate accessory box holds all your accessories in place, making it organized and easy to find. Overall, I found the packaging to be simple and effective, and I have never had any problems finding what I need from the factory.
The following items are included for the end user:
1x ASUSTOR AS6404T
1x Power adapter
2x Ethernet cable
16x Screws for 3.5" HDDs
16x Screws for 2.5" HDDs
1x Power cord bracket
1x Quick installation guide
1x Setup CD-ROM
---
Page Index
1. Introduction, Packaging, Specifications
2.
A Closer Look - Hardware (External)
3.
A Closer Look - Hardware (Internal)
4.
Configuration and User Interface, Part I
5.
Configuration and User Interface, Part II
6.
Configuration and User Interface, Part III
7.
Performance and Power Consumption
8.
Conclusion