By: Jonathan Kwan
April 28, 2017
I recently submitted a paper to an academic journal for peer review. After about a month, I got an email from the editor with the decisions and recommendations. Although a typical submission to a journal of this caliber gets looked at by three to five experts in the field, my paper was reviewed by only two people, to which both had completely opposite opinions. The first reviewer absolutely hated it; claiming my work had no novelty and no value. On the other hand, the second reviewer absolutely loved it; stating my work was highly novel and gave it a best paper award nomination. As I began to write my official response to the editor and reviewers, I also realized this process seemed like something I used to be very passionate about: Internet forum debates. When I was a young child, I often engaged in long, pointless forum debates to convince my e-opponents the validity of my assertions. And what makes this any different? Whoever Reviewer 1 is, he may have a PhD in Electrical Engineering, but he does not know who he is up against -- I have over ten years of experience in debating people on the internet! Jokes aside, it seems elements of one thing can be adapted to another to fit its context for their similarities, despite their differences. A little less than a year ago, I reviewed the Audioengine HD6, which, in my opinion, are some of the best desktop speakers money can buy. However, just like how I needed to tone down my official response to my academic peers rather than formulating it like an actual forum debate for practical reasons, the HD6 is not practical in many applications either simply due to its sheer size. Therefore, in order to make it fit for more people, Audioengine took what they learned in the HD6, and did as much as they could to fit it into A2+'s form factor to make the HD3 we are reviewing today. How well will this work? Read on to find out!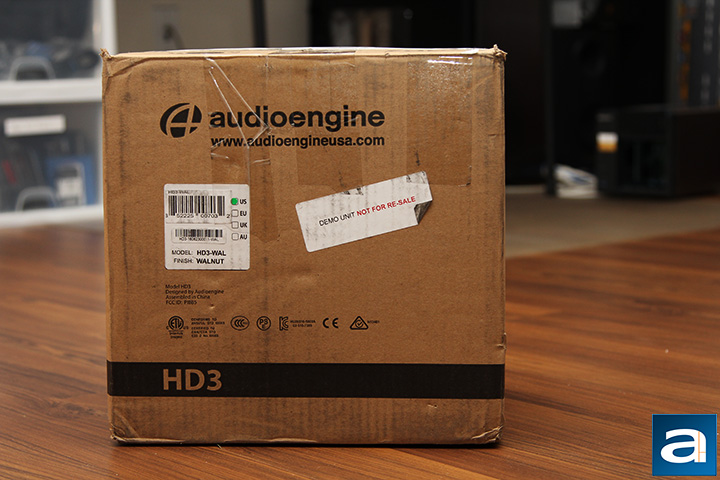 Our review unit of the Audioengine HD3 came in medium sized, brown corrugated cardboard box from Atlantia, a large national distributor of technology products in Vancouver, British Columbia who handles Audioengine's account here in Canada. According to the shipping box, our particular unit was previously a demo unit, which may explain why everything appeared kind of beat up. Using Purolator Ground, everything arrived in reasonable condition for our review today. I think the condition of the box was, by no means, the fault of the carrier. After dropping by the local Purolator shipping center here in Calgary, Alberta, Canada on the way home after receiving the delivery notice to pick it up, I cracked open the box, and got straight to work.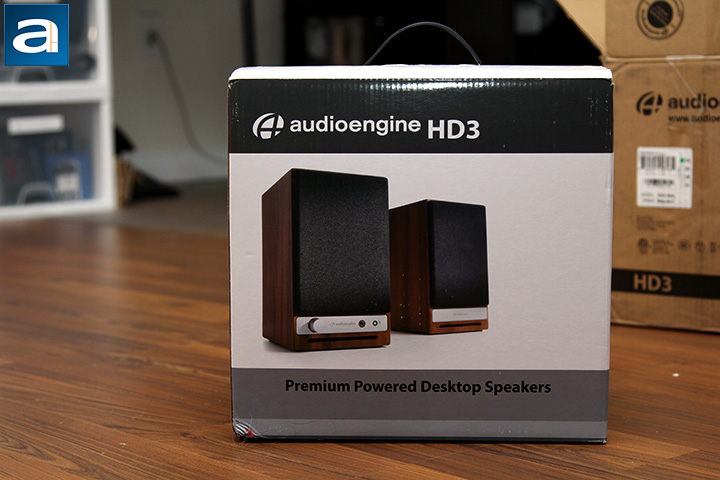 Unlike its bigger brother, the HD6, our review unit of the Audioengine HD3 came in actual retail packaging. I recall being very excited to get my hands on the A2+ nearly three years ago, and it is no different today. Just like it was back in 2014, I had to go back several times to look at the retail box. As I was so focused on the speakers themselves, I simply could not remember how the retail box looked like. From our photo above, Audioengine keeps the packaging simple, just like the speakers. All you will get is the branding with model at the top, a photo of the speakers in the middle, and a line that describes the product at the bottom. That is it. On the other side, you will get the exact same thing. Stuff like its color and specified region is found on a label.
Before we move on, let us take a look at the specifications of the Audioengine HD3, as obtained from the manufacturer's website:
General specifications
Type: 2.0 powered multimedia speaker system
Amplifier type: Dual analog class A/B monolithic
Power output: 60W peak power total (15W RMS / 30W peak per channel), AES
Drivers: 2.75" Kevlar woofers, 3/4" silk dome tweeters
Inputs: 3.5mm stereo mini-jack, stereo RCA, USB, Bluetooth
Outputs: RCA variable line-out, 3.5mm mini-jack headphone out
Mains voltages: 110-240V 50/60Hz auto-switching
SNR: 95dB (typical A-weighted)
THD+N: <0.05% at all power settings
Crosstalk: <50dB
Frequency response: 65Hz-22kHz ±2.0dB
Freq. response w/bass reduction switch selected: 100Hz-22kHz ±2.0dB (-5dB down)
Input impedance: 5K ohms unbalanced
Headphone amp specifications
Headphone amp type: OPA2134
Full-scale headphone output level: 2.0V RMS
Output impedance: 2 ohms
Recommended headphone impedance range: 10 ohms to 10K ohms
Bluetooth specifications
Internal D/A converter: PCM 5102
Input bit depth: 24-bits, upsampled
Bluetooth receiver type: Bluetooth 4.0 audio
Supported codecs: aptX, AAC, SBC
Wireless operation range: Up to 100ft (30m) typical
Input data rate: Determined by Bluetooth
Wireless latency: ~30 milliseconds (ms)
USB specifications
Connector type: Micro-USB
USB device class: USB 1.1 or above
Internal D/A converter: PCM 5102
Input bit depth: 24-bits, upsampled
Input data rate: 44.1KHz/48KHz
Protection: Output current limiting, thermal over-temperature, power on/off transient protection
Dimensions (each): 7"(H) x 4.25"(W) x 5.5"(D)
Weight (LEFT speaker): 1.8Kg/4lbs
Weight (RIGHT speaker): 1.5Kg/3.4lbs
Shipping weight: 4.5kg/10lbs per pair
Shipping box dimensions: 11.6 (29.5cm)H x 11.75 (30cm)L x 8.8(22.5cm)W
Materials and construction:
- 18mm thick MDF cabinets with real wood veneer
- 3/4" (20mm) silk dome tweeters with neodymium magnets
- 2.75" Kevlar woofers with advanced voice coils
Power consumption
Idle: 10W
Mute: 6W
Sleep: 4W
Environmental requirements
Operating temperature: 32° to 95°F
Non-operating temperature: -4° to 113°F
Relative humidity: 5% to 95% non-condensing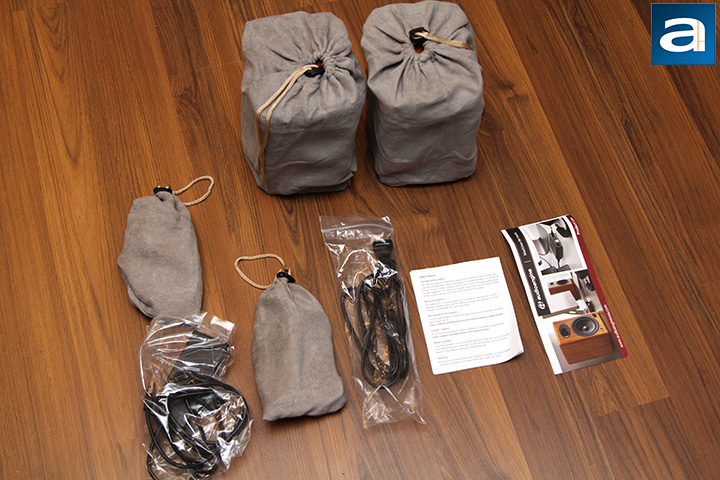 Out of the box, you will receive everything you need to get you started. In addition to the Styrofoam brackets, you will find both speakers and cables all come in their separate reusable microfiber drawstring bag. I think the way a product is packaged is a statement in itself to the end user, and my experience with stuff from Audioengine in the past -- namely, the A2+, B2, and HD6 -- is the company makes its products with no expenses spared. We will dig into that more in the hardware inspection on the next page, but for now, here is a list of what you will receive in addition to the Audioengine HD3 speakers itself:
- Antenna
- Speaker wire (16AWG), 2 meters (~6.5 feet)
- Power supply
- AC power cable
- Mini-jack audio cable, 1.5 meters (~5 feet)
- USB cable, 1.5 meters (~5 feet)
- Microfiber speaker bags
- Microfiber cable bag
- Microfiber power supply bag
- Quickstart guide
- Product line brochure
---
Page Index
1. Introduction, Packaging, Specifications
2.
Physical Look - Hardware
3.
Subjective Audio Analysis
4.
Conclusion