By: Preston Yuen
November 26, 2010
Portable gaming, mobile phones, GPS navigation units, digital audio players, Bluetooth headsets -- these are all devices we often use on a daily basis (Well, probably not the gaming part, but I would be interested to know what your day job is if that is indeed the case). When we are on the bus, we often pull out the latest gadgets to keep us occupied until we reach our destination. When we do business with our clients, we rely on our smartphones for our on-the-go communication needs. The worst part about traveling to unknown parts of the city is getting lost, so bringing along a portable GPS along would be extremely helpful. But these are just a few examples on how much we rely on these devices every day. Unfortunately, all of them come down to a single common denominator: The battery. Needless to say, when you run out of juice, no matter how high tech your stuff is, you are pretty much out of luck. A few months ago, we reviewed the Choiix Power Fort, a portable charger designed to get your energy-drained electronics up and running again even when an AC power outlet is not readily available. Choiix has come up with yet another creation, but this time, it is smaller and lighter. Much like the original Power Fort, the Choiix Power Fort 5.5 charges all the most common devices we possess. The "5.5" signifies its 5.5WHr battery. From Bluetooth headsets to gaming devices, the Choiix Power Fort 5.5 packs a 1500 mAh Li-Po battery, which is enough for your stuff to last throughout the day. But how does this little guy compare to its brother, which packs a larger 2700 mAh battery? Read on to see how these two compare!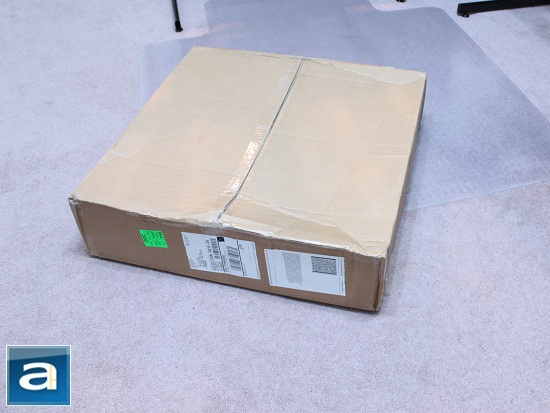 Our Choiix Power Fort 5.5 came along with the Cooler Master Storm SF-19 Strike Force reviewed a few weeks ago, so I borrowed the same packaging image from that article. Our package arrived in the usual brown corrugated box via UPS Standard. Man, the box was huge -- the picture simply does not tell the whole story. Anyhow, although it was slightly dented, everything inside arrived safe and sound, as Cooler Master packaged some additional brown packing paper inside for extra protection.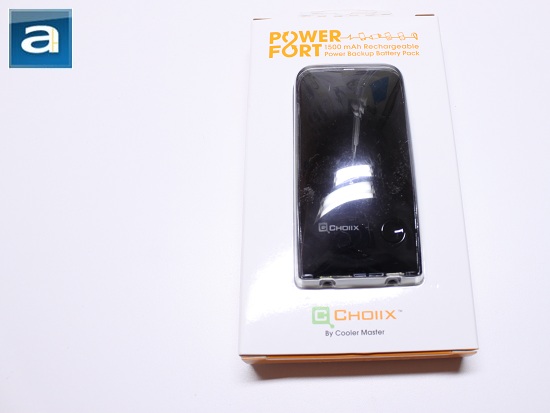 Much like the original Choiix Power Fort reviewed by yours truly back in July, the packaging for the Power Fort 5.5 is very simple and elegant. Instead of having a second box placed behind the product itself for its accessories, the Power Fort 5.5 is clipped into a clear plastic cover attached to the box in front of the accessories, which can be easily removed when removing its contents. The dividing mid-section of the package is glossy white. The 'Power Fort' name is printed boldly in orange at the top left corner with stylized icons for some eye candy. Flipping it over reveals its features, specifications, package contents, and the estimated extra hours provided for your devices. This information is also available on Cooler Master's website. Speaking of which, let's take a look at them before moving on:
Features
- Over charge protection / Over discharge protection
- Over current protection / Short circuit protection
- Ultra low self-discharge battery cell design
- No more bulky AC adapters and messy cords while traveling
Extended Usage Time (hours)
- PDA / GPS: 6
- Gaming: 8
- Mobile / Smart phone: 8
- iPod / MP3 / MP4: 48
- Bluetooth: 60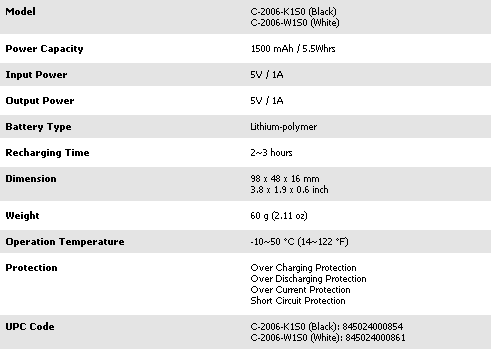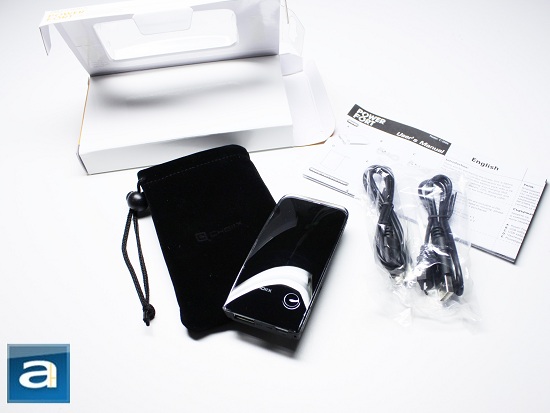 Out of the box, you will receive the following:
- 1x Choiix Power Fort 5.5
- 1x Carrying case
- 1x USB/mini-USB cable
- 1x USB/micro-USB cable
- 1x Manual
Much like the Choiix Power Fort, the Power Fort 5.5 includes two USB cables, carrying case, and a manual. As mentioned earlier, the Power Fort 5.5 can be removed from the clear plastic cover clipped from the inside. This carrying case is no different from its bigger brother's case, which is partitioned into two sections -- one side to store your wires, and the other section for your Power Fort 5.5. When purchasing at retail stores, the Power Fort comes in two different shades, with one in black, and the other in white. Our particular unit came in black. Personally, I believe the black colored one is much slicker than the white colored one. However, the white colored one looks pretty decent as well -- no racist overtones intended, haha. As far as trim levels are concerned, there is only one version of the Power Fort 5.5, unlike the Power Fort 10WHr, which is available in either a Standard version or an Advanced version.
Also like its bigger brother, the Power Fort 5.5 features a shiny hard plastic cover, except thinner. The design gives a very good first impression for the consumer in my opinion, except that micro scratch marks do appear on the surface, and it is a fingerprint magnet. Its slim design gives it the extra ability to fit into anyone's pocket without any struggles, as it measures to 3.8 x 1.9 x 0.6 inches and weighs only 60 grams -- talking about slim and light for a portable charger! A conveniently placed button is placed on the bottom right corner of the Choiix Power Fort 5.5 for easy access. One click indicates whether the device has enough power to boost your device or not, and this is shown via the LED light from the Choiix logo in the bottom left corner. If the red LED turns on, it means there is enough power -- otherwise you will know it is dead. It is not a very effective way of demonstrating available charge (An indicator bar consisting of multiple LEDs would be better), but it does its job to an extent. One minor but notable addition to the Power Fort 5.5 is that you can now hang little accessories to it to 'fob' it up, as it is equipped with a loop for keychains with a flexible loop hanger.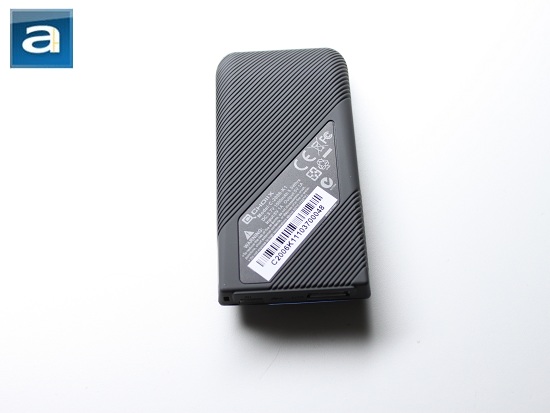 Flipping it over, we can see that the rest of the body is made up of a dark grooved plastic surface, as shown in our photo above. This unique diagonal groove design is implemented for extra grip, even though it is small and easy to hold already. In comparison with the Power Fort 10 WHr, Choiix has taken out the integrated LED flashlight to save space. The Power Fort 5.5, however, still comes with the standard USB output port for charging other devices, as well as a mini-USB input port for recharging the Power Fort's internal battery.
Speaking of batteries, the Power Fort 5.5 contains a 1500mAh lithium-polymer battery, its full name being lithium-ion polymer battery and commonly abbreviated as Li-Po battery, which is a type of rechargeable batteries. Usually, these batteries are made up of many secondary cells in parallel addition to maximize the discharge current capacity. A solid polymer holds the lithium salt electrolyte in place, creating cells with increased ruggedness, excellent shape adaptability, and potentially lower cost of manufacturing. The Power Fort's internal battery is also designed against overcharge, over-discharge, overheating, over-current, and short circuiting for reliability and safety purposes. The Power Fort 5.5 supplies 1A @ 5V, which is the same current and voltage specified by the Power Fort 10WHr. This basically means that the charge time should be a bit faster than a standard USB port, which provides half the current at the same voltage.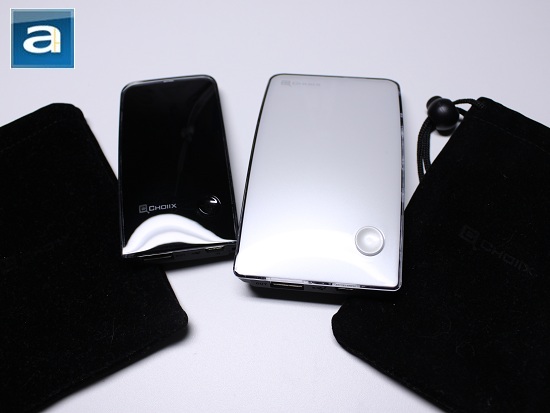 A quick visual comparison between the two Choiix Power Forts. Taking a look back at the original Power Fort, it measures 4.3 x 2.5 x 0.5 inches. The slimmer Power Fort 5.5 measures 3.8 x 1.9 x 0.6 inches. Comparing these two, we can see that the Choiix Power Fort 5.5 is 0.5 inches shorter and 0.6 inches slimmer. However, the Power Fort 5.5 stands 0.1 inches taller. This gives the Power Fort 5.5 a much more compact and slim feel, despite the fact that it is only 0.1 inches taller than its bigger brother, which virtually makes almost no difference at all. Having said this, size becomes a factor in deciding how big the internal battery pack's capacity is. Of course, being bigger is always better (Or at least, in most cases). The Power Fort 5.5 is slimmer, and from its name, we can tell that its internal battery pack is approximately half the size of the original Power Fort -- 55% of the original, to be exact. Basically, this is like having a 1L water bottle versus a 550mL water bottle -- they both hold water, but you can live on the larger bottle longer since it carries more water. Personally, I believe this is an advantage for many consumers because most of the time you won't need all the power stored by the bigger Power Fort, and having a smaller one makes it easier to carry around while it is fulfilling its duties.
-----------------------------------------
The Tests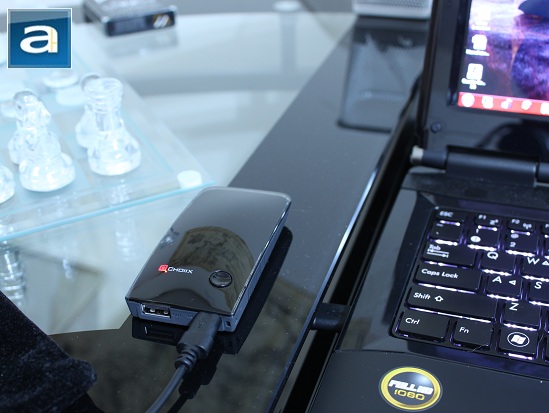 Since it is supposed to be a convenient device for charging, I charged the Choiix Power Fort to full capacity from my Asus G51Vx-A1 laptop. All device charging tests are done without the Choiix Power Fort plugged into my laptop. This was done to see how long the Power Fort could last on a single run once it was fully charged. When charging the Power Fort itself, no devices were plugged into it. This was to gauge how long it would take to charge the Power Fort itself accurately.
When first charging it out of the box, I noticed that it was already half charged from the factory. To optimize the performance of the battery for first use, I charged the battery, drained the battery all the way down, and recharged it fully without interruption to prepare it for first use. Once the initial charge/discharge optimization cycles were completed, I unplugged it from my laptop and put it through our tests. I pulled out my Apple iPhone 3G, iPod touch, and Sony Ericsson Xperia X10 and recorded the results. Since my Sony PSP did not like Power Forts as seen from our last review, I have decided to leave it out of our tests.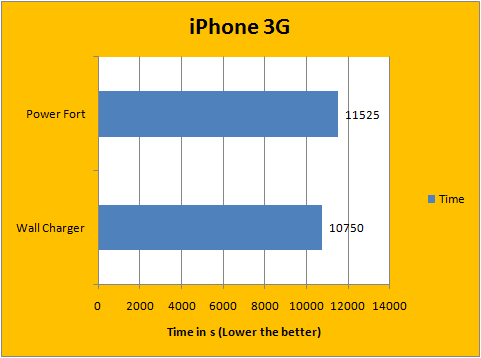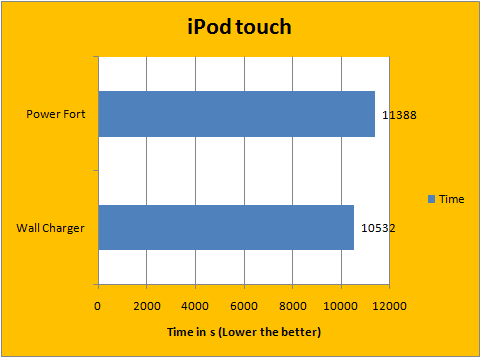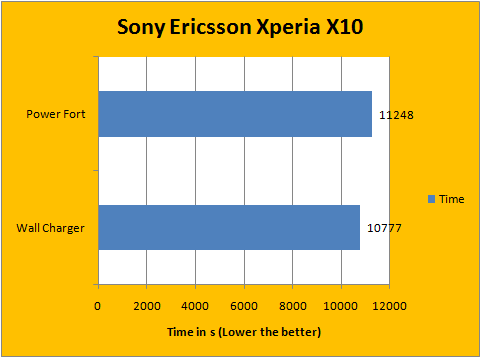 As expected, the results were quite similar and validated the performance consistency of the Choiix Power Fort. The wall charger (Also supplying 1A @ 5V) took approximately three hours to fully charge the iPod touch, iPhone, and Xperia X10 from 0% to 100%. Both my laptop and the Power Fort took approximately 15 minutes longer to charge compared to the wall charger; generally speaking, the difference is quite negligible. I also tested how many iPhone/iPod touch batteries it can fully charge from 0% to 100% on one fully charged Power Fort. It turns out it could fully charge the iPhone/iPod touch 1.2x, which corresponds to Cooler Master's specification tables. The Power Fort 5.5 was also capable of charging my Xperia X10 1.5x, which also corresponds to Cooler Master's tables. Once I drained the Power Fort, I hooked it back up to my laptop to see how long it would take to fully charge a drained battery. This took roughly two hours according to my tests, corresponding with what Cooler Master claims on their website.
Compared to the original Choiix Power Fort with a 10WHr battery, the charge time for my iPhone 3G and iPod touch is approximately the same. The original Power Fort is capable of charging those devices 2.5x over, compared to the Power Fort 5.5's 1.2x (48%). This is slightly lower than the ideal of 55%, but still within specifications. The charge time of the Power Fort itself is two hours compared to the bigger Power Fort (57%).
-----------------------------------------
All in all, the Choiix Power Fort 5.5 Portable Charger works easily and almost flawlessly with the devices it claims to work with. My only complaints boil down to an attractive looking but fingerprint magnet surface, as well as a not-very-useful single LED internal battery charge status indicator. That said, although the 1500 mAh lithium-polymer battery pack is just over half that of the original Power Fort, it still does what it promises to do, which effectively powers up and/or recharges most devices as a backup source. Setup takes little to no time at all; as long as it is fully charged and you have all the right proper cables equipped, you are ready to go. A carrying case is also provided with your Power Fort 5.5 to stick all your cables in without the hassle of finding them afterward, after scattering them around. The testing portion of the Power Fort 5.5 is both the best and the worst part of this review, haha. For me personally, watching stuff charge and discharge is pretty darn boring. But for the purpose of this review, the data is absolutely priceless. And from this we can objectively draw our conclusion. In our tests, it was a little less efficient compared to the 10WHr version -- we expected around 1.4x iPhone/iPod touch rather than the tested 1.2x, and it is missing a few features found on the bigger Power Fort as well. Generally speaking, taking the Power Fort 5.5 on a business trip would be one practical example, used to keep your Blackberry up and running all day long before you are back at the hotel. Or if you left your iPhone on your desk and forgot to charge it the night before, just bring the Power Fort 5.5 along in your pocket. In my opinion, the Choiix Power Fort 5.5 is a very convenient portable charger for feeding extra power whenever you need it, for the primary purpose of serving times when you forget to charge your device, or for day trips. If you are going on a camping trip, then it is probably a better idea to pack along the 10WHr version of the Choiix Power Fort instead.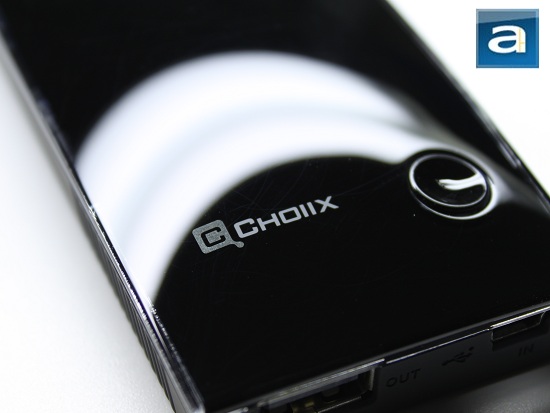 Special thanks to Lulu over at Cooler Master for making this review possible.
APH Review Focus Summary:
8/10 means Definitely a very good product with drawbacks that aren't likely going to matter to the end user.
7/10 means Great product with many advantages and certain insignificant drawbacks; but should be considered before purchasing.
-- Final APH Numeric Rating is 7.5/10
Please note that the APH Numeric Rating system is based off our proprietary guidelines in the Review Focus, and should not be compared to other sites.
The Choiix Power Fort 5.5 is a sleek and stylish portable charger packed with a 1500 mAh battery that proficiently does what it promises.
Do you have any comments or questions about the Choiix Power Fort 5.5 Portable Charger? Drop by our Forums. Registration is free, and it only takes a minute!