By: Aaron Lai
December 16, 2022
When you have lived in a city for enough time, it always becomes a bit sad when you hear a place you visit often is closing. As a younger child, I used to go to Calgary's Chinatown every weekend, which had many restaurants and bakeries. There was one bakery that often had someone making fresh egg rolls, which is a tube-like pastry. This process filled the bakery with an alluring aroma and added to my awe of this place. Even though this location closed down quite a while ago, it left a deep impression. Regrettably, this is just part of life as food vendors often change ownership, go through various renovations and changes, or shut down. This has become a common occurrence during the past two years, as many places could not sustain enough customers to stay profitable. Quite a few places in Calgary's Chinatown have either closed down or announced their intentions to do so recently, including a Vietnamese submarine sandwich place and another bakery. However, change can also bring improvements or new beginnings. Today, we have the Cooler Master CK720. If it sounds familiar, it is probably because it shares a similar model number to a keyboard I reviewed earlier this year, the Cooler Master CK721. On paper, the primary change is that the CK720 is a wired 65% keyboard as opposed to the wireless CK721. This may look like a downgrade, but what does Cooler Master have to say about this? How will this keyboard perform as a whole? Let us read on to find out!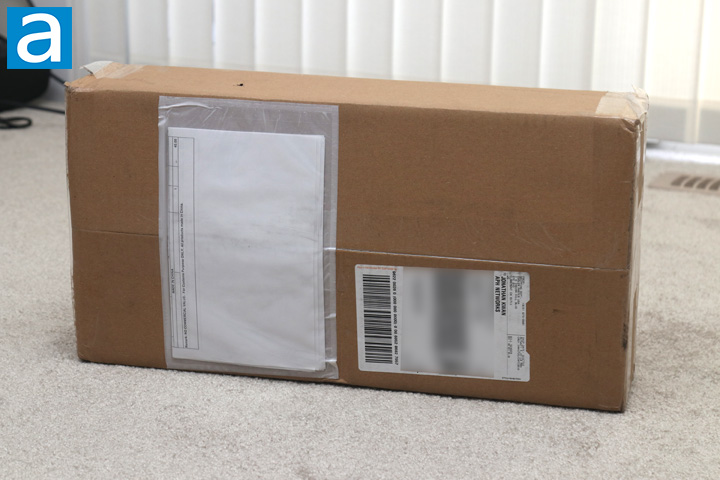 Today's review unit of the Cooler Master CK720 arrived from Cooler Master's corporate offices in Claremont, California. Traveling with FedEx and their standard Ground service, this box arrived in excellent condition with no dents or bruises to be concerned about. Furthermore, everything inside was packaged full of packing paper to prevent any damage while the box was in transit. Otherwise, we only have the keyboard in this box today.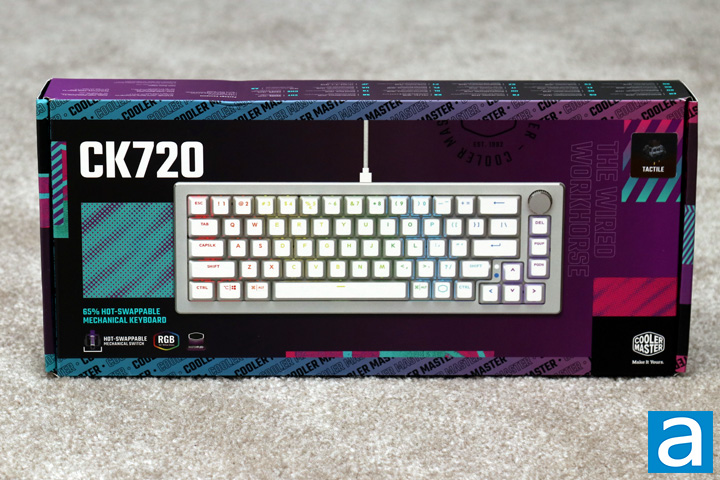 We have seen several multiple renditions of Cooler Master's retail packaging and the CK720 seems to have a new look. Unlike the CK721 I reviewed earlier this year, this keyboard comes in a much more compact box. It is stylized with a mish mash of colors, including a purple-to-black gradient background and the teal-to-purple gradient edge with Cooler Master branding. The top shows the product name, while the bottom shows a description of "65% Hot-Swappable Mechanical Keyboard". In the middle, we have a scaled-down image of the keyboard in white. Underneath, we have a few icons to distinguish the fact this keyboard does indeed use hot-swappable mechanical switches, has RGB LED lighting, and is compatible with the MasterPlus+ software. At the top right corner, you can see we have tactile switches in here, although the CK720 also comes in linear and clicky switches too. Around the box, we have more specifications of the CK720.
If you are interested, I have obtained the specifications from the manufacturer's website for your perusal:
Keyboard Switch Type: Kailh Box V2 Mechanical Switch (Red/White/Brown)
Keyboard Keycaps: PBT double-shot Keycaps, OEM Profile
Keyboard Material: Aluminum, Plastic
Keyboard Color: Space Gray, Silver White
Keyboard LED Color: RGB, 16.7 million colors
Keyboard Polling Rate: 1000Hz
Keyboard Response Time: 1ms
On-the-fly System: Yes
Keyboard Multimedia Key: Through Function Key (FN)
Connectivity: Wired with detachable cable
Compatible OS: Windows 8+, Mac OS X 10.10+
Software Support: Cooler Master MasterPlus+
Keyboard Cable: 1.8m, USB Type C to Type A, Detachable & PVC
Keyboard Dimensions (L x W x H):
- Standard: 334 x 118 x 37 mm / 13.15 x 4.65 x 1.46 inches
- With 1st stage feet open: 334 x 118 x 43 mm / 13.15 x 4.65 x 1.69 inches
- With 2nd stage feet open: 334 x 118 x 46 mm / 13.15 x 4.65 x 1.81 inches
Keyboard Weight: 950g / 2.094 lbs (without Cable)
Warranty: 2 years
Keyboard Type: Mechanical
Product: Keyboard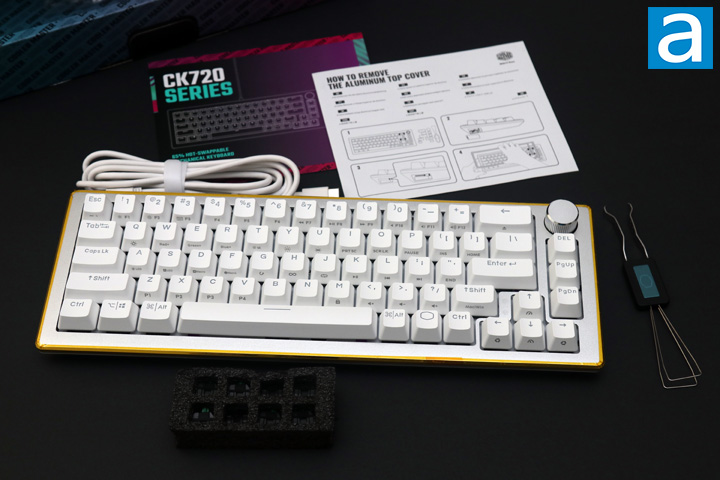 Out of the box, the Cooler Master CK720 is covered by a hard plastic shell on the top. Other accessories include a combination wire keycap and switch puller along with a USB Type-C to Type-A cable. You might be wondering why there is a yellow rim around the CK720. This is actually protective tape to ensure the finish on this side does not get scuffed. Finally, some documentation for quick start and warranty information is included in the box. For your information, Cooler Master covers their peripherals for two years.
---
Page Index
1. Introduction, Packaging, Specifications
2.
A Closer Look - Hardware and Software
3.
Conclusion