By: Aaron Lai
May 20, 2022
When I started dating my girlfriend, I was reminded of how much of a bachelor I lived like, especially in the kitchen. For example, there were many things I was ignorant or unaware of. This included things like not knowing the definition of mincing, how to prepare chia seeds and quinoa, or the fact that cheese can get moldy. Secondly, I realized how many things were missing from my house for cooking. My girlfriend often complained about the lack of condiments or seasoning, especially when she came over to cook or bake with me. She would then ask me why my fridge and pantry were so empty, to which I could only respond by saying that was how much I needed to survive. I also lacked utensils like a cheese grater, toaster, serving spoons, or additional plates when guests came over. She teased me by saying she would create short stories or drawings in a "Bachelor Man" series, highlighting all the things that exemplified my single living lifestyle. However, now that she has brought these things up, I made changes by purchasing more condiments and I even have a cheese grater now. She also got me a toaster as part of my Christmas gift. Even so, I think she would still want my fridge to be a bit more filled, haha. In a similar vein, I was clearly unaware of smaller keyboards than a tenkeyless until I took a look at the DeepCool KG722. While we have looked at other cutdown boards before then, the KG722 was an eye-opening experience and made me appreciate the smaller size. Today, we have yet another 65% mechanical keyboard with the Cooler Master CK721. However, this one brings other features, including wireless operation and a dedicated volume wheel, to name a few. How does this perform and does it bring enough to make me consider fully switching to this smaller form factor? Let us read on to find out!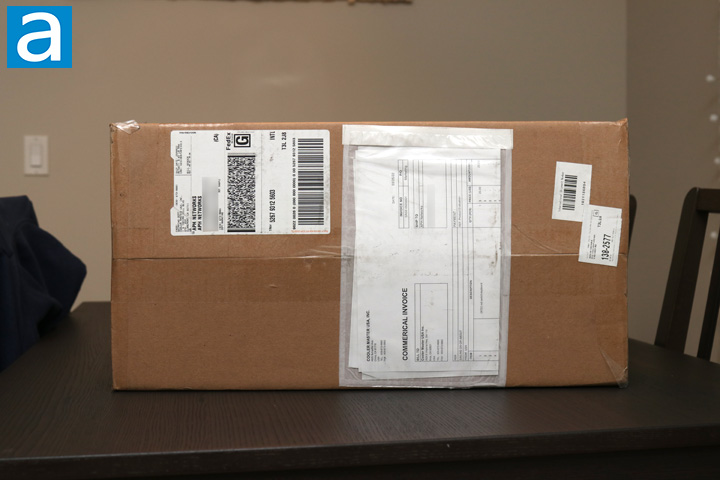 Today's review unit of the Cooler Master CK721 arrived from their shipping department in Claremont, California. Cooler Master has a few various offices and locations in the state, including in Brea and Chino. This brown corrugated cardboard box was shipped with FedEx and their Ground service and came to our APH Networks offices in Calgary, Alberta. Thankfully, everything was packed well and the box did not have any external damage to report. Inside, the keyboard was guarded with quite a bit of packing paper to cushion any blows this box may have received during shipping.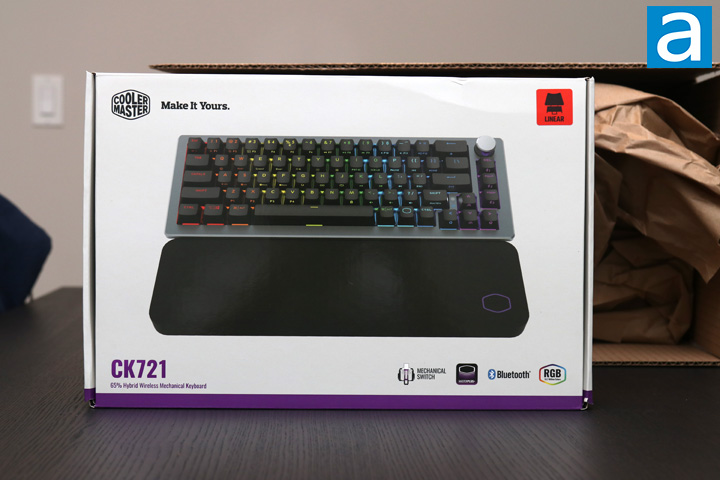 The retail container of the Cooler Master CK721 is similar to other Cooler Master keyboards we have seen, including most recently the SK653. This means we have a primarily white box with some purple highlights and font around the box. The keyboard is displayed in a scaled down fashion with its large foam wrist rest underneath. The product name can be found on the bottom left corner, with a description of "65% Hybrid Wireless Mechanical Keyboard". On the right side, we have a few logos to represent some notable features, such as its mechanical switches, MasterPlus+ compatibility, Bluetooth connectivity, and RGB lighting. On the top right corner, you can see Cooler Master sent us their linear red switch option, although they also have nonlinear options in both blue and brown flavors. Finally, the Cooler Master logo can be found at the top left corner. Around the box, we have a few more highlighted features and specifications. Otherwise, there is not much else to look at, so let us continue on.
Before we do so, I have grabbed the specifications from the manufacturer's website for your viewing pleasure:
Keyboard Switch Type: TTC Mechanical Switch (Red/Blue/Brown)
Keyboard Keycaps: ABS Painting & Laser Engraved, OEM Profile
Keyboard Material: Aluminum, Plastic
Keyboard Color: Space Gray, Silver White
Keyboard LED Color: RGB, 16.7 million colors
Keyboard Polling Rate: 1000Hz (Wired/2.4GHz Mode), 125Hz (Bluetooth Mode)
Keyboard Response Time: 1ms (Wired/2.4GHz Mode), 8ms (Bluetooth Mode)
On-the-fly System: Yes
Keyboard Multimedia Key: Through Function Key (FN)
Connectivity: Wired, 2.4 GHz, Bluetooth 5.1
Charging: Support Wired charging
Battery: 2000mAh
Battery Life: 73hrs (LED Off)
Compatible OS: Windows 8+, Mac OS X 10.10+, Android, iOS
Software Support: Cooler Master MasterPlus+
Keyboard Cable: 1.8m, USB Type C to Type A, Detachable & Braided
Wrist rest: Cloth/SBR, 334 x 95 x 18 mm
Keyboard Dimensions (L x W x H):
- Standard: 334 x 118 x 37 mm / 13.15 x 4.65 x 1.46 inches
- With 1st stage feet open: 334 x 118 x 43 mm / 13.15 x 4.65 x 1.69 inches
- With 2nd stage feet open: 334 x 118 x 46 mm / 13.15 x 4.65 x 1.81 inches
Keyboard Weight: 764g / 1.68 lbs (without Cable & Dongle)
Warranty: 2 years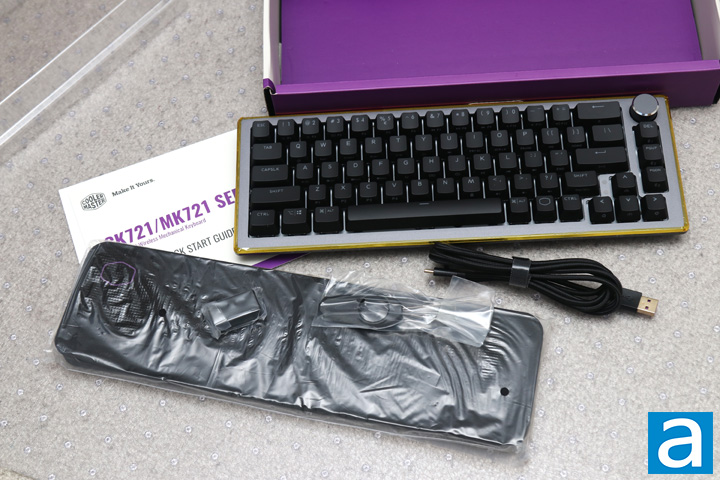 Out of the box, you can see the Cooler Master CK721 covered by a hard plastic shell on the top. Other accessories include a foam wrist rest, wire keycap puller, braided USB Type-C to Type-A cable, and a wireless extender. Otherwise, you might be wondering why there is a yellow rim around the CK721. This is just protective tape to ensure the finish on this side does not get scuffed. Finally, some documentation for quick start and warranty information is included in the box. For your information, Cooler Master covers their peripherals for two years.
---
Page Index
1. Introduction, Packaging, Specifications
2.
A Closer Look - Hardware and Software
3.
Conclusion