By: Jonathan Kwan
February 4, 2022
Over the summer, I was hanging out at McDonald's at night with a group of friends when one of them asked me, in a not exactly quiet voice, if two people in our group were dating. I do not believe the guy heard what my friend said, but the girl certainly did as she turned around and gave me a death glare. I am pretty good friends with her, and I think the death glare was more than enough to communicate some message. Therefore, I looked back at my friend who asked the question and just laughed. "Do you think she has a boyfriend?" Just to clarify, the two of them were not dating or even interested in each other, and I also got a solid punch on my arm from the girl as a result of that response. I probably could have just answered no, but either way, my message was accurately communicated. It seemed the girl wanted me to clarify that her and the guy were not dating without me poking fun at her, but can we really have the best of both worlds all the time? Over the years, we have reviewed many mechanical keyboards here at APH Networks, which ranges from large feature-loaded keyboards with an optional display like the Corsair K95 RGB Platinum XT to budget compact models like the Kitcom NK60T. But what if you want a premium mechanical that has the best of both worlds, minimum in size and maximum in features? Cooler Master has a lineup for you. The SK-series has been well-received on this website since 2019 with its low-profile design and feature-loaded models. Today, we have yet another model from the lineup, the SK653. The SK653 is a full-size version of the SK622 that features TTC KS32 switches and standard low-profile keycaps. Will it be a worthy successor to the SK650? Read on to find out!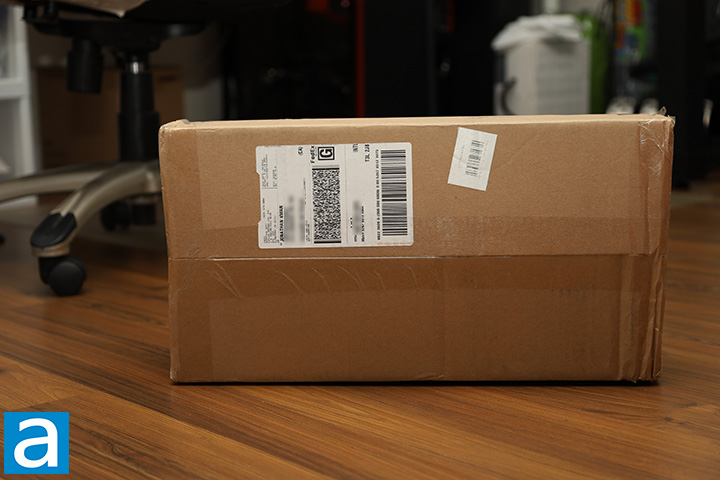 Our review unit of the Cooler Master SK653 came in a medium-sized, brown corrugated cardboard box from Cooler Master's American offices in Claremont, California, USA. Using FedEx International Ground, the keyboard arrived safely to us here in Calgary, Alberta, Canada for our review today. It came along with the MM731 mouse, which will be reviewed by my colleague Aaron Lai.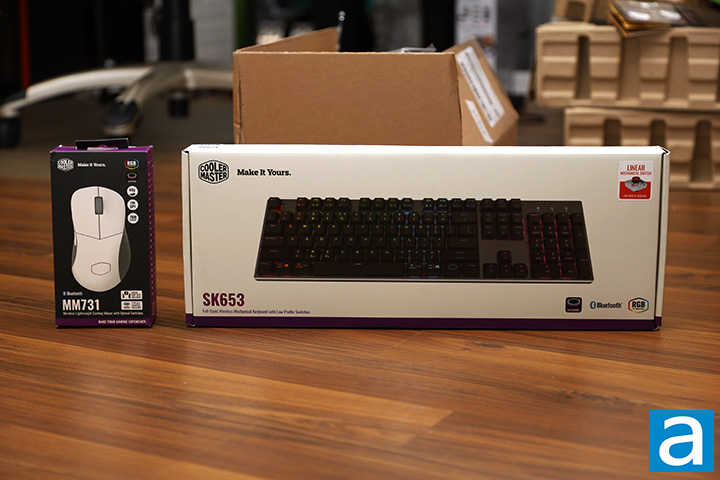 The retail box design for the Cooler Master SK653 is quite literally identical to the last Cooler Master keyboard I reviewed, the SK622, with the obvious exception of the name of the product. The white background is complemented by mainly black text for maximum contrast along with a burst of purple to help you remember who made it. Cooler Master's logo and slogan is at the top left corner, backlight-activated image of the keyboard is printed across the center, and the model name and product description are located at the bottom left corner. On the opposite corner, three icons indicate its MasterPlus+ software, Bluetooth connectivity, and RGB backlighting. Our particular unit has low profile TTC red switches. Feature highlights can be found on the remaining sides of the box.
Before we move on, let us take a look at the specifications of the Cooler Master SK653, as obtained from the manufacturer's website:
Product Number: SK-653-GKTR1/L1/M1-**, SK-653-SKTR1/L1/M1-**
Keyboard Switch Type: TTC Low Profile Mechanical Switch (Red/Blue/Brown)
Keyboard Keycaps: Ergonomic Low Profile Keycap
Keyboard Material: Aluminum, Plastic
Keyboard Color: Gunmetal Gray, Silver White
Keyboard LED Color: RGB
Keyboard Polling Rate: 1000Hz (Wired Mode), 125Hz (Bluetooth Mode)
Keyboard Response Rate: 1ms
Keyboard On-board Memory: Yes
On-the-fly System: Yes
Keyboard Multimedia Key: Through Function Key (FN)
Wireless Connectivity: Bluetooth 4.0
Battery: 4000mAh (2000mAh × 2)
Compatible OS: Windows 8+, Mac OS X 10.10+, Android, iOS
Software Support: Cooler Master MasterPlus+
Keyboard Connector Cable: USB Type-C (Keyboard Side), USB 2.0 Type A (Computer Side)
Keyboard Cable: 1.8m, USB Type-C Detachable & Braided
Keyboard Dimensions (L x W x H): 430 x 125 x 25mm
Keyboard Weight: 737g / 1.62lbs
Keyboard Warranty: 2 years
Product: Keyboard
Keyboard Type: Mechanical, Wireless
Disclaimer: *To ensure optimal use of the product, please download the MasterPlus+ Software and update the latest firmware.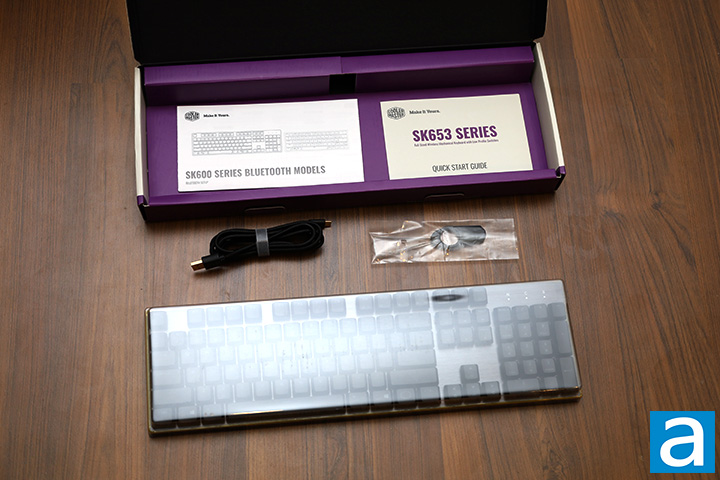 Out of the box, you will receive everything you need plus a few other things that are really nice to have. Securely placed inside the box is the Cooler Master SK653 keyboard itself behind a clear plastic cover, while the keycap puller and USB Type-C to USB Type-A cable is included inside a separate compartment on the side. On the product literature side, you will find a Bluetooth setup guide as well as a quick start guide that shows you what some function key combinations do.
---
Page Index
1. Introduction, Packaging, Specifications
2.
A Closer Look - Hardware and Software
3.
Conclusion