By: Jonathan Kwan
December 24, 2020
It is almost Christmas! Thanks to COVID-19, things are simply different this year. The traditional big holiday gatherings with friends and family is probably going to be replaced with, well, nothing, and I have to say I really miss going to church considering I have not been to a single in-person service since March 15th. Since it has been such a tough year for many, it is so important that we reach out to those around us and help in any way -- whether it is building long lost social connections or being generous whenever we can. In spite of the challenges we have, I noticed many people have put up Christmas lights early to induce a bit of cheer in an otherwise dark year. It brings a glimpse of joy to see neighbors being in the spirit of the season as I look out the window at night to see LED lights of all colors glow behind a gently falling foreground of snow. Maybe it is tradition, maybe it evokes memories of better times, but no matter what it is, I think Christmas lights are quite magical. In any other season, many people also find multi-color LEDs to be also magical, hence many products other than Christmas lights are equipped with RGB LEDs. Today, we got yet another keyboard with full RGB LED backlighting. The Cooler Master SK622 is a 60% tenkeyless Bluetooth mechanical wireless keyboard for those who want minimal size with maximum features. What has changed since last year's SK621? Read on to find out!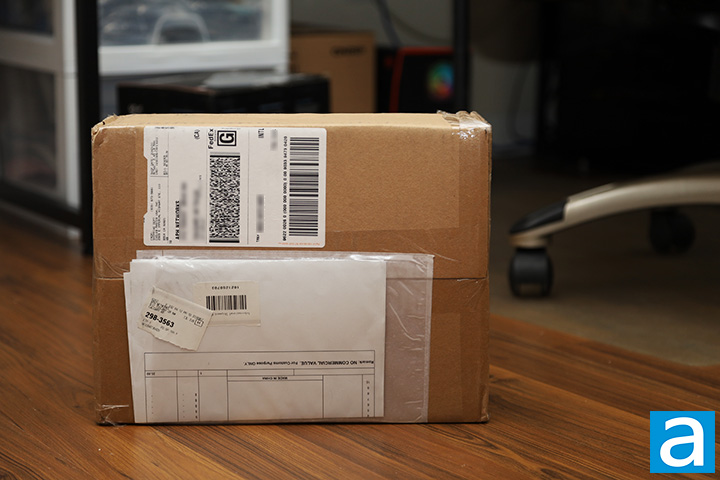 Our review unit of the Cooler Master SK622 came in a medium-sized, brown corrugated cardboard box from Cooler Master's American headquarters in Brea, California, USA. Using FedEx International Ground, the keyboard arrived safely to us here in Calgary, Alberta, Canada for our review today. It is generally quite rare to only one product in a Cooler Master shipment, but you will see in the coming weeks we got tons of other gear in a second box from the company to review.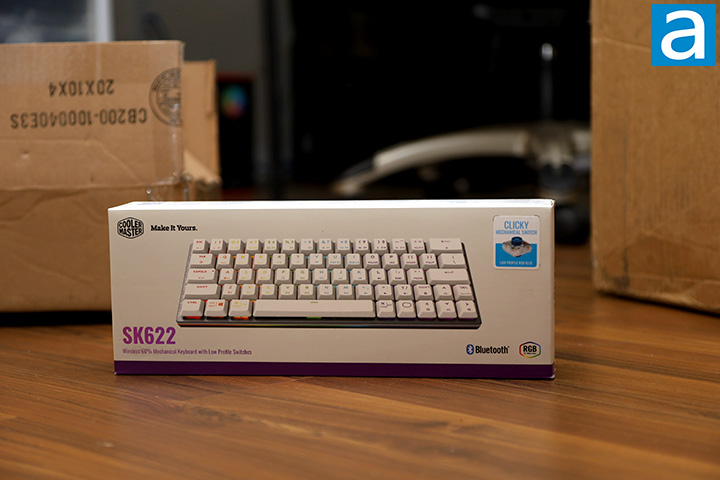 The retail box design for the Cooler Master SK622 is quite literally identical to the SK621, with the obvious exception of the name of the product. The white background is complemented by mainly black text for maximum contrast along with a burst of purple to help you remember who made it. Cooler Master's logo and slogan is at the top left corner, backlight-activated image of the keyboard is printed across the center, and the model name and product description are located at the bottom left corner. On the opposite corner, two icons indicate its Bluetooth connectivity and RGB backlighting. Our particular unit has low profile TTC RGB blue switches. Feature highlights can be found on the remaining sides of the box.
Before we move on, let us take a look at the specifications of the Cooler Master SK622, as obtained from the manufacturer's website:
Product Number: SK-622-SKTR1-**, SK-622-SKTM1-**, SK-622-SKTL1-**
Keyboard Switch Type: Low Profile Mechanical Switch (Red/Blue/Brown)
Keyboard Keycaps: Ergonomic keycap
Keyboard Material: Aluminum, Plastic
Keyboard Color: White
Keyboard LED Color: RGB
Keyboard Polling Rate: 1000 Hz (Wired mode), 125 Hz (BT mode)
Keyboard MCU: 32bit ARM Cortex M0
Keyboard On-board Memory: 512 KB
On-the-fly System: Yes
Multimedia Keys: Through FN
Compatible OS: Mac OS X 10.10+/iOS 5+/Android 3.2+/Windows 8 and above
Software Support: Cooler Master MasterPlus+
Wireless Connectivity: Bluetooth 4.0
Battery: 4000mAh (2000mAh × 2)
Keyboard Connector Cable: USB Type-C (Keyboard Side), USB 2.0 Type A (Computer Side)
Keyboard Dimensions (L x W x H): Standard: 293 x 103 x 30.28 mm, Feet Open: 293 X 103 X 43.03 mm
Keyboard Weight: 446g / 0.983lbs (without cable)
Warranty: 2 years
Product: Keyboard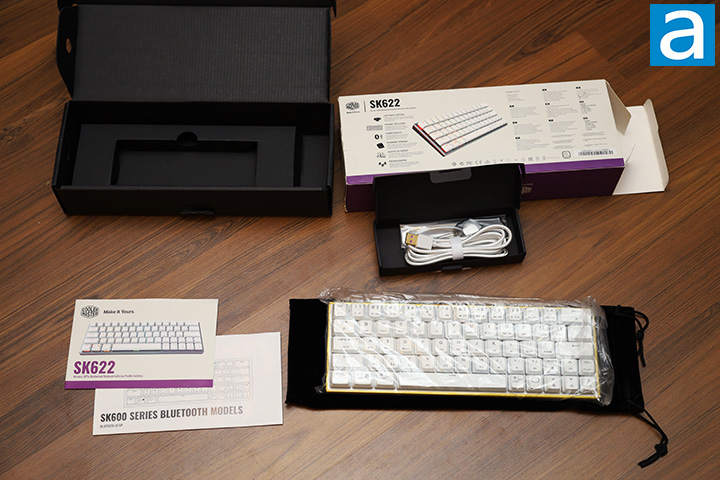 Out of the box, you will receive everything you need plus a few other things that are really nice to have. Securely placed inside the box is the Cooler Master SK622 keyboard itself contained in a classy suede drawstring bag, while the keycap puller and USB Type-C to USB Type-A cable is included inside a separate small box at the bottom. On the product literature side, you will find a Bluetooth setup guide as well as a quick start guide that shows you what some function key combinations do.
---
Page Index
1. Introduction, Packaging, Specifications
2.
A Closer Look - Hardware and Software
3.
Conclusion