By: Ben Joubert
October 26, 2018
I first got introduced to computers and gaming through my cousin. The first PC game I played was DotA on Warcraft III Frozen Throne. I think of this introduction as the reason I am into computers still to this day and it has sucked up countless hours of PC building and video games. It also launched countless LAN parties, where my friends and I would squeeze a bunch of computers onto small desks and play for hours. We were able to fit five computers on two desks, which is really a bigger feat than it sounds. The main issue we ran into was fitting the mousepads in and having enough room to move our mice around. None of us had any fancy or impressive gaming keyboards or mice and definitely no RGB at the time. We had some of these mousing surfaces, but they were relatively small. Some of my friends had hard surfaces, which made fitting everything even harder. The cloth pads at least could be slid under a keyboard or under a monitor to make some extra room. However, the larger and harder ones were difficult to accommodate for. In the end, we just had to switch things around or get some alternatives for the gaming session. In my own experience, I have always preferred cloth mousepads for their smooth glide and flexibility. But today we have something a little bit different. The Cooler Master MasterAccessory MP860 features a cloth side and an aluminum side with some RGB LEDs. It is a thicker surface than usual and has a hard plastic construction. There is more to the MP860 than meets the eye, so keep reading to find out!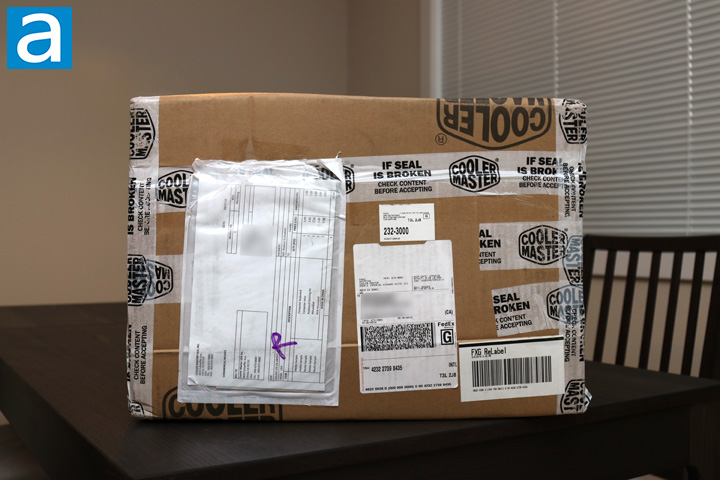 The Cooler Master MasterAccessory MP860 arrived to us in a medium sized box. It traveled via FedEx Ground all the way from Brea, California, which is where Cooler Master's offices are located. FedEx did an excellent job in ensuring the shipping package was in pristine condition for how far it has traveled. There was barely any damage to the edges and even the corners were not extensively damaged; only some slight denting to the bottom left. Inside, Cooler Master has shipped us plenty of their peripherals, including the CK550, MasterMouse MM531, and MasterAccessory MP510-L. All of these have been reviewed in the past couple of weeks by myself and colleague Aaron Lai.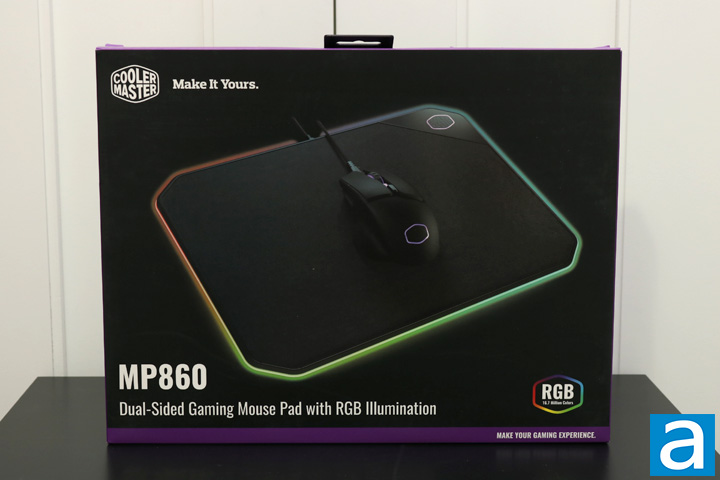 The retail box of the MasterAccessory MP860 has the same art style as the rest of the products we have recently reviewed from Cooler Master. An image of the product is located in the center with a black background and a purple bar is found somewhere on the front. As well, the purple color is continued on the sides and the back of the box. In big white lettering, we find the name and a brief description of the product. Furthermore, the gaming seal stamp of approval is located in the bottom right, in the form of the RGB functionality. The rest of the packaging is straightforward, including some extra information on the back.
Before we move on, here are the specifications as obtained from the manufacturer's website:
Specifications
Product Name: Masteraccessory MP860
Model Number: MPA-MP860-OSA-N1
Material: Cloth / Plastic / Anodized Aluminum / Rubber
Color: Black
LED Color: RGB, 16.7 million colors
Number of LEDs: 19
Software customization: Yes
Software synchronization: Yes
On-the-fly controls: No
Surface Dual sided: Cloth / Aluminum
Connectivity: USB
Cable Length: 1.2m
Dimensions: (mm/inch) (L x W x H) 360* 260*6 to 10mm (front to rear)
141.7*102.4*2.4-3.9inch
Warranty: 2 years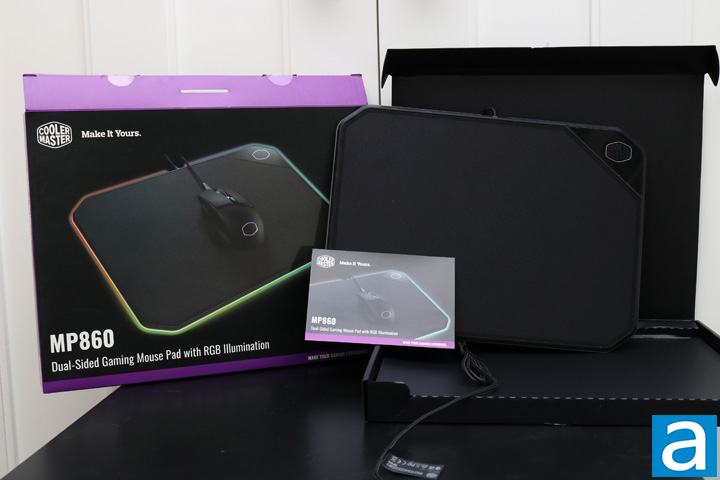 The packaging of the Cooler Master MasterAccessory MP860 is quite simple. The outer box is thin and contains another box which houses all the components. Inside, we find the mousepad, which has plastic coverings to prevent any surface damage. Otherwise, we find a small manual indicating where to download software and how long the warranty lasts. There was not much else in the packaging, but it did its job in keeping the product safe.
---
Page Index
1. Introduction, Packaging, Specifications
2.
A Closer Look
3.
Subjective Performance Tests
4.
Conclusion