By: Aaron Lai
March 13, 2020
Have you ever been walking around and minding your own business when a random song or jingle starts replaying in your head? It can be pretty annoying, especially for those around you when you just start humming it. Everyone else might tell you to stop as it will get stuck in their head too, but it seems like getting out of your system is necessary. According to psychologists, these are known as earworms, and they often have a common sound signature in its tempo and melodic shape. Music can often get stuck in your heads just based on the fact it is catchy or you listen to it often. Sometimes, this effect is worsened when the music does not play all the way through, so instead it just keeps replaying in your mind without resolution. On the other hand, marketing and advertisement teams in companies also used this sort of phenomenon to create jingles for people to remember and relate to a product or service. When I was younger, I used to wake up to radios and I often heard random advertisements in my waking process. Unfortunately, these are now embedded in my brain and I can recall these jingles on a whim. Personally, I think the best way to get rid of earworms are to just listen to other music to override your memory of it. Today we have the Cooler Master MH670, a wireless gaming headset that can be used away from your desktop computer. Its main purpose may not be for music listening, but how does it perform in both music and gaming situations? Let us read on to find out!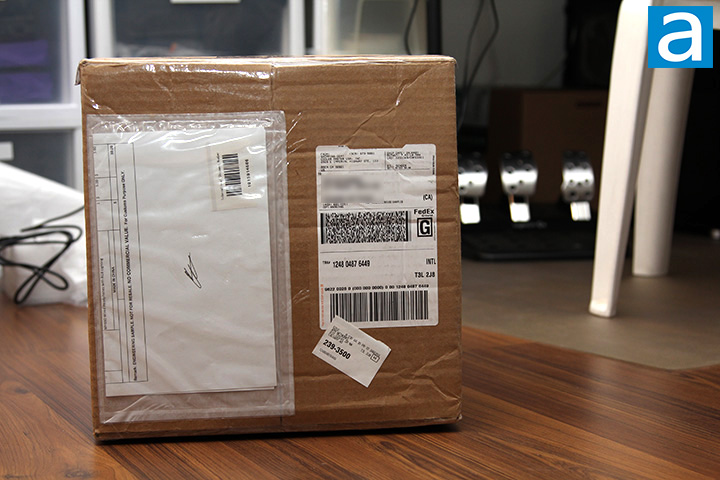 Today's review unit of the Cooler Master MH670 arrived in a brown corrugated cardboard box, travelling with FedEx and their Ground service. Journeying from Brea, California, this box arrived at our APH Networks offices in Calgary, Alberta, in pretty good condition. There are no bruises or dents to be really concerned about, which is good to see. In addition to the review unit of the MH670 we have today, we also have several other Cooler Master products that will be reviewed by several of our editors in the following weeks. We also have several plastic pockets to ensure everything arrived protected and also without dents.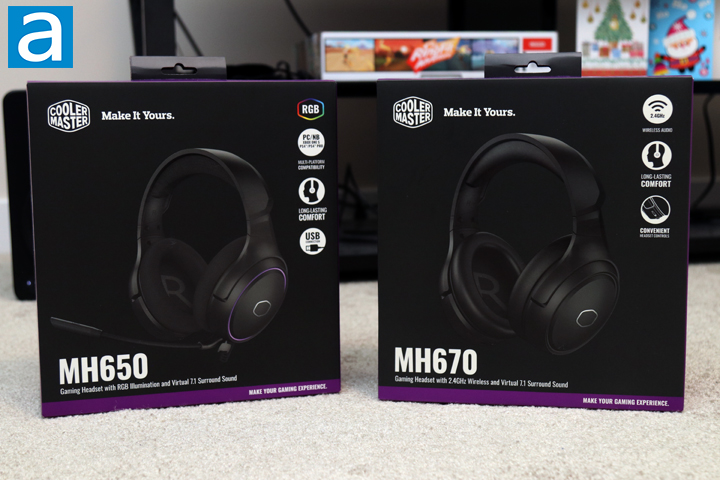 Cooler Master continues their black and purple theme with their MH670 retail box. From the front of both of these boxes, you can see the headset in full view. Cooler Master's logo and tagline are on the top left corner, while the bottom left side shows the MH670 name and description of "Gaming Headset with 2.4GHz Wireless and Virtual 7.1 Surround Sound". Three primary features on the side including its wireless nature, a comfortable design, and a convenient location for headset controls. We will see what these mean as we continue to dive in our review. Around the back, we have more features and specifications, listed in different languages.
Before we continue on, I have grabbed the specifications from the manufacturer's website for your perusal:
PRODUCT NUMBER: MH-670
HEADPHONE DRIVER DIAMETER: 50mm
HEADPHONE FREQUENCY RESPONSE: 15-25,000Hz / 3.5mm mode, 20-20,000Hz / 2.4G mode
HEADPHONE IMPEDANCE: 32Ω
HEADPHONE SENSITIVITIES (@1KHZ): 110dB ± 3dB
HEADPHONE INPUT: Maximum 150mW
HEADPHONE CABLE LENGTH: 1.5m 3.5mm to 3.5mm cable, 1.2m micro USB Charging cable
HEADBAND MATERIAL: Steel and plastic headband, PU leather and foam cushion
HEADPHONE EAR CUSHION MATERIAL: PU Leather
MICROPHONE PICK-UP PATTERN: Omni-Directional
MICROPHONE FREQUENCY RESPONSE: 50-18,000Hz
MICROPHONE SENSITIVITIES: -40 ± 3dB (@ 1KHz)
MICROPHONE SIGNAL TO NOISE RATIO: 50dB or more
MICROPHONE TYPE: Detachable flexible microphone
VOLUME CONTROL: Up/Down Buttons (on Headset control)
MICROPHONE CONTROL: mute switch
VIRTUAL 7.1 SURROUND SOUND: On/off switch button
POWER MODE CONTROL: On/off switch button
DIMENSIONS (L X W X H): 192 x 85.5 x 191.5 mm / 7.59 x 3.37 x 7.54 inches
WEIGHT: 373g / 0.82 lbs (Inclusion 3.5mm Cable), 346.5g / 0.76 lbs (Without Cable)
WARRANTY: 2 years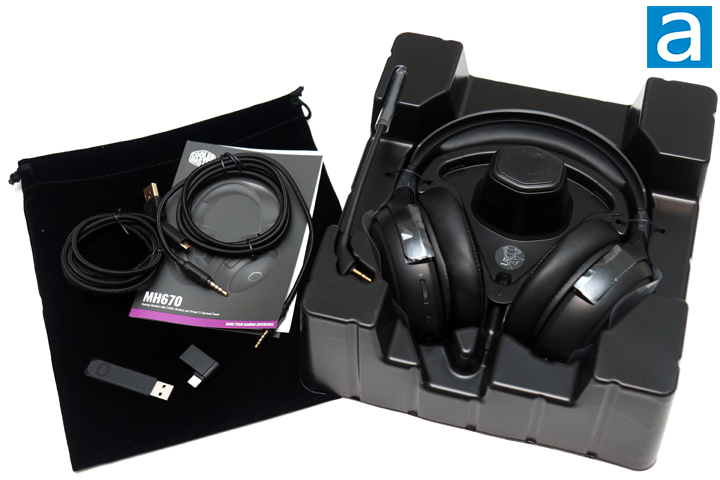 Like a lot of other headsets, the Cooler Master MH670 is packaged in a plastic shell, with inserts for the headset and the other accessories. Cooler Master includes a large felt carrying case, which is really great to see as not every manufacturer does this. Other accessories will be covered later on in our review. Otherwise, you can see Cooler Master has used quite a bit of plastic wrap on various elements of the headset to protect the surface from scratches while it is in transit. Some documentation is included, which overviews some quick setup instructions, as well as warranty information. Speaking of which, Cooler Master offers two years of warranty with their peripherals, which is pretty standard nowadays for warranty length.
---
Page Index
1. Introduction, Packaging, Specifications
2.
Physical Look - Hardware and Software
3.
Subjective Audio Analysis
4.
Conclusion