Page 2 - Physical Look - Hardware and Software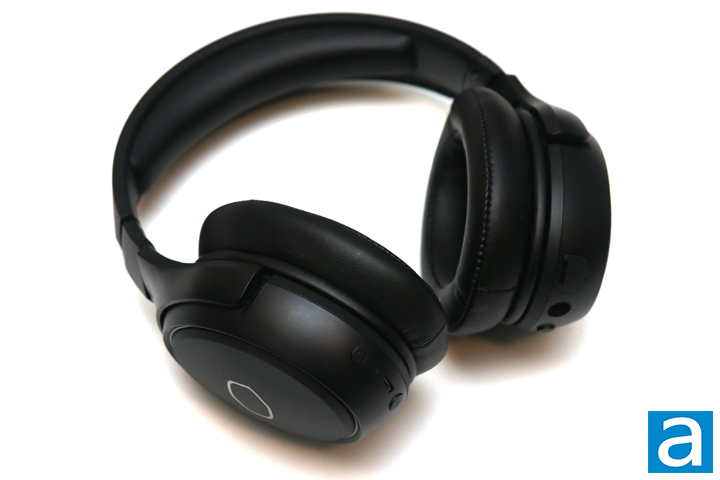 When we looked at Cooler Master's last set of headsets, their MH751 and MH752, I praised both for their conservative design that looks great in both gaming and daily use. As such, I am quite pleased to see that Cooler Master has kept this same formula of its conservative, minimalistic design with the Cooler Master MH670. As such, we still have the same all-black finish all around with the exception of the Cooler Master outline on each side of the ears. There are no other colors here, nor are there any physical elements that seem extraneous. One thing that I do miss is the wrapped PU leather top. Instead, we have just an exposed plastic frame headband. I think this is one of the small changes that looks more like a headset for computer usage instead of for daily media consumption. Overall, Cooler Master has still done a great job in designing a clean headset for all users. As for materials, you can see everything has the same hard plastic exterior, minus the soft touch feel on some of the surfaces. The headband and the ear cups are covered in polyurethane leather, while the internal frame and extending arms are built with steel. Everything is held together well with no creaking or unwarranted noises under pressure, which makes me think this is another well-built headset.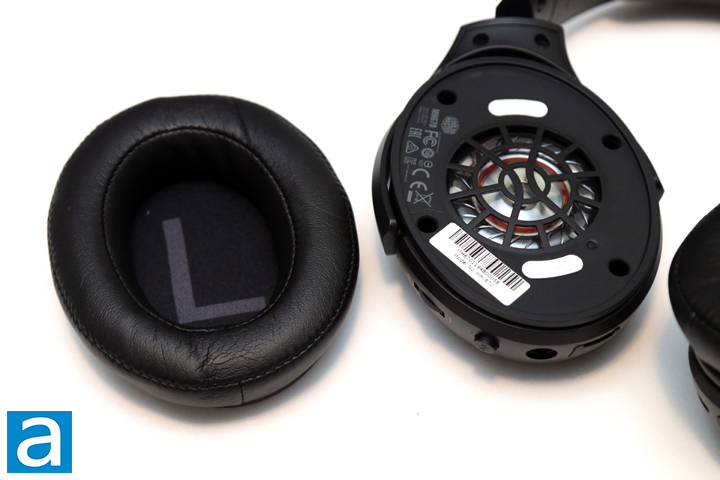 Starting at the ears, the cups are wrapped in polymer leather with an adequately thick amount of foam. The foam has a sufficient amount of give to be comfortable without collapsing. The Cooler Master MH670 ears are oval to fit most ears. Under the leather, we have a thin fabric marked with L and R to indicate to users which side goes on your ears. This thin layer also prevents users from feeling the plastic frame underneath. At the heart of the MH670, under the thick ear cups, are the 50mm neodymium drivers. According to Cooler Master, these drivers offer a maximum frequency response range of 15Hz to 25kHz when it operates in the wired mode, which more than covers the audible frequency for humans. However, this range drops to 20Hz to 20kHz when it operates wirelessly. They also have an impedance of 32 ohms and a sensitivity of 110dB. Otherwise, the ears sit between two arms that allow them to tilt about to fit to your head. They can rotate around and be turned so that they rest flat if you wear the headset around your neck.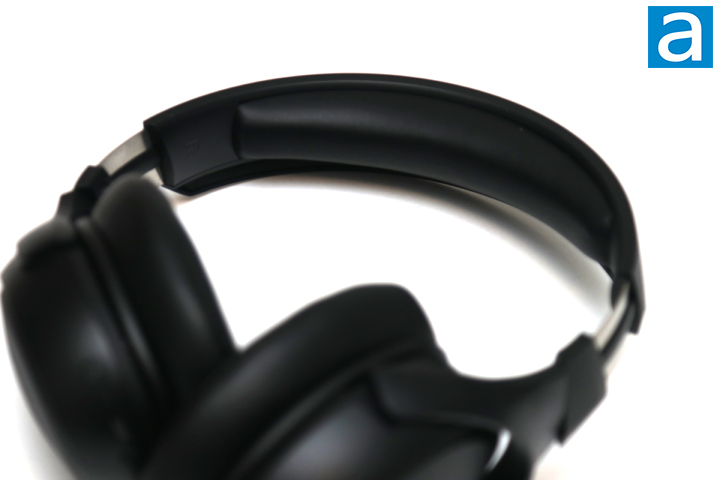 Moving up, you can see the arms that extend out so that you can adjust the size of the Cooler Master MH670 when it is on your head. They do not have any visible marks as to how far they extend out, but they are at least notched so you get a physical feel when it is increased in size. As mentioned previously, the rest of the headband is plastic with an internal steel frame. At the top we have a thick amount of foam covered in PU leather. It is comfortably thick and offers a good amount of cushioning to ensure the rest of the plastic enclosure does not touch your top of your head. It also reduces the amount of pressure that you may feel at the top.
In terms of overall comfort, the Cooler Master MH670 is a comfortable headset to wear. They put in a sufficient amount of foam on both the ears and the headband to keep this gaming headset comfortable. Its clamping pressure is adequate without being a nuisance, as the headset is quite secure but also easy to wear. Even so, after a while I did experience a bit of fatigue while wearing this headset. This was mostly from the pressure at the top of the headband and this is a result of the weight of the headset. At 347g, the Cooler Master MH670 is carrying not only the audio elements of any pair of headphones, but also the batteries and wireless components to hold in the headset.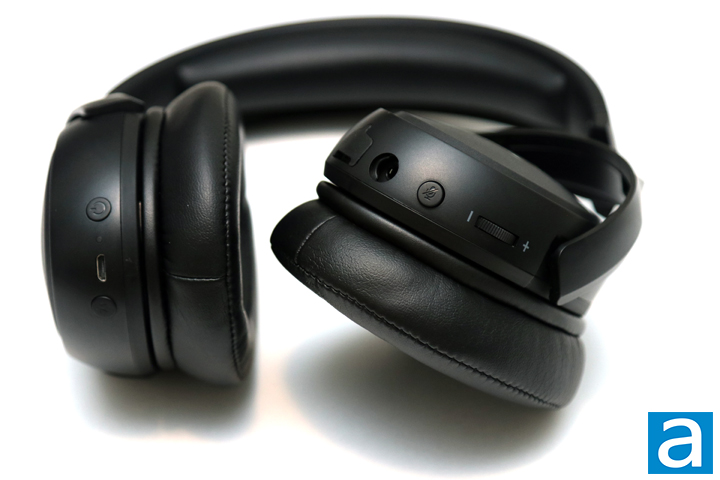 At the bottom of the headset are where a handful of useful controls and inputs exist for the Cooler Master MH670. Starting on your left ear, which is the right side of the photo, you have a volume scroll wheel, microphone mute button, and two openings for the included 3.5mm audio cable and microphone. The volume wheel allows you to adjust the volume independent of the system it is plugged into, and offers enough resistance so that it does not move when you brush your hand against the headset. The microphone mute button is a push button that stays recessed when it is muted. You will also hear an audio feedback when you mute or unmute and a visual feedback with a flashing indicator LED on the other ear. The circular opening for the 3.5mm audio jack is available for use if you want to use the MH670 in a wired configuration. It features a locking solution in a twist motion to ensure the cable does not accidentally unplug. Meanwhile, the microphone hole is covered by a rubber flap that opens up when you want to use it. I would have preferred to see the rubber flap on the audio jack as well for when you are using the headset in a wireless manner. On the right ear, you have two buttons flanking around a micro USB port. The first button closer to the back is marked "7.1" which refers to the switch used for activating the virtual 7.1 surround sound. The other button is a power button to turn on and off the MH670. One thing I find a bit strange is the usage of micro USB for charging. I would have much rather seen the newer USB Type-C port here, especially as it could open up other opportunities for faster charging.
As for Cooler Master's wireless capabilities, I have used several wireless gaming headsets in the past, and they all have had average battery life or iffy range. On the other hand, the Cooler Master MH670 brings both to the table with excellent battery life and wireless range. I am not sure what the capacity of the internal battery is, but in daily usage I was able to easily get twenty hours of charge before needing to plug it in for a recharge. Recharging the headset takes around two to three hours, but the headset can also be used while it is plugged in. As for its wireless range, I personally could walk quite a bit away from my computer, even down a floor, without dropping my signal. Cooler Master has nailed their wireless experience with the MH670, which is great to see.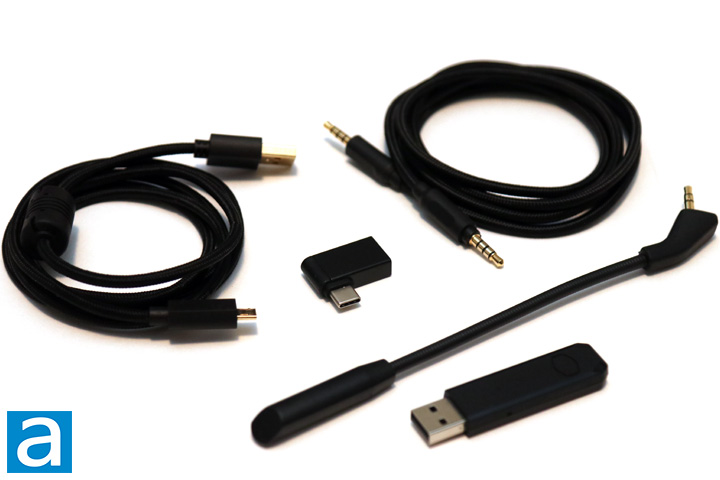 From here, you can see all of the accessories included with the Cooler Master MH670 in addition to the mesh bag we mentioned previously. From left to right, we have the 1.2m micro USB to USB cable. It is braided with a large ferrite bead in the cable. It is gold-plated, though this is for design rather than any performance. I do like that they have used the Cooler Master purple inside the connector to reference back to the theme colors, though once again, this is just for appearances. Next, we have a ninety-degree angle USB Type-C to USB to connect your headset to your phone or even your Nintendo Switch. While it is supposed to work, I had some difficulty getting music to transmit out from my console, but my phone worked fine. Next, we have a 1.5m 3.5mm audio cable to connect with a wire. Below the cables and adapters is the detachable microphone that connects via a 3.5mm jack to the left cup of your MH670. This omnidirectional microphone is pretty similar in design to the one included in previous Cooler Master headsets. As such, we still have the excellent bendable arm that is rigid enough to stay in place while also flexible enough to bend about. This microphone has a frequency response of 50Hz to 18kHz, which covers quite a wide range of the audible frequency range. It has a SNR of 40dB and a sensitivity of -40dB. Finally, we have a USB wireless adapter to be used with the Cooler Master MH670. It transmits over 2.4GHz frequency. The adapter itself has a small pinhole for an LED underneath to shine through. This is green when the Cooler Master MH670 is powered on and connected, and red when no headset is connected.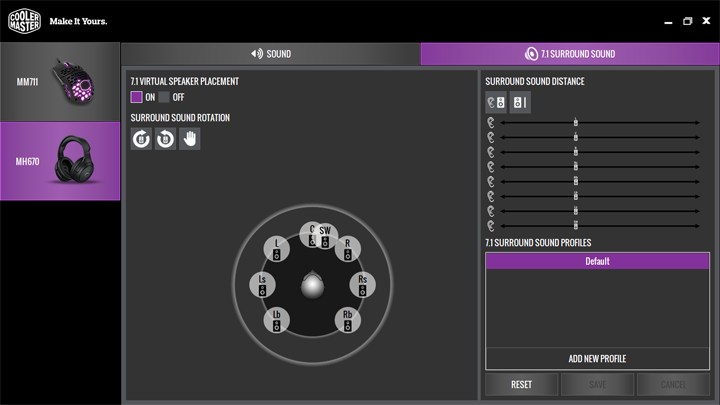 The Cooler Master MH670 utilizes the same software as their other recent peripherals, such as their MM711 mouse. This is called MasterPlus and it can be downloaded directly from Cooler Master's website. It will automatically detect all of the supported Cooler Master products connected, as you can see above.
The software experience for MasterPlus is pretty straightforward with configuration and settings for the Cooler Master MH670 split into two tabs. The first tab is marked Sound. This area lets you change the different levels for volume and microphone as well as set equalizer settings for your headphones. You can save them into a profile for quick recalling. The second tab is marked 7.1 Surround Sound, which lets you configure the virtual surround experience. When it is active, you can change the perceived location of the seven virtual tweeters as well as the single virtual subwoofer. You can also rotate the orientation about. Overall, it is pretty neat to see this, and those who would like to tinker with it are given the opportunity to. Otherwise, I do not have any complaints about the MasterPlus utility, as it is an intuitive application to use.
---
Page Index
1.
Introduction, Packaging, Specifications
2. Physical Look - Hardware and Software
3.
Subjective Audio Analysis
4.
Conclusion