By: Aaron Lai
May 12, 2023
A couple of weeks back, my girlfriend and I were exhibitors at Calgary Expo for her booth. It was a pretty busy weekend with crowds of people. There were many different people in cosplays walking around, which was a sight to behold. It was also pretty cool to see the actor Hayden Christensen, who played Anakin Skywalker, in person. However, the most pleasant outcome was really seeing the sales progression, especially in comparison to the previous year's convention. There was quite a bit of work to get to the weekend, but at the end, we saw an increase in overall revenue and number of customers. My girlfriend worked on expanding the product lineup, including more deskmats, new sticker collecting albums, and more stickers. For me, I think it was a good encouragement to her, at least to keep going since her shop was following a trend in the right direction. I could tell you that the store was clearly improving as we had been at more markets throughout the past year, but this was the first direct comparable from the previous year. I think sometimes it can be hard to really see the progress until you look back and specific landmarks and compare. In a similar way, we have seen many of Cooler Master's mice, but the one that I have still always gone back to is the MM711 for its comfortable shape and its light weight. Today, we have what seems to be the most direct upgrade in the form of the Cooler Master MM712. What sort of differences can we expect from this mouse? Will we see a positive progression? Let us read on to find out!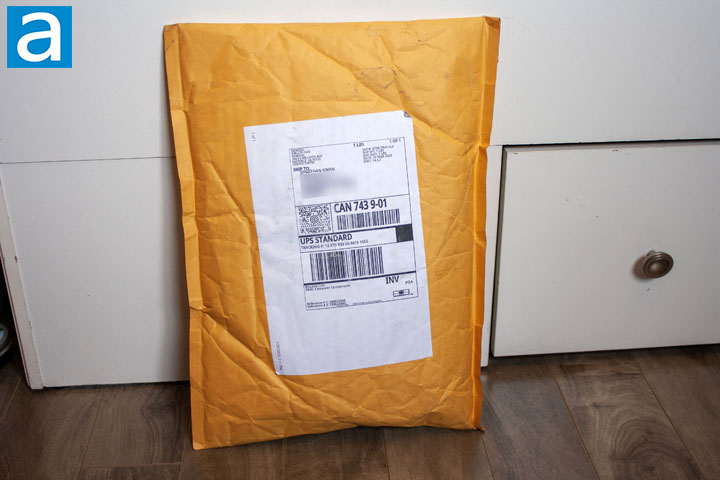 Today's review unit of the Cooler Master MM712 did not ship from Cooler Master but rather through one of Newegg's distribution warehouses. Traveling with UPS and their Standard ground service, this goldenrod padded envelope traveled from Eastvale, California to our offices here in Calgary, Alberta. The envelope is in average condition with notable creases all around. There are no holes or scratches, which is a good thing, but we cannot really see how safe our MM712 is until we get into the envelope, so let us carry on.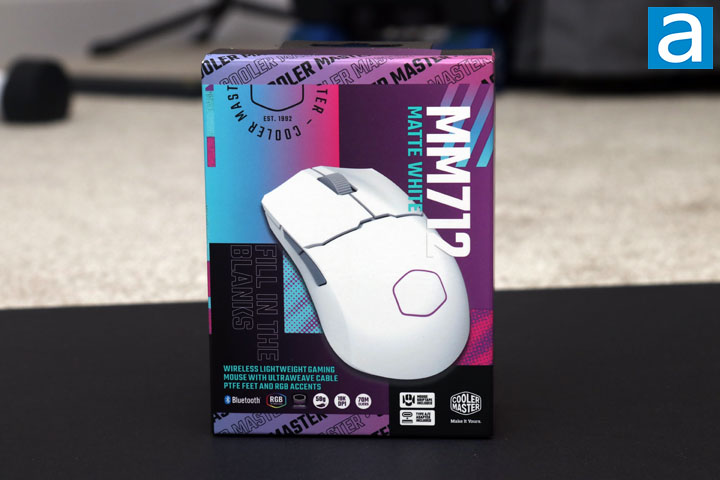 Thankfully, out of the box you can see the Cooler Master MM712 arrived in excellent condition. From this box design, you can see the updated Cooler Master aesthetic with a mix of teal to purple gradients plus a lot of branding seen around the box. The mouse is displayed scaled down in the middle of the front panel while the product name is shown down the right side. As you can see, Cooler Master sent us their Matte White finish, although a Matte Black is also available at the time of the review. Underneath, you can see a tagline of "Wireless lightweight gaming mouse with Ultraweave cable, PTFE feet, and RGB accents". Above it is another line which says "Fill in the blanks", which will be understandable once we take a closer look at the mouse itself. Otherwise, some specifications can be found in a smaller logo on the front, including the fact we have Bluetooth support, RGB lighting, MasterPlus+ compatibility, light 58g weight, 16k DPI, and primary switches with a 70M click endurance. Around the box, we have some more features highlighted, but there is not much else.
Before we continue, I have grabbed the specifications from the manufacturer's website for your viewing pleasure:
Product Number: Black: MM-712-KKOH1, White: MM-712-WWOH1
Mouse Grip Type: Palm, Claw
Material: ABS Plastic, Rubber, Plastic
LED Color: RGB, 16.7 million colors
Mouse Sensor: PixArt Optical Sensor
CPI / DPI: 400-800-1200(Default)-1600-3200-8000-19000
Mouse Tracking Speed: 400 ips
Mouse Lift Off Distance: < ~2mm / Adjustable
Mouse Polling Rate: 2.4GHz/Wired Mode: 1000 Hz, BT Mode: 125 Hz
Angle Snapping: Yes
Mouse acceleration: 50g
Mouse Lifespan (L/R switches): Optical Switches, 70 Million
Mouse Buttons: 6
Connectivity: Wired, 2.4 GHz, Bluetooth 5.1
Battery Capacity: 500mAh
Battery Life: Bluetooth Mode: 180hrs (with LED Off), 2.4GHz Mode: 80hrs (with LED Off)
Charging: Support Wired charging
Compatible OS: Windows 8+, macOS, Android, iOS
Software: Yes, Cooler Master MasterPlus+ Support
Mouse Cable: Detachable Ultraweave Cable, 1.8 M (Type-C to Type-A) with Gold-plated
Mouse Dimensions: 116.5 x 62.4 x 38.3 mm / 4.587 x 2.457 x 1.508 inches (L x W x H)
Mouse Weight: < 58g / 0.13 lbs (w/o Dongle & Cable)
Mouse Warranty: 2 years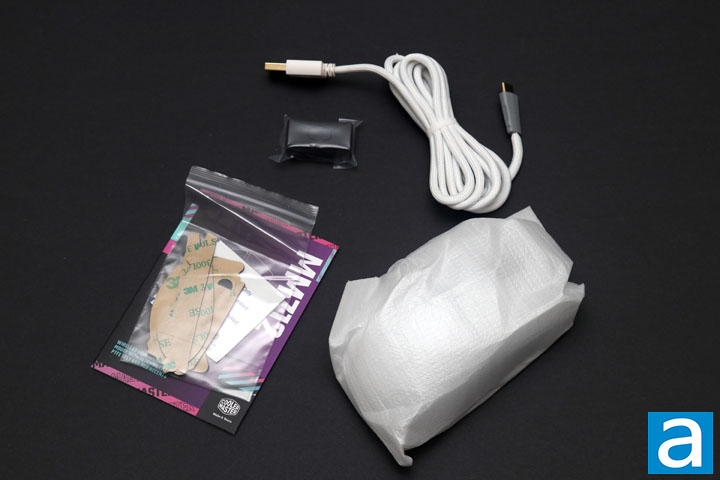 Out of the box, the Cooler Master MM712 is found wrapped in a foam pouch. We also have a 1.8m USB Type-C to Type-A cable, USB Type-C to Type-A adapter, some grip tape, and a small amount of documentation. Everything is packaged internally to keep the mouse safe, which is good to see.
---
Page Index
1. Introduction, Packaging, Specifications
2.
A Closer Look - Hardware and Software
3.
Subjective Performance Tests
4.
Conclusion