By: Aaron Lai
October 3, 2014
Much like Guest Writer Brian Cheung's family, I too have been looking at purchasing a car. If you have read the Behind the Scenes profile page, you will know I have been driving a Chevrolet Cobalt. While this car is not exactly known for its reliability or responsiveness, it has been good enough to get me from Point A to Point B without very much drama or horror. My dream car has always been one of the following: The Chevrolet Camaro, or the Subaru Impreza WRX (Now known as the Subaru WRX). I know my first car will not be either one of these cars, as I am still a student, and I will have other cars to purchase in my lifetime. I was talking with Editor-in-Chief Jonathan Kwan about purchasing my first car, and I mentioned two options that were on my mind: The Nissan Micra, and the Mitsubishi Mirage. Honestly, the only thing that attracted me was the starting pre-tax price of under $10K. At this dollar, you get a box with four wheels and some attractive low fuel consumption. Sure, there are lots of features that are not standard, like power windows, Bluetooth integration, or even air conditioning, but it still is a functionally able car. Since I am still a single guy, I also probably do not need the extra room that comes with larger vehicles. The fact is, some potential car buyers out there are looking for something to just get them to their intended destination. They could buy a used car, but the thrill of having a new one may be on their mind. Similarly, when Cooler Master revealed their CM Storm Devastator keyboard and mouse set, I was a bit shocked at the lack of features. Yes, it is functionally able to get your work done with some gaming on the side, but at the time I questioned if it was really any good. Before I write it off though, I saw the price tag, and then took a second glance. And a third. The Cooler Master Storm Devastator boasts a price of just under $30 for both a keyboard and mouse, and it is one of the few combinations that have flashy LEDs underneath. I had the chance to get a closer look at this and thankfully today, you can too!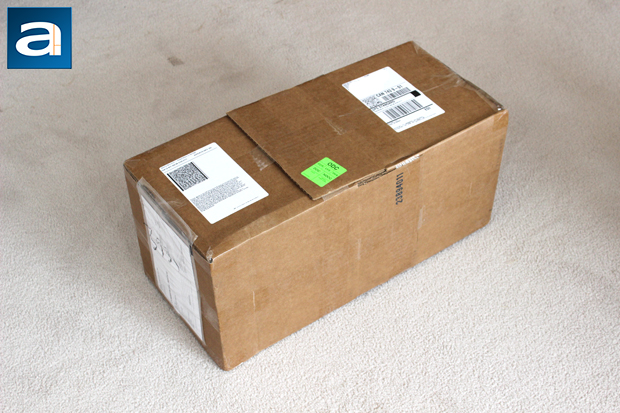 Today's review unit of the CM Storm Devastator arrived via UPS Standard to our headquarters here in Calgary, AB. This unit came from Cooler Master's American offices down in Chino, California. As you may have recalled in the SilverStone Precision PS10 review, Chino is situated in what you might dub the Greater Los Angeles area. Looking at the package sent to us, you might think it is strange Cooler Master did not have a good box to send it in. Rather than sending us a single box, they taped two smaller cardboard containers together, and threw the Cooler Master Storm Devastator inside. You might call this odd, but I think this is quite resourceful, especially if they actually were out of shipment cartons. Luckily, there is no immediate damage to the outside containers, which means UPS did a good job in bringing us our product. I pulled out my scissors, and got to opening up the two boxes.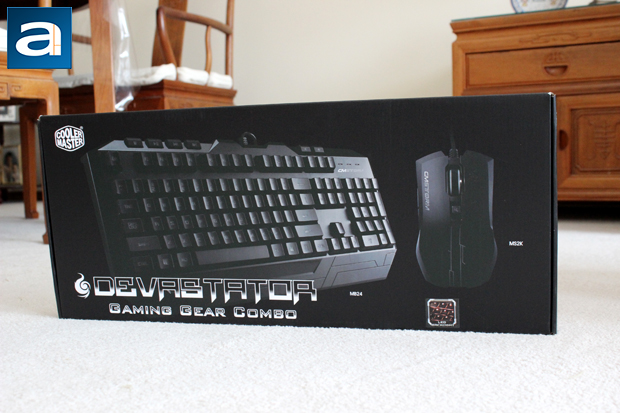 Pulling the Cooler Master Storm Devastator out of the containers, I was quite disappointed to see neither bubble wrap nor packing peanuts. In fact, there was no packing paper either. Fortunately for us none was needed. Here you can see the Cooler Master Storm Devastator's retail box. The majority of the front panel is dedicated to pictures of both the keyboard and the mouse. On the top left side are the Cooler Master and CM Storm logos; the name of the product is located on the bottom left. You can see in smaller print beside each of the products are the model numbers. In case the photos are hard to see, MB24 refers to the keyboard, while MS2K refers to the mouse. Also on the front is a small picture showing this keyboard is LED backlit. The version we have today is red in color, but green and blue versions are also available at the time of the review. Otherwise, on the sides of the boxes are more logos and specifications. The back panel is filled with even more specifications in a bevy of languages. Despite the fact I am Chinese, and I learned French up to a twelfth grade level, I still can only read one of the translations on the back. Good thing I only need one language to still be able to understand the Devastator gaming gear combination.
Now, if you are interested in these specifications, I have pulled out these details from Cooler Master's website for your perusal:
Specifications
Model Number: SGB-3011-KKMF1
MS2K
Interface: USB
DPI: 1000, 1600, 2000 (3 level)
LED backlight: Red
Mouse Dimension (LxWxH): 119.1 x 64.6 x 25.6 mm, 4.7 x 5.5 x 1.4 inch
Mouse Weight: 128 g, 0.28 lbs
MB24
Interface: USB
LED backlight: Full red LED backlight
Shortcut keys: Yes, media & volume adjustments
Keyboard Dimension (LxWxH): 449.7 x 148.4 x 35.6 mm, 17.7 x 5.8 x 1.4 inch
Keyboard Weight: 898 g, 1.98 lbs
Warranty: 2 years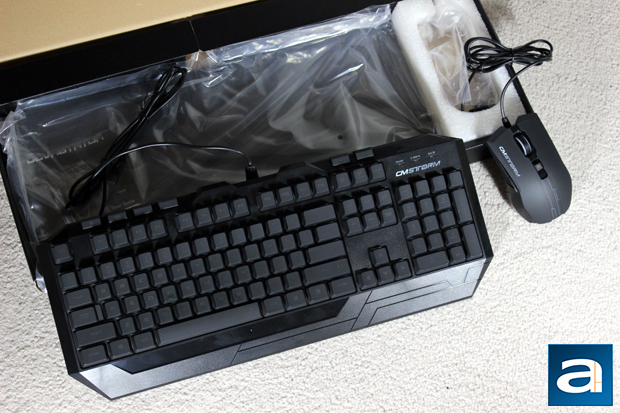 As you have seen above, Cooler Master has utilized a clam-shell or oyster-like design with this the Devastator combination pack, and this is quite similar to the packaging of other keyboards. Crack open the oyster and we can get to the real pearl inside. Both the MB24 and the MS2K are in translucent plastic bags to ensure there are no scratches from external debris. Their cords are hidden behind the cardboard fold at the top and each of their cables are twist-tied. The keyboard also has plastic peel-off parts covering the glossy finished areas, but I will delve into looks later. Otherwise, besides the mouse and keyboard, you can find a small pamphlet about with features, specifications, and warranty information. A standard two years warranty is offered with the Cooler Master Storm Devastator. Let's now take a closer look at the actual products in question today.
---
Page Index
1. Introduction, Packaging, Specifications
2.
A Closer Look - Hardware and Software
3.
Subjective Performance Tests
4.
Conclusion