Page 3 - Subjective Performance Tests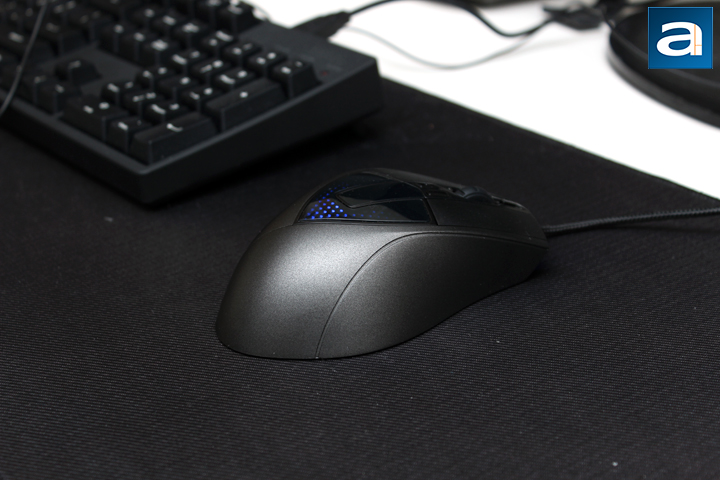 After installing and configuring Cooler Master's software to our liking, we put the mouse through our series of revised standard tracking performance tests. This includes normal office usage in the Windows environment, as well as gaming. Graphics work is done in addition to regular office usage with Adobe Photoshop. Games we used in this test include Sid Meier's Civilization V, League of Legends, Torchlight II, Dragon Nest, and Crysis 2 Maximum Edition. This spans multiple genres, and allows us to get a feel as to how the mouse responds in different situations. The Cooler Master Storm Sentinel III was cross-referenced with my daily driver mouse, the Func MS-2. All testing was completed on the XTracGear Carbonic XXL. Please note these are subjective tests, but we will attempt to make it as objective as possible with our cross reference testing methods.
Switching to the Cooler Master Storm Sentinel III was a pretty smooth transition. As I generally use a palm grip, the Sentinel III was not hard to get used to. The side grip for my thumb was also a great feel, and the mouse just moved right into my palm like it was shaped for my hand. The sloping and shape of the mouse also felt really nice. One thing I will say is the shell is still quite smooth, and would benefit from having rubber grips or coating the surface in a soft-touch rubber feel. I did not really feel like I lost control of the Sentinel III during use, but I think either of these changes would make it even easier to hold. The extra buttons are placed well, as they are out of the way from accidental presses, but also easy to press without needing to readjust my grip. The audio and tactile feedback on the other mouse buttons is also pretty good, despite them not being Omron switches.
As for the weighting and feel of the mouse, I ended up employing all the additional weights. This is because I like a heftier mouse for a steadier feel. I will say because of the placement of the mass, when I pick up the mouse, the Sentinel III tips back a bit. It is not a huge issue, but it is noticeable. If the masses were placed in a more central location, I think this problem would not exist. Thankfully, I do not really lift my mouse off too much, but it may affect some users more than others. I will say at a base weight of 115g, some users may find the mouse to be too heavy depending on the genre of games, but I think it is okay. With a much acclaimed Avago ADNS 3988 sensor underneath, I was quite happy to see the range of 50 to 6400 DPI. Most experienced gamers actually keep their mouse at sensitivity levels of around 1600 dots per inch. Even so, having the flexibility is good to see.
As the Cooler Master Storm Sentinel III is a gaming mouse, it only makes sense for us to first test it out with some games. With Crysis 2, I played a few levels to benchmark the product. First person shooters generally are not my cup of tea when it comes to games, but the Sentinel III was up to task in helping me get some headshots. The comfortable grip and feel made the game experience enjoyable. Combining this with smooth and accurate tracking, and the result was an enjoyable few rounds of Crysis 2. Next, in League of Legends, I found the Sentinel III to be just a bit too big in both weight and size for a game like this. Multiplayer online battle arena gamers generally favor either a smaller and simpler mouse, or a mouse with a whole lot of buttons. The Sentinel III is neither of the above, and while it does perform fine, I think some users may want a lighter device for quicker movements. Even so, the smooth and predictable tracking made the game just as enjoyable. With the online role playing game Dragon Nest, the performance of the mouse was similar. Gaming performance was where the Cooler Master Storm Sentinel III shined, as it never hampered me in any game. I probably would have liked for the surface to be a bit easier to hold, but I was still happy with the feel of the mouse.
Moving to graphical work, the CM Storm Sentinel III was very capable. With some Photoshop lasso tests, I put the Sentinel III to the test. Using the lasso tool, I tried to select predetermined elements in an image, and compared the resulting selection to other mice. After testing the mouse with several DPI settings, I am happy to report the Sentinel III was close in accuracy to my other mice, such as the Func MS-2. Again, the mouse under test would probably be benefited with a less slippery surface, but I still found the Sentinel III to be accurate and smooth. Daily office work and internet browsing was made easy with the Sentinel III, and I never found anything to gripe about while using it.
---
Page Index
1.
Introduction, Packaging, Specifications
2.
A Closer Look - Hardware and Software
3. Subjective Performance Tests
4.
Conclusion