By: Aaron Lai
February 19, 2016
It has been more than a month since CES in Las Vegas ended, and when I came back, the first thing I was asked was what I thought the most interesting thing was. For me, it is kind of difficult to really give a single answer for a several reasons. First is the fact the show covered a wide variety of areas; each with their own cool points. There were all the hyped products like driverless cars, wearables, IoT, virtual reality, and consumer-grade drones, to name a few. All of these things and more were then crammed into a relatively small area. There were also the continual improvements and new innovations in currently existing products. To really say one thing was the most intriguing would be unfair. Second is the fact nothing really surprised me. This is not to say the things I saw were crazy cool, but a lot of these things were already announced prior to the show. This being said, seeing them all in person was really neat. Thirdly, while I was at CES, we focused more so on the things APH Networks review. I felt out of my area when I tried talking to people promoting other things, such as wireless tracking in basketballs or smarter sleep numbers in mattresses. Thus most of the things I saw hands-on were things going through continual updates, rather than completely new products. Today's review of the Cooler Master Storm Sentinel III is obviously not the first Sentinel mouse Cooler Master has produced, but rather a newly updated version of the Sentinel II. Cooler Master said this mouse introduces new improvements, while building upon an ergonomic, palm grip design. Is there anything amazingly new for Cooler Master to surprise me with, or is it mostly all the same stuff with this mouse? Hopefully this review will answer your questions and more!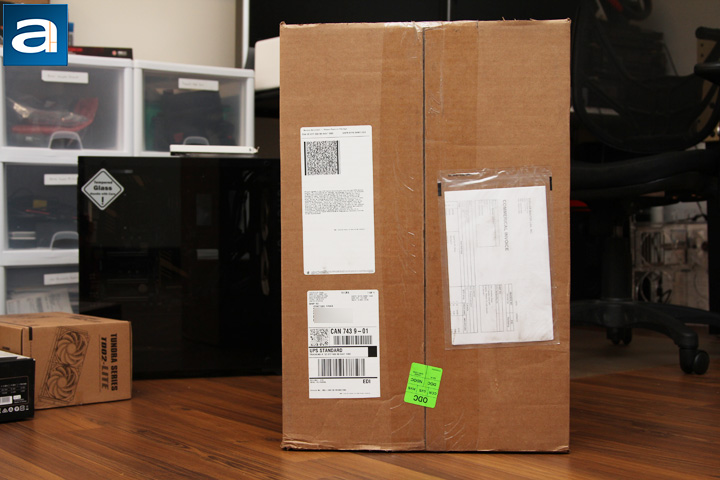 Today's package arrived from Cooler Master's North American offices in Chino, California. Using UPS' Standard service, the shipment of four Cooler Master products arrived in pretty good condition. In addition to today's review unit of the Cooler Master Storm Sentinel III, Cooler Master sent us a Xornet II, an SF-19 V2, and QuickFire XT. Thankfully, all of these products arrived with practically zero scratches or dents on the retail box. Otherwise, there is not much to speak of, so let us take a closer look at the retail box of the Sentinel III.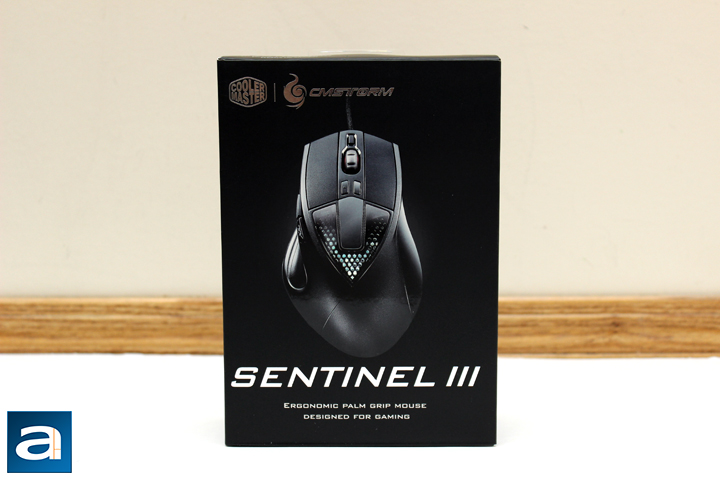 The Cooler Master Storm Sentinel III's retail container is shown above, and it has a clean look. The Cooler Master and CM Storm logos are located at the top left corner. A scaled down version, top-down image of the Sentinel III is displayed on the front. At the bottom the product's name and description is listed. The front panel can swing open by releasing the Velcro hold, revealing a small blurb describing the mouse and how it was made, in addition to a window displaying the mouse itself. On the side panels are some contact information and product description. At the back, there are some small images and features of the mouse, written in several different languages.
Before we continue, I have pulled up the specifications from Cooler Master's website for your perusal:
Specifications
- Model Number: SGM-6020-KLOW1
- Grip Type: Palm
- Material: Plastic / Rubber
- Color: Black
- LED Color: RGB
- Sensor: Avago 3988 Optical Sensor
- CPI / DPI: 4 Levels / Up to 6400 DPI setting
- Tracking Speed: 200IPS / 50g
- Lift Off Distance: Adjustable (<2.1mm)
- Polling Rate: 1000Hz / 1ms
- Angle Snapping: Yes
- Mouse acceleration: 50g
- Programming Profiles: 5
- On-board Memory: 512KB
- Programmable buttons: 8
- Connector Cable: USB 2.0
- Cable Length: 1.8 Meters
- Dimensions: 135 x 83.6 x 40 mm (5.3 x 3.3 x 1.6 inch)
- Weight: 177.5 g / 0.392 lbs
- Weight (w/o weights): 155 g / 0.342 lbs
- Weight (w/o cable): 115 g / 0.254 lbs
- Additional Weights: 5x 4.5 g / 5x 0.009 lbs
- Warranty: 2 years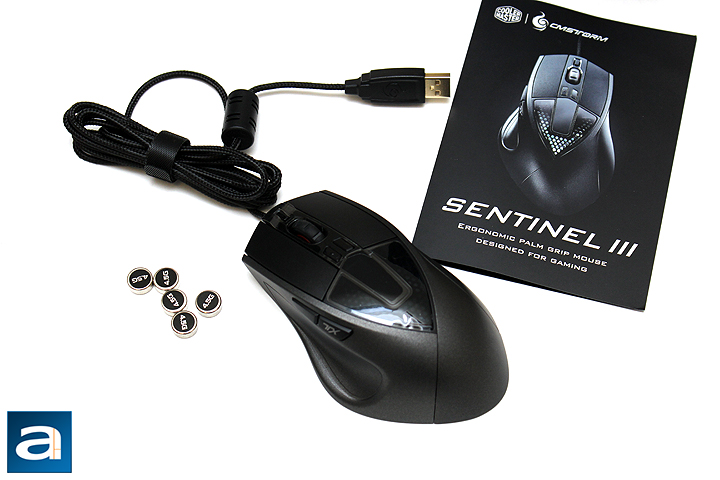 There are a few things out of the retail box. We have the Cooler Master Storm Sentinel III mouse itself with a braided cable affixed to the mouse. There are also five 4.5g weights for customizing the mass of the mouse. Finally, there is a small user manual noting more features, specifications, and package contents. Finally, the manual lists the warranty information, which is 2 years in length. Otherwise, there is not much else to note, so let us take a closer look at the Sentinel III itself.
---
Page Index
1. Introduction, Packaging, Specifications
2.
A Closer Look - Hardware and Software
3.
Subjective Performance Tests
4.
Conclusion